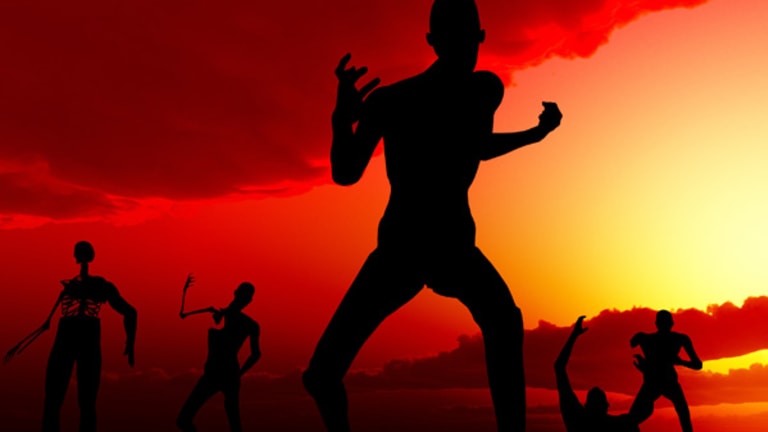 Watch Out For Zombie Solar Stocks
If you're thinking the newly announced Chinese solar related tax credits will save the companies, you may be partially correct.
NEW YORK (TheStreet) -- Last night, based on my wife's suggestion, we watched the first episode of AMC Networks' (AMCX) - Get AMC Networks Inc. Class A ReportThe Walking Dead on Netflix (NFLX) - Get Netflix, Inc. Report.
The
Walking Dead
is no
Breaking Bad
, in my opinion, but has a captivating plot. If you haven't watched it, the show is about an apocalyptic world filled with hungry human zombies that are willing to eat anyone who isn't already infected. Once infected, the victim becomes a zombie and the cycle continues.
I couldn't help but make the connection between
The Walking Dead's
zombies and solar stocks
LDK Solar
(LDK)
,
Suntech Power
(STP)
,
Yingli Green Energy
(YGE)
.
Instead of death from a virus, these walking-dead stocks are infected from a deadly dose of debt. Suntech is behind in payments for months, and last week LDK received a one-month forbearance on interest payments for a note due next year. Confusing the issue further is these are Chinese stocks and investors should consider the home field advantage the companies will have in bankruptcy over shareholders.
Bond holders may get little, but buying shares in walking dead companies is little more prudent than buying lotto tickets.
First Solar
(FSLR) - Get First Solar, Inc. Report
is a possible lone survivor and
SunPower's
(SPWR) - Get SunPower Corporation Report
prognosis is questionable.
Unfortunately for First Solar's shareholders, LDK's interest payment forbearance results in lower margins, revenue and profits. In a normal non-apocalyptic zombie-free market, when companies fail, they're buried and the survivors prosper and grow. Until the dead are finally put out of their misery, stay exceedingly cautious and conservative in your approach within the solar space.
Both LDK and Suntech Power are under $2 a share, and I can see the attraction to buying a few shares hoping for a hit-and-run double or more. In fast and out fast for quick cash works if you're sitting at a dozen monitors with a
Bloomberg
terminal and an audio news alert service. Otherwise, don't expect to pick-pocket Wall Street's finest traders successfully.
If you're thinking the newly announced Chinese solar related tax credits will save the companies, you may be partially correct. The problem for equity investors is that what is saved will likely go to bondholders and other creditors, leaving shareholders out in the rain.
Another bull thesis argument is the Environmental Protection Agency's actions are benefiting solar. There's little doubt EPA administrator Gina McCarthy is doing everything in her power to destroy the coal industry. It's natural to conclude solar should be a enormous winner with the demise of coal.
Unfortunately, stopping new coal plants and forcing cuts in existing coal produced power is offset by the natural gas boom. Natural gas prices have fallen as production expanded faster than consumption. Solar needs to make significant cost per watt breakthroughs to become competitive.
Once solar is able to cross the line of cost competitiveness, the remaining solar stocks will have a sunny future. I don't think that day is far away, but wait until they bury the zombie solar stocks before investing.
At the time of publication the author had no position in any of the stocks mentioned.
This article was written by an independent contributor, separate from TheStreet's regular news coverage.
Robert Weinstein is an active trader focusing on the psychological importance of risk mitigation, emotion and financial behavior of market participants. Robert co-founded the investing blog
, where he writes a journal about his trading activity and experiences.
In addition to
TheStreet
, Robert also contributes to
Real Money Pro
, providing real-time trading ideas for stocks, options and futures.