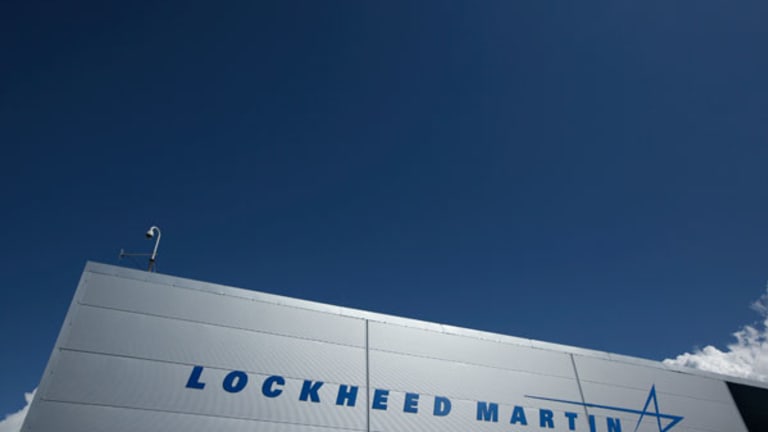 Watch for Lockheed Martin's Overseas Growth
Lockheed is working to expand sales internationally and at home.
NEW YORK (TheStreet) -- It's been a great 12 months for the shareholders of Lockheed Martin (LMT) - Get Lockheed Martin Corporation Report. A year ago an investor could have purchased shares of LMT for under $86 and enjoyed a dividend yield-to-price of over 5%. But that was then, and today shares trade well above $141 with a dividend yield of 3.75%.
LMT has enjoyed a trailing 12-month operating margin (as of Sept. 29) of around 10% while accomplishing a Return-on-Equity (ROE) of a remarkable 163%.
Analysts and shareholders have been concerned that budget cutbacks and "sequestering" will drive down revenue and earnings per share (EPS) in the months and year ahead.
In fact, the analysts who cover LMT are estimating, on average, that in the current quarter the company will experience between a 5% and 7% drop in revenue. The positive news is the same analysts offer an average estimate that EPS will increase from the year-ago quarter by a relatively healthy 12%.
LMT is a diversified, global aerospace company that makes military aircraft and also has a   Information and Global Solutions division, Missiles and Fire Control unit and Mission Systems and Training business.
International sales accounted for nearly 18% of LMT's nearly $46 billion in annual revenue (TTM). Lockheed Martin's brightest chances for a shining and lucrative future may be through its International team which "...works with global Lockheed Martin customers to deliver the company's products, technologies and services to meet their national security and citizen services needs," according to the company.

Lockheed Martin International believes it can grow its overseas businesses to as much as 20% during a two- to three-year time frame.

That would still leave the company behind its main competitors including Raytheon (RTN) - Get Raytheon Company Report, which supposedly gets between 25% and 30% of its sales from its international operations. RTN shares trade for about $88 and has a dividend yield-to-price of only 2.5%. At the end of its third quarter 2013 it had revenue (TTM) of almost $24.3 billion, an operating margin of 12.24% but a rather dismal ROE of only 21.4%.
LMT's new CEO, Marillyn Hewson, who took over the top post earlier this year, is a 30-year veteran of this industry. She has visited the Middle East three times since taking the leadership of the world's biggest defense contractor because she evidently knows the strategic importance of the company's customers and potential customers in that region of the world.
CEO Hewson was on hand to attend the Dubai Airshow because the Persian Gulf countries are most interested in buying Lockheed's advanced, radar-evasive F-35, as well as other fighter jets it manufacturers. Then there's the lure of LMT's cyber security and intelligence systems, a crucial aspect of a complete air defense system for each country's national security.
LMT is still getting business at home in spite of government spending cuts. On Monday the U.S. Air Force awarded Lockheed more than $200 million in contract options to complete production of its fifth and sixth next-generation Global Positioning System satellites, known as GPS III.
Earlier in February, the Air Force awarded Lockheed Martin a fixed price $120 million contract to procure long lead parts for a second set of four GPS III space vehicles.
This new award provides funding to complete the first two satellites (SV 05-06) in this order. Full production funding for the next two space vehicles (SV 07-08) is expected in 2014. Lockheed Martin is already under contract to produce four GPS III space vehicles (SV 01-04). The first two GPS III satellites are currently on the production floor at Lockheed Martin's GPS III Processing Facility (GPF) in Denver, Colo.
To remind us of LMT's focus on its international business expansion the company announced on Wednesday that in cooperation with
Mitsubishi Heavy Industries
of Japan it delivered the first F-2 aft and leading edge flaps as part of a restoration plan to replenish Japan's F-2 fleet.
Eighteen Japanese F-2B fighter aircraft based at Matsushima Air Base were destroyed during a tsunami that hit the nation in March 2011. In recent months the Japanese government has officially stated it wants to take a larger role in its own national defense and ability to protect its interests. This will entail huge defense spending increases in the tens of billions of dollars.

"We are honored to play a role in helping Japan's F-2 fighter regain its full mission capability," said Roderick McLean, vice president and general manager of Lockheed Martin's Integrated Fighter Group, said in a statement at the time. "The delivery of the F-2 aft and leading edge flaps is a milestone accomplishment our team is privileged to contribute to Japan's restoration path. We're honored to partner with MHI to provide critical F-2 components enhancing Japan's aerial defense backbone."
The F-2 program is a joint Japan/U.S. development, production and maintenance program. Mitsubishi is the prime contractor and Lockheed Martin is the principal U.S. subcontractor. Production began in 1996, with the first delivery in 2000. This marks another step in the upgrading and enhancement of Japan's F-2 squadron. That should translate to more sales revenue for Lockheed in the year ahead as Japan moves forward to arm itself with the latest technologies.
There are other ways LMT can drive revenue, including operations in its "Space Systems" segment. LMT's innovations help it capture more of that business through partnerships that raise global communications, weather forecasting, space exploration and national security to new levels. Major international players will be bidding for more of what LMT makes and offers in those gigantic enterprises...global communications, weather forecasting and space exploration as well.
The sky is the limit for LMT, but how about its share price? Unless new contracts lift revenue that drop to the bottom line, the 52-week high around $144 may be the "ceiling" for a while. With its 49% payout ratio, the dividend may not be going much higher either which may put a lid on the stock's price.
Patient investors might want to see if the shares revisit the $130 level last seen on Oct. 23 of this year. If you buy shares at current levels use a conservative trailing stop of between 13% and 15%.
If a lower share price presents itself in the near future you'll experience a higher yielding dividend along with the company's growth-oriented leadership. This should help keep LMT investors content for the foreseeable future.
At the time of publication the author had no positions in any of the companies mentioned in this article.

This article was written by an independent contributor, separate from TheStreet's regular news coverage.
Marc Courtenay is the founder and owner of Advanced Investor Technologies, LLC, as well as the publisher and editor of www.ChecktheMarkets.com.
Courtenay holds a Master's of Science degree in Psychology from California Polytechnic State University, and is a former senior vice-president of Investments for two major brokerage firms. He's been a fiercely independent investment "investigator" and a consulting contributor to the investment publishing world for over 30 years. In addition to his role as an investment publisher and analyst, he serves as a marketing consultant to the investment media industries.
In his role as a financial editor, he specializes in unique investment strategies, overlooked stock investments, energy and resource companies, precious metals, emerging growth companies, the prudent use of option strategies,real estate related opportunities,wealth preservation, money-saving offers, risk management, tax issues, as well as "the psychology of investing". Because of his training and background in Clinical Counseling and Psychology, he enjoys writing about investor behavior, the herd mentality, how to turn investment mistakes into investment breakthroughs and the stock market's behavioral trends and patterns.