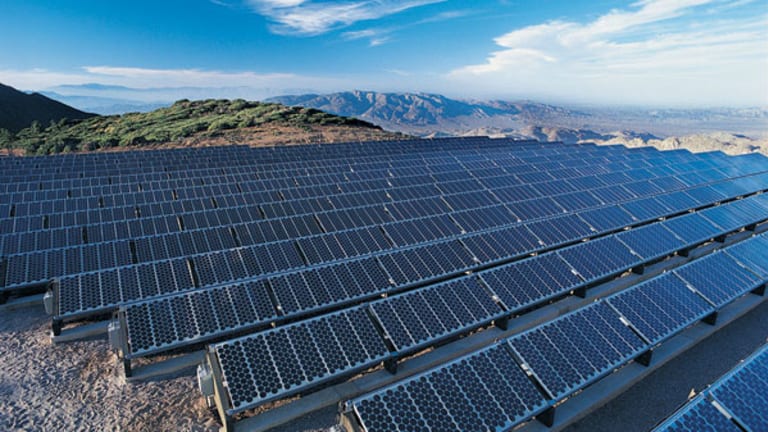 Watch for a Big Short Squeeze in Cleantech Solutions
With short interest rising and the potential for a strong earnings announcement, CleanTech could soon re-test its high for the year of around $11.
NEW YORK (TheStreet) -- Following short squeezes at Vision China Media (VISN) , Gulf Resources (GURE) - Get Gulf Resources Inc. Report and Daqo New Energy (DQ) - Get DAQO New Energy Corp. American Depositary Shares each representing five Report, shares of CleanTech Solutionsundefined may be setting up for a large short squeeze.
Those who have witnessed squeezes at companies such as
Tesla
(TSLA) - Get Tesla Inc. Report
and
Taser
undefined
should be aware of the risks of getting caught short during a squeeze.
I have written before about CleanTech Solutions. In each case the prognosis was grim. Due to the problems I observed, I always presented CleanTech as an interesting short idea.
But recent developments have made shorting CleanTech a very dangerous proposition. CleanTech could be setting up for a substantial short squeeze. Past squeezes have seen CleanTech double or triple in a single day. With short interest rising and the potential for a strong earnings announcement, CleanTech could soon re-test its high for the year of around $11.
The stock has already risen by 25% since September with very few days showing any meaningful declines.
Several other China small caps have seen similar squeezes in the past two weeks. Vision China Media quickly ran from $2 to $15 without much reason. After a slight retreat, the stock closed at $12.28 Monday, up nearly 20%.
Gulf Resources nearly doubled in a single day last week and hit its highest level since 2011. The high short interest is what drove the sharpness of the short squeeze. The stock has retreated a bit, but is still up by more than 40% from a week ago.
DaQo new Energy saw some small positive news in the solar sector. But the reaction of the heavily shorted stock was far greater than deserved. The stock was at $8 in September and recently hit $43 before closing Monday at $37.96. Following this five-times rise it is still within 10% of its highs.
This is just a partial list. There have actually been quite a few more in the past two weeks. In many cases, the valuations have become considerable, with market caps of over $100 million. This leaves substantial room for a stock like CleanTech to run.
There are several clear reasons why some stocks explode far higher than others. CleanTech possesses each of these short squeeze characteristics to a very high degree.
First, they tend to have very few shares outstanding. This creates a supply and demand problem. Shorts must buy back shares to cover, but there are simply not enough shares to buy. CleanTech only has 3.5 million shares outstanding. When small buying begins, it triggers very large moves in the stock.
Second, these companies have a fairly low public float due to large insider ownership. With CleanTech, around 40% of the shares outstanding are owned by insiders. Again, this reduces the supply of shares available which shorts must buy. For CleanTech, there are only about two million shares in public hands.
Third, the short interest is at an unmanageably high level relative to the float. With CleanTech, the short interest is roughly one-third of the float. When multiple shorts cover at the same time, it creates a squeeze. They have created enormous demand when there simply isn't enough supply. There are around two million shares in public hands vs. 600,000 shares sold short, which must be repurchased. This is astronomically high.
The result of these three factors is that the upside moves tend to be large and fast, while the downside moves tend to be slow and small.
How high can a squeeze take CleanTech? One thing that shorts would do well to remind themselves is that squeezes are entirely irrational. The ultimate peak has nothing to do with the fundamental value of the company. It is entirely driven by supply and demand.
The past squeeze of Taser puts the recent Tesla Motors squeeze to shame. About 10 years ago, Taser experienced a short squeeze. The low-priced stock initially ran to around $8. Many shorts felt it was overvalued. These shorts were quickly run over as the stock went to $20. More shorts piled in but the stock ran them over also as the microcap soared from $5 to over $135. It crushed just about anyone who had shorted it. The price of Taser simply had no connection to its value as it rose by more than 20 times.
We are now seeing the same thing with Vision China Media and many other heavily shorted China small-caps.
CleanTech has seen a number of dramatic squeezes in the past. But the next squeeze is likely to be a bit larger. This is because the short interest is now larger and because CleanTech is likely to come out with stronger earnings.
Last year the stock doubled in a single day due to a single bullish article from one author who predicted a $19 share price. In May, the stock nearly tripled in a single day when CleanTech announced that it had become a certified supplier to
China Petroleum & Chemical
(SNP) - Get China Petroleum & Chemical Corporation Report
, or Sinopec. Such a rise was clearly premature because CleanTech hadn't actually sold them anything yet.
Anyone who follows CleanTech should now expect the company will report very strong numbers in the next two weeks. I have always viewed bullish news from CleanTech with some skepticism. But positive news has consistently boosted the stock anyway.
In August, CleanTech announced that revenue increased 34% to over $17 million for the quarter. The stock quickly soared by as much as 30% in extended hours trading.
On the last earnings call, CleanTech previewed that it had received a $2 million order, which would not ship until September. Obviously this will factor into the third-quarter numbers. CleanTech had also noted that it was operating at full capacity. This is also a hint at strong third-quarter numbers.
The Sinopec announcement is now nearly six months old. So one major risk for the short thesis is that an initial order could materialize this quarter. Even a small order would have a very large effect on the share price.
Regardless of what one thinks about the transparency at CleanTech, it seems highly likely the company will announce very strong results. Any move to the upside may be even more exaggerated than past moves due to the recent price spikes in many heavily shorted China small-caps.
For the time being, a short position in CleanTech is a very risky proposition without much possibility of near-term gains. As a result, I am no longer short and have taken a small speculative long position in CleanTech. This is a short-term trade as opposed to a long-term investment, but it is likely to pay off in the near term.
If shares of CleanTech stabilize at over $13 I will likely re-enter a short position after earnings are announced.
At the time of publication the authoris long shares of CLNT.
This article was written by an independent contributor, separate from TheStreet's regular news coverage.
Rick Pearson is a private investor focusing on U.S.-listed China small-cap stocks. Until 2005, Pearson was a director at Deutsche Bank, spending nine years in equity capital markets in New York, Hong Kong and London. Previously, he spent time working in venture capital in Beijing. Mr. Pearson graduated magna cum laude with a degree in finance from the University of Southern California and studied Mandarin for six years. He has frequently lived, worked and traveled in China since 1992.