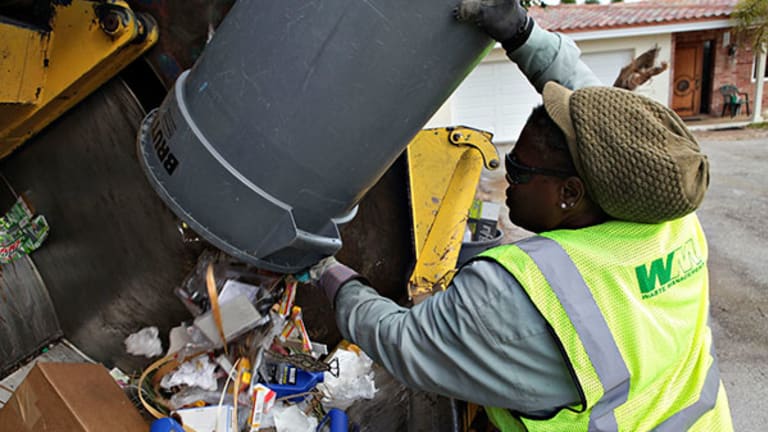 Waste Management's Prospects Grow Along With the World's Garbage
Waste Management beat earnings this morning, but Wall Street shouldn't have been surprised. This industry leader addresses one of the planet's biggest needs.
The world is suffocating beneath a mounting pile of garbage. As population growth continues and emerging markets spawn increasing ranks of middle class consumers, the trash glut will only worsen.
That's bad news for the environment, but good news for companies that handle the wasteful ways of modern society. The leader in waste management is Waste Management (WM) - Get Waste Management Inc. Report , which announced third-quarter earnings this morning before the opening bell.
The company beat expectations, yet it's still a bargain. The stock also sports a healthy dividend yield of 2.9%, making it a great growth-and-income choice. Waste Management also serves as a hedge against recession, because garbage will continue to be generated in vast quantities, regardless of an economic downturn.
If you're looking for a comprehensive list of other value stocks that are tapped into inevitable global trends, click here.
American households, stores, res­taurants and other businesses gen­erate more than 250 million tons of solid waste every year, according to the U.S. Environmental Protect­ion Agency. The amount of trash the country pro­duces has tripled since 1960, while the U.S. population has increased only about 90%. The U.S. disposes enough trash every day to fill 50,000 garbage trucks with 18,000 pounds of trash in each.
The search for new methods of dis­posal is becoming more frantic among federal, state and municipal leaders in the U.S. The problem perplexes global lead­ers, as well. The United Nations esti­mates worldwide annual waste pro­duction at more than 1.3 billion tons, a figure that's growing every year in the high single digits.
In particular, developing countries face huge waste handling problems, as their newly affluent citizens adopt Western habits of conspicu­ous consumption.
Waste Management is the world's largest solid waste collection and dis­posal company. It also treats and disposes of hazardous and medical waste, as well as operating waste-to-energy and landfill gas-to-energy facilities. Through sheer size and geographical diversity, the company is better positioned to capitalize on opportunities in waste management than its smaller competitors Republic Services (RSG) - Get Republic Services Inc. Report and Casella Waste Systems (CWST) - Get Casella Waste Systems Inc. Report .
As the largest residential recycler in North America, Waste Management expects to recycle more than 20 million tons in the region every year by 2020, up from the 12 million tons the com­pany handled in 2012.
Waste Management's services gener­ate a robust cash flow that it largely de­votes to acquisitions, dividends and share buybacks. The company has con­sistently paid dividends since 1998.
For the third quarter, Waste Management announced revenue of $3.36 billion compared with $3.6 billion for the same period a year ago. Earnings reached $335 million, or earnings a share (EPS) of 74 cents, compared with earnings of $270 million, or EPS of 58 cents, for the same year-ago quarter. Earnings beat the consensus estimate by 2 cents.
And yet, the stock sports a trailing 12-month price-to-earnings (P/E) ratio of only 24.8, compared to 39.1 for its industry of waste management. Waste Management's prudent cost-control measures and consistent debt reduction make this stock an inexpensive bet on the long-term need to handle the world's relentless accumulation of garbage.
For other compelling value stocks that are set to soar, click here.
John Persinos is editorial manager and investment analyst at Investing Daily. At the time of publication, the author held no positions in the stocks mentioned.