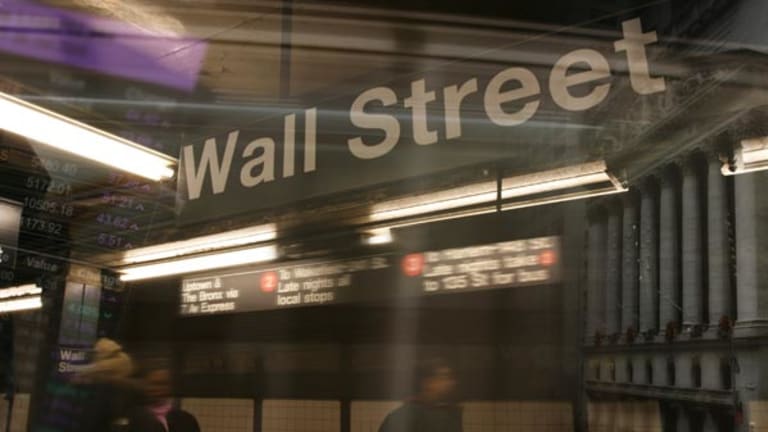 Was Thursday's Trading a Sucker's Rally In the Stock Market?
The stock market was higher on Thursday, but finished well off its intra-day highs on strong volume.
NEW YORK (TheStreet) -- The stock indexes finished higher on Thursday, although well off their intraday highs.
The S&P 500 Trust Series ETF (SPY) - Get Free Report volume was very good, with over 156 million shares traded.
The DJIA closed up 63.19 points to finish at 17,596.34 while the S&P 500 was up 9.19 points to close at 2,035.33. The Nasdaq was higher by 24.14 to finish at 4,708.16 and the Russell 2000 was up 5.09 to close at 1,166.96.
For the week, the indices continue to be on the downside. This simply means that, for now, the indexes are making lower highs. It seems that a market correction is in the early stages and more downside is likely ahead over the coming weeks.
One of the technical indicators that I like to use is a proprietary algorithm. This indicator allows for the signaling of extreme overbought and oversold stocks and indexes. When used on a weekly time frame, the indicator very accurately is able to predict trend changes in the intermediate time frame, three months or longer. On a daily time frame, that same indicator is able to signal those stocks that are overbought and oversold for trading purposes. When used in conjunction with familiar indicators such as the MACD, it appears a very powerful technical process is in force.
As of Thursday, the weekly indexes are coming off of an overbought condition and seem to be heading down based on those same technical indicators mentioned.
Thus, from an intermediate weekly perspective, caution is warranted. It seems that prices are heading lower from these levels. There will be daily bounces to the upside, such as the bounce the markets had on Thursday, but the trend is lower for now.
This is the beauty of those technical indicators. It seems as though negative divergences, such as the MACD and my internal algorithm are able to be spot a change in trend ahead of time, even though the price action in stocks and the indexes are heading higher.
A few examples of stocks that are extreme oversold and can be bought are Coca-Cola (KO) - Get Free Report , MGM Resorts (MGM) - Get Free Report , Ctrip.com (CTRP) - Get Free Report and Red Hat (RHT) - Get Free Report . Those stocks may not head higher on Friday, but should go higher within the next week.
In case the market continues lower tomorrow, purchase the Direxion Small Cap Bear 3x (TZA) - Get Free Report on Thursday. 
This article is commentary by an independent contributor. At the time of publication, the author was long TZA.