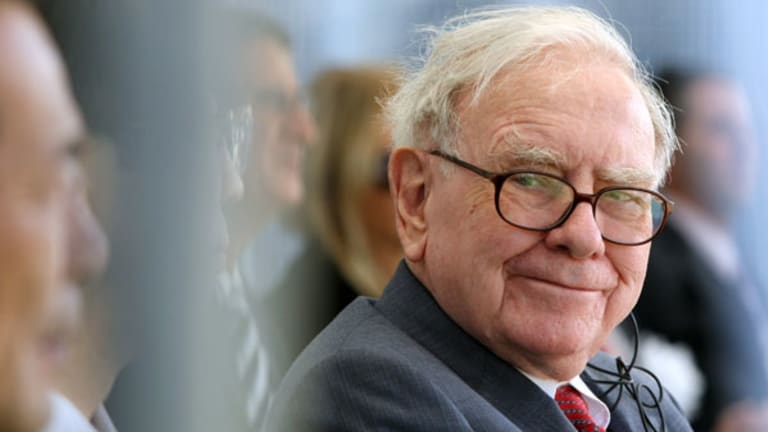 Publish date:
Warren Buffett's Underperformance and How to Make Sense of It
Warren Buffett's Berkshire Hathaway underperformed the market for the past five years. What does it mean from a statistical perspective?
Warren Buffett's Berkshire Hathaway underperformed the market for the past five years. What does it mean from a statistical perspective?
NEW YORK (TheStreet) -- Warren Buffett's Berkshire Hathaway (BRK.A) - Get Report underperformed the market for the past five years. While this garners headlines, what does it mean from a statistical perspective? Using BRK as a proxy for Buffett, how do we process such an underperformance? Perhaps Buffett should follow Chicago Bulls' Michael Jordan to the sidelines.
Probabilists can easily adjust their interpretation of Warren's performance, given what's happened recently. In this note, we looked at the statistical test for outperformance, and arbitrarily threw in Buffett's recent underperformance, as part of the study. BRK has a long audit trail that makes it easy to contrast with the market, using CFA performance standards.
[Read: Investors Deserve Answers From Galena and Cytrx About Involvement in Stock Promotion Scheme]
As confirmed by the BRK annual review, the company has seen its fifth year of underperformance. This is also the worst continuous, 5-year performance ever. But it's not so easy to blame the S&P, as Warren does, since it has never been an issue to outperform this large benchmark previously. Given the underperformance event, however, we see a large number of curious fans trying to make sense of what this might mean.
To be clear, from a statistical performance perspective, this recent record for BRK is bad. There is no argument about it, or some way to excuse it. If it weren't known in advance that it was Warren's performance, we would outright laugh at it.
It also argues from a Bayesian perspective that his skill in the market has now dissipated. It seems Buffett himself is not convinced that his methods could outperform the market going forward and so his will is now explicit that his wife needs to be invested in the S&P and not the BRK successors. Nevertheless, his overall cumulative performance, including these past five years, is still a tremendous success on any measure, as stated in the note on my blog.
So unless he outperforms by a large amount in the next several years, this will simply be settled as two different performances, from two different eras (precrisis, and post-crisis).
It's like watching the Chicago Bulls' Michael Jordan career. He had peak performance. Left the sport, then returned years later; the overall performance was much worse. This never takes away what he accomplished earlier in his career, but does not reflect a permanent and transferrable skill to outperform the market (regardless of the excuse about whether it his him, his competition, or any changes in the game itself).
We must now turn the chapter on the era of Warren Buffett and his Berkshire Hathaway. ...
[Read: Berkshire May Avoid $400 Million Tax Bill In Graham Holdings Swap]
Written by Salil Mehta, creator of the Statistical Ideas blog.
At the time of publication, the author held no positions in any of the stocks mentioned, although positions may change at any time.
This article is commentary by an independent contributor, separate from TheStreet's regular news coverage.
Salil Mehta is a statistician and risk strategist, who has developed an engaging method to teach quantitative techniques. Salil has 17 years of experience, of which a dozen years were on Wall Street, performing proprietary trading and economic research for firms such as Salomon/Citigroup, and Morgan Stanley. He also served for two years in a leadership role, as the Director of Analytics, in the U.S. Department of the Treasury for the Administration's $700 billion TARP program. Salil is also the former Director of the Policy, Research, and Analysis Department in the Pension Benefit Guaranty Corporation. He completed a graduate degree in mathematical statistics from Harvard and also completed the Chartered Financial Analyst exams, as well as being a current dual candidate member of the Society of Actuaries. In addition to having lectured on probability and economics at a number of leading universities, Salil has authored academic articles. He currently provides advisory to the heads of several organizations, and he teaches graduate statistics at Rutgers on the weekends this year, in addition to current Georgetown teachings. Salil has also been acknowledged or on air interviewed and by a number of leading publications, such as the National Bureau of Economic Research, American Statistical Association, New York Times, CNBC, Wall Street Journal, Financial Times, Barron's, CFA Institute, Tom Keene, Bloomberg, and Businessweek. He has also completed a statistics and analytics topics book, a working draft of which is available for Georgetown library users. His  Statistical Ideas blog provides an interesting discussion of various statistical applications, and offers refresher presentations on the basics of probability and statistics. Also the site has been added to the syllabus of several leading universities.  You directly contact Salil and follow him on Facebook and Google+ and Skype (name: saliltreasury).