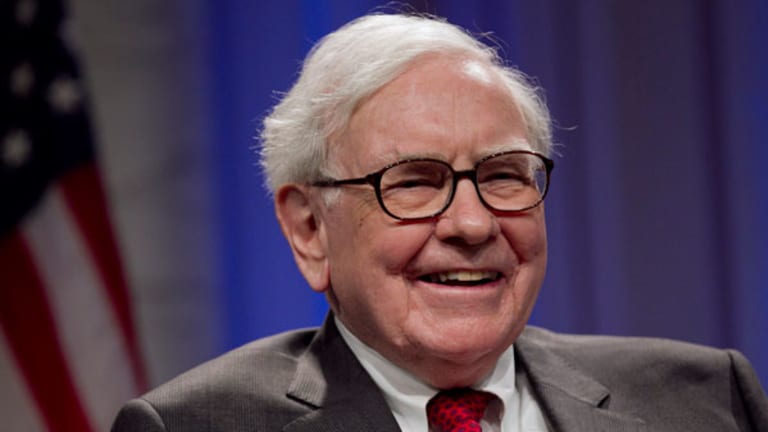 Warren Buffett's Portfolio Proves He's a Dividend Growth Investor
Warren Buffett's investing strategy has evolved since his early investing success. Here's a look at the Oracle of Omaha's portfolio.
NEW YORK (TheStreet) -- Warren Buffett is America's most well-known value investor. He has eclipsed the notoriety of his mentor and founder of value investing, Benjamin Graham. Warren Buffett's investing style has evolved significantly since his start as a value investor. When asked about his style, Warren Buffett says he is 85% Benjamin Graham and 15% Philip Fisher.
Philip Fisher's investment strategy was to focus the bulk of his portfolio into a few positions, and to look for businesses with a long growth runway ahead. Benjamin Graham's investment strategy was to purchase stocks for less than their intrinsic value; classic value investing. Warren Buffett looks for solid growth businesses that are trading at fair or better prices, not cheap businesses that have adequate growth.
It's far better to buy a wonderful company at a fair price than a fair company at a wonderful price. -Warren Buffett
Warren Buffett's Top 7 Picks
Warren Buffett's top seven largest positions by portfolio weight are examined below to see if the Oracle of Omaha's portfolio matches his advice.
Warren Buffett's top holdings are consistent with his advice and the teachings of his mentors. He holds a highly concentrated portfolio of businesses with long histories of growth and large growth runways ahead. Interestingly, every single one of Warren Buffett's top holdings has paid increasing dividends over the last five years.

KO Dividend data by YCharts
Examining the Top 7 Picks' Dividend History
Warren Buffett's top seven positions all pay increasing dividends year after year and make up nearly 75% of his total portfolio. Four of his positions are "Dividend Aristocrats," stocks that have paid increasing dividends for 25+ consecutive years. Warren Buffett's Dividend Aristocrat holdings are Coca-Cola, Procter & Gamble, Wal-Mart and Exxon. In addition to these, the other three top positions have a recent history of dividend increases.
International Business Machines has been regularly increasing its dividend payments since 1999. The company now has a 15-year history of dividend increases and is set to continue increasing its dividend payments each year.
Wells Fargo had a long history of consecutive dividend increases before resetting its dividend during the financial crisis. Wells Fargo has since recovered, and now pays a dividend of 35 cents per share.
American Express paid a small dividend of 18 cents per share each quarter from 2008 through 2011 after a long history of not paying dividends. In 2012, the company increased its quarterly dividend to 20 cents per share, and then to 23 cents in 2013, and finally 26 cents per quarter in 2014. The company now increases its dividend payments each year, and will likely do so in the future.
How to Invest Like Warren Buffett
Based on his portfolio, Warren Buffett invests in high-quality dividend growth stocks. These businesses are able to increase their dividend payments year after year because they have durable competitive advantages. High quality businesses with durable competitive advantages compound wealth year after year. There is no good time to sell them. They work best for you when held for long periods of time so you can take advantage of an outstanding business' ability to compound wealth.
Our favorite holding period is forever. - Warren Buffett
The quote at the beginning of this article says that Warren Buffett's style is 85% Benjamin Graham. Value plays a large role in the right time to purchase a business. The P/E ratios for Warren Buffett's top seven holdings are listed below.
Wells Fargo, P/E ratio of 12.35
Coca-Cola, P/E ratio of 21.10
American Express, P/E ratio of 16.82
International Business Machines, P/E ratio of 11.80
Procter & Gamble, P/E ratio of 20.29
Exxon Mobil, P/E ratio of 12.71
Wal-Mart, P/E ratio of 15.49
Of the stocks in Warren Buffett's portfolio, many appear cheap with P/E ratios significantly below the S&P 500's P/E ratio of 19.24. Only Coca-Cola and Procter & Gamble are more expensive than the overall market. Both Exxon Mobil and Wal-Mart are top 10 stocks based on the eight rules of dividend investing that ranks businesses with a long history of dividend payments over several quantitative metrics that have historically improved returns or lowered risk.
Simple, Not Easy
Investing in high-quality businesses that reward shareholders through profitable growth and increasing dividends compounds your wealth over time. Warren Buffett has utilized this approach to multiply his fortune over the last several decades. Dividend growth investing is simple but not easy. It requires patience, discipline and the ability to hold your positions during market corrections.
At the time of publication, the author was long WMT, although positions may change at any time.
This article represents the opinion of a contributor and not necessarily that of TheStreet or its editorial staff.