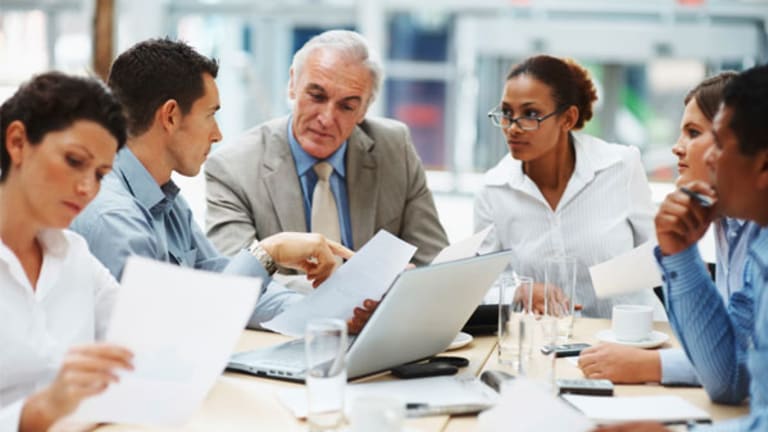 Warren Buffett's Heir Unrevealed
Marek Fuchs, senior contributing analyst at TheStreet, examines Berkshire's incomplete succesion.
NEW YORK (TheStreet) -- Traders have been worried silly that they don't know who, if anyone, will succeed Warren Buffett as the lead sage of Berkshire Hathaway's (BRK.A) - Get Berkshire Hathaway Inc. Class A Report.
Now they know someone will succeed Buffett. But they still don't know who. Buffett did not name him. He only said that the person existed. Problem is, business writers, always overly impressed by every last utterance coming from Buffett, aren't making clear that traders still don't know the identity of this masked man.
Scan headlines--like this one from The New York Post--and you'll get the wrong idea: "Buffett Picks His Heir." Even within the body of stories, other media outlets (yes, TheStreet, I'm talkin' to you) did not specifically note that Buffett did not actually name the successor. Wrote TheStreet: "The letter also revealed that the company's board has identified someone to succeed Buffett as CEO, saying this was `an individual to whom they have had a great deal of exposure and whose managerial and human qualities they admire.'"But it, uh, didn't reveal the dude's name.
The Wall Street Journal (NWS) made the half-told nature of this news clear from the start. This is important to get right. Traders have been pining for clarity. They are yearning for a name. Buffett gave them an assurance, but no clarity or name. Wrote the Journal in a headline that instead of obscuring reality, put it in bold relief: "Berkshire Brings Clarity, if Not Names, to Buffett Succession Plan."
This is part of a larger pattern. Back in December, the media reported on Buffett's "successor." Turns out, Buffett said his son Howard Buffett, who is a farmer, will be a steward of Berkshire's values after his father dies. For his contributions, the farmer turned steward won't be paid, but as in the case of the currently anonymous successor, the media did not let details get in the way of a hotly anticipated story.
At the time of publication, Fuchs had no positions in any of the stocks mentioned in this column.
Marek Fuchs was a stockbroker for Shearson Lehman Brothers and a money manager before becoming a journalist who wrote The New York Times' "County Lines" column for six years. He also did back-up beat coverage of The New York Knicks for the paper's Sports section for two seasons and covered other professional and collegiate sports. He has contributed frequently to many of the Times' other sections, including National, Metro, Escapes, Style, Real Estate, Arts & Leisure, Travel, Money & Business, Circuits and the Op-Ed Page.
For his "Business Press Maven" column on how business and finance are covered by the media, Fuchs was named best business journalist critic in the nation by the Talking Biz website at The University of North Carolina School of Journalism and Mass Communication. Fuchs is a frequent speaker on the business media, in venues ranging from National Public Radio to the annual conference of the Society of American Business Editors and Writers.
Fuchs appreciates your feedback;
to send him an email.