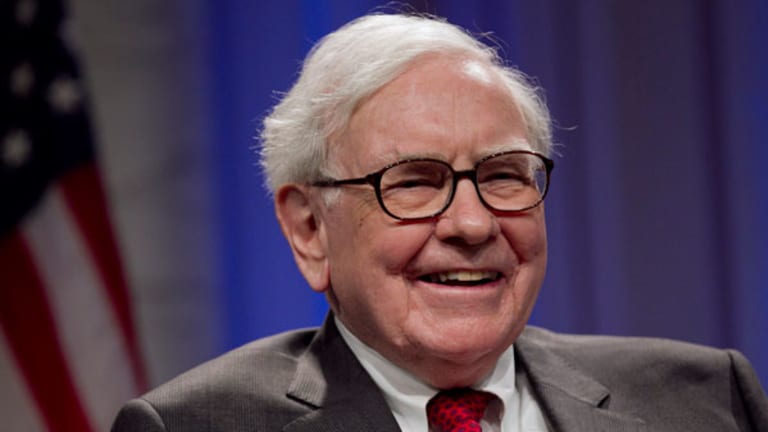 Warren Buffett's Favorite Indicator Shows Equities May Be Stretched
Warren Buffett's favorite indicator, equities over economic output, reveals that valuations may be moving beyond the usual comfort zone.
NEW YORK (TheStreet) -- U.S. equity markets are reaching valuations relative to economic output not seen since the turn of the millennium, which could leave investors -- including Warren Buffett -- searching for safety in the months to come.
Gross domestic product expanded at a 4% annual rate as activity picked up broadly after shrinking at a revised 2.1% pace in the first quarter, the Commerce Department said on Wednesday.
Growth in the second quarter was driven mainly by consumer spending and an upswing in business inventories. Consumer spending growth, which accounts for over two-thirds of U.S. economic activity, grew at a 2.5% pace, as Americans consumed more durable goods and services.
SPDR S&P 500 (SPY) - Get SPDR S&P 500 ETF Trust Report traded flat on the news as the market keeps an eye on commentary from the Federal Reserve later in the day and employment numbers on Friday. The overall level of equity markets relative to economic output, however, is reaching heights that may justify the idea that valuations are a bit "stretched."
The indicator below shows the price action of the S&P 500 Index relative to real U.S. GDP, which can be compared to a price-to-earnings ratio. The only difference is that this indicator measures a broad U.S. equity index relative to all of the inflation-adjusted earnings in the economy.
Warren Buffett has been quoted as saying that this indicator is "probably the best single measure of where valuations stand at any given moment," according to an interview he did with Fortune magazine in 2001.
The current measure has slightly surpassed highs not seen since spring of 2000. Even before the market crash during the financial crisis, equity markets had not yet reached its past valuation highs.

The indicator alone does not signal that markets are ripe for a crash, rather that equity market valuations relative to economic output are as rich as they have ever been. Other factors in the economy, however, are showing signs that equity markets may be reaching a point of correction.
There has been divergence developing lately between SPDR S&P 500, SPDR S&P Homebuilders (XHB) - Get SPDR S&P Homebuilders ETF Report and iShares Russell 2000 Index (IWM) - Get iShares Russell 2000 ETF Report. As S&P 500 has continued to push towards new highs, both homebuilders and small-cap equities have lagged behind, while forming bearish technical patterns on their long-term charts.
If weakness persists in both small-cap equities and homebuilders, then sentiment could be adversely affected. Similarly, if the Fed chooses to raise interest rates in the first half of 2015, this could create a catalyst for both indexes to move sharply lower, bringing global equities down with them.
At the time of publication, the author held no positions in any of the stocks mentioned, although positions may change at any time.
Follow @macroinsights
This article represents the opinion of a contributor and not necessarily that of TheStreet or its editorial staff.