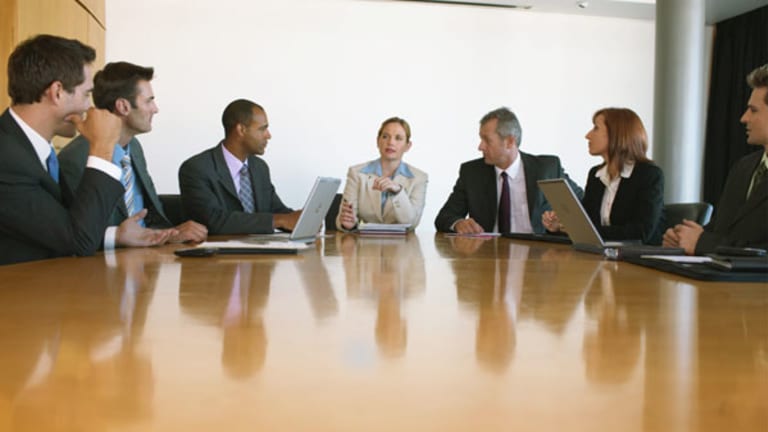 Warren Buffett Won't Pay a Dividend: Poll
Warren Buffett and Berkshire Hathaway aren't as likely to pay a dividend as recent speculation in the press would have it.
NEW YORK (
) --
and his capitalist empire
Berkshire Hathaway
(BRK.B) - Get Berkshire Hathaway Inc. Class B (BRK.B) Report
aren't as likely to start paying a dividend of 2% within the next two years as
Barron's
thinks, or so say readers of
TheStreet
.
In case you missed this week's big Warren Buffett headline, which sent shares of Berkshire Hathaway higher by 3% on Monday,
Barron's
speculated, albeit without any named source for the information, that the cash hoard on top of which Warren Buffett and Berkshire Hathaway are sitting indicates a dividend payment is coming, even though Berkshire Hathaway hasn't paid a dividend since 1962.
Barron's
provided plenty of logical reasons for a break from the Warren Buffett and Berkshire Hathaway anti-dividend tradition:
A lot of cash, as noted
A diminishing field of potential big acquisitions into which to plow his cash
A Berkshire Hathaway that looks very different than it once did, with utilities and railroads in the mix
The desire to take pressure off eventual Buffett successors to manage such a high cash level
>>Will Warren Buffett Pay a Dividend, after 49 Years?
It's not just that Berkshire Hathaway hasn't paid a dividend since 1962 that makes the dividend speculation a pawn for any market devil's advocate. It's also the fact that Warren Buffett has written several times in the past about the issue of corporate use of cash, dividends and share repurchases, and never given an indication that his philosophy would change based on the size of the Berkshire Hathaway war chest alone.
Warren Buffett, CEO of Berkshire Hathaway, which hasn't paid a dividend since 1962.
In several Berkshire Hathaway annual letters, Warren Buffett has outlined his views on cash, most notably in the 1984 and 1999 editions of the most famed capitalist missive.
Here's Buffett in his 1984 annual letter writing on dividends:
"As long as prospective returns are above the rate required to produce a dollar of market value per dollar retained, we will continue to retain all earnings. Should our estimate of future returns fall below that point, we will distribute all unrestricted earnings that we believe cannot be effectively used. In making that judgment, we will look at both our historical record and our prospects. Because our year-to-year results are inherently volatile, we believe a five-year rolling average to be appropriate for judging the historical record."
Here's Buffet in 1999 on the subject of cash management and share repurchases (some of his favorite public stock holdings are serial share repurchasers).
"Rationally, a company's decision to repurchase shares or to issue them should stand on its own feet. Just because stock has been issued to satisfy options -- or for any other reason -- does not mean that stock should be repurchased at a price above intrinsic value. Correspondingly, a stock that sells well below intrinsic value should be repurchased whether or not stock has previously been issued (or may be because of outstanding options). We will not repurchase shares unless we believe Berkshire stock is selling well below intrinsic value, conservatively calculated."
The humble Oracle of Omaha, always one to point out his mistakes, including his worst-purchase ever (that underperforming textile company Berkshire Hathaway) said of share repurchases, "You should be aware that, at certain times in the past, I have erred in not making repurchases."
In the least, it doesn't seem that the equation "huge cash balance = looming dividend" would be the one upon which Warren Buffett would alone base such a decision.
Buffett himself has said that it gets harder to find the type of deals that culminated in last year's Burlington Northern purchase, and the financial meltdown sweetheart investments in GE and Goldman Sachs are probably one-time events, too. Yet it's a leap of faith from these facts to thinking that Buffett doesn't think there are going to be good acquisition opportunities in the foreseeable future.
Paul Howard, a long-time Berkshire Hathaway analyst who recently formed his own independent research shop, Solstice Investment Research, wrote in an email to
TheStreet
last week, "I think having a lot of cash on hand has allowed him to sleep well at night. I don't see this changing as he gets into his 80s."
>>And Warren Buffett's Successor is...?
Paul Lountzis of Lountzis Asset Management, a long-time Berkshire Hathaway shareholder, believes investment opportunities abound around the world for Berkshire to invest in, including more deals in the utility sector to add to the weight of the MidAmerican Energy holding.
Berkshire Hathaway investors among readership of
TheStreet
agree, and sent in their speculative Berkshire Hathaway M&A bets in response to the dividend speculation. One reader said that the long-anticipated Buffett purchase of privately held confectioner
Mars
will be Buffett's last big M&A play.
"He already owns over $7 billion in debt and another $1 billion or so in preferred stock in the
Wrigley-Mars business. The Mars brothers aren't getting any younger, and such a merger would give their heirs diversity and liquidity," the commenter wrote.
Another Berkshire Hathaway investor is betting on more M&A action from Buffett in the reinsurance sector. One of the biggest data points in the
Barron's
piece was that Berkshire's core insurance business alone was estimated to be sitting on $50 billion of cash at 2010 year-end.
"I would not be surprised to see a possible 'last hurrah' in the purchase of Munich Re. He already owns about 10% of the outstanding shares and with a purchase price around $30 billion, the investment would be large enough to 'move the needle'. As a shareholder I would love to see it," the commenter wrote.
Even readers who see another big Berkshire Hathaway deal coming, though, are divided on the issue of the dividend. One reader noted that many of the big acquisitions that Berkshire has made over the past decade have been capital intensive and steady cash flow businesses, and this profile suggests that dividend planning was, in fact, all along part of the long-term rationale for Berkshire Hathaway deal-making.
Other Berkshire Hathaway hawks counter that the cash needs of these businesses, by nature of their operations, provide an alternative to a dividend.
Stifel analyst Meyer Shields, who rates Berkshire Hathaway a sell, thinks that a dividend would further "de-mystify" Berkshire Hathaway and as a result, would not be a move made by Warren Buffett.
In any event, with the Berkshire Hathaway dividend speculation in the press, and the legitimate question of how Warren Buffett play's his cash hand,
TheStreet
thought it worthwhile to crowd-source an opinion on a Berkshire Hathaway dividend.
And...the "nays" have it!
Only 12% of respondents are in favor of Berkshire Hathaway paying a dividend.
Roughly 26% of readers think that a Berkshire Hathaway share repurchase program would be a better use of cash.
And an overwhelming 62% of respondents don't think Buffett, in his 80th year, will change a thing about the company's cash philosophy.
In any event, it won't be long before Buffett has his chance to chime in on the dividend, with fourth-quarter and full-year earnings due out at the end of February and another annual meeting and epistolary ode to capitalism due out in May -- which Buffett is already hard at work on, per the Buffett profile in a recent
Vanity Fair
issue. That profile included the annual letter sneak peek quip that in hiring hedge fund manager Todd Combs, Buffett wanted a two-year old Secretariat and not a ten-year old Seabiscuit.
Indeed, when it comes to laying down cash at the racectrack betting window, we know the direction in which Buffett leans, though handicapping the dividend issue remains difficult.
-- Written by Eric Rosenbaum from New York.
RELATED STORIES:
>>Will Warren Buffett Pay a Dividend, after 49 Years?
>>And Warren Buffett's Successor is...?
>>12 Most Big-Hearted Billionaires
>To contact the writer of this article, click here:
Eric Rosenbaum
.
>To follow the writer on Twitter, go to
.
>To submit a news tip, send an email to:
.