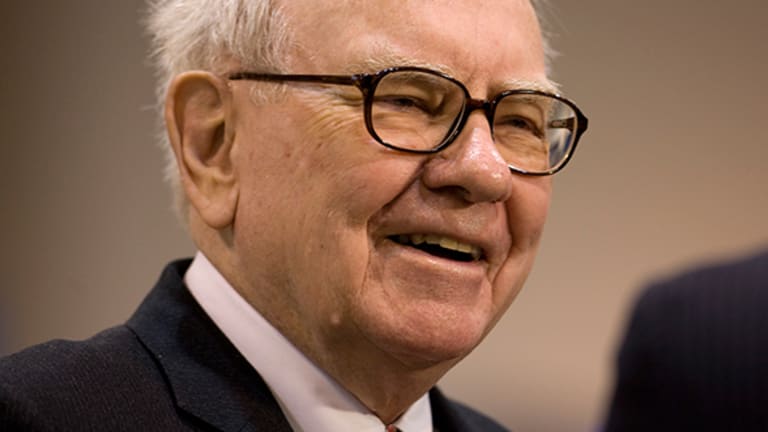 Warren Buffett Tops List of Year's Biggest Charitable Donors So Far
The rise of "mega-philanthropy" is pushing Americans' total contributions to charity to all-time highs.
 NEW YORK (TheStreet) --Wealthy Americans have recovered nicely from the Great Recession, and it's being reflected in their charitable giving.
Americans gave an estimated $358 billion to charity last year according to Giving USA, an all-time high and the fifth consecutive year in which giving has increased. Driving that growth has been what charity experts refer to as "mega-philanthropy."
"What we've noticed over time, and certainly with the end of the Great Recession, is that the number of donations of a million dollars and above hasn't increased significantly, but the average gift size has," said Dr. Una Osili, director of research for Indiana University's Lilly Family School of Philanthropy.
Not only is overall giving exceeding pre-recession levels, but it is reverting to pre-recession patterns as well. "We did see that shift a little bit in the Great Recession, when more wealthy people saw the need and were giving more to organizations like the Salvation Army, Catholic Charities, and others who helped the needy," said Holly Hall, features editor at The Chronicle of Philanthropy, an independent news publication that covers the nonprofit world.
Arts organizations saw gifts dip significantly during the crisis, but have enjoyed an increase in donations recently. The same holds true for universities, which have landed some of the largest gifts so far in 2015. "High-net-worth donors are seeking to give where they can have a significant impact, and many colleges and universities are increasingly offering those opportunities to have a sort of transformational impact," Osili said.
Organizations that rely on the wealthy are also pushing out charities that rely on more modest donations. Hall said that this year Fidelity Charitable, a donor-advised program set up by Fidelity Investments, is almost certain to overtake United Way of America as the country's largest charity.
Fidelity Charitable allows individuals to make contributions, receive an immediate tax benefit, and then recommend grants from a fund over time. It is a corporate entity that largely targets affluent individuals, as opposed to grassroots organizations that depend on modest gifts, such as payroll deduction contributions.
As to whether 2015 will again mark a year of growth in giving, it very much depends upon the economy. "Because of volatility, it's much more difficult to predict," said Osili. "It will depend on what's happening in the U.S. and globally."
Just over halfway through the year, more than 350 donations of $1 million or more have been made. Here are the 12 biggest gifts of the year so far.
1. Warren Buffett: Bill & Melinda Gates Foundation and others, $2.8 billion
Warren Buffett is 2015's top giver so far. In early July, he gave away $2.8 billion worth of Berkshire Hathaway (BRK.B) - Get Berkshire Hathaway Inc. Class B Report Class B stock to five charities.
This marks the billionaire investment magnate's tenth annual gift to the Bill and Melinda Gates, Susan Thompson Buffett, Sherwood, Howard G. Buffett and NoVo foundations. The bulk of the donated shares went to the Gates Foundation, while the rest were spread across the four other organizations, each of which are tied to Warren Buffett's family (three are run by his children, and one is named for his late wife, Susan).
Warren Buffett originally pledged to make the annual donations back in 2006, when he said he planned to eventually give 85% of his Berkshire stock away. "I know what I want to do, and it makes sense to get going," he told Fortune in an interview at the time. Since then, he has given away shares that would be worth around $30 billion at Berkshire's current share price.
Buffett has also signed the Giving Pledge, which asks wealthy Americans to pledge to give away at least 50% of their wealth to charity, and has further promised to give more than 99% of his wealth to philanthropic causes during his lifetime or at his death. "Measured by dollars, this commitment is large. In a comparative sense, though, many individuals give more to others every day," he wrote in his pledge letter.
Buffett has an estimated net worth of $66.9 billion and is the world's third-richest person, according to the latest rankings from Forbes.
2. John Paulson: Harvard University, $400 million
Harvard received its largest ever gift in 2015 from John Paulson. The founder and manager of hedge fund Paulson & Co. donated $400 million to support the university's school of engineering, which will be renamed the Harvard John A. Paulson School of Engineering and Applied Sciences (SEAS). Paulson graduated from Harvard Business School in 1980.
"There is nothing more important to improve humanity than education," said Paulson in a statement. "For 379 years, Harvard has had a profound global impact across a multitude of disciplines that benefits all of humanity. Today's gift will help continue that legacy by making SEAS a 21st-century engineering leader. It provides a solid endowment for faculty development, research, scholarship, and financial aid."
Paulson's estimated net worth is $11.2 billion, and his hedge fund manages approximately $19.3 billion.
3. Stefan Edlis and Gael Neeson: Art Institute of Chicago, $400 million
Chicago-area philanthropists Stefan Edlis and Gael Neeson donated a contemporary art collection with an estimated value of $400 million to the Art Institute of Chicago in April. Numbering 42 pieces, the collection includes works from Andy Warhol, Roy Lichtenstein and Jasper Jones.
The museum said that the gift is the largest of art in its history. Its president and director, Douglas Druick, told the Chicago Tribune that the donation was "one of the landmark gifts in our 136-year history" and "a great gift to the city of Chicago."
Edlis, an Austrian immigrant, is the former president of plastic injection molding manufacturer Apollo Plastic. He said the Art Institute made an offer he couldn't refuse in promising to show the art for 50 years. "A lot of collectors never get that chance," he said.
4. William Scheide: Princeton University, $300 million
William H. Scheide, who passed away in November 2014 at age 100, left a collection of around 2,500 rare printed books and manuscripts to Princeton University. Their appraised value is about $300 million, making it the largest gift in the school's history.
Scheide's family built its fortune in oil in the late 19th century, and his grandfather and father were avid book collectors.
The Scheide Library, assembled by three generations, has been housed at Princeton's Firestone Library since 1959, when William H. Scheide moved the collection there from his hometown of Titusville, Pennsylvania. Its inventory includes the first six printed editions of the Bible, an original printing of the Declaration of Independence, and Shakespeare's first, second, third and fourth folios.
5. David Koch: Memorial Sloan-Kettering Cancer Center, $150 Million
In May, Memorial Sloan-Kettering Cancer Center announced its largest single gift ever, a $150 million commitment from David Koch to build an outpatient medical facility set to open in 2019.
"It is my ardent hope now that the new Center for Cancer Care will transform cancer treatment worldwide, with the utmost emphasis on the needs of patients and their families," said Koch in a statement. "The novel clinical trials that will take place within its walls, and the other vital services including interventional radiology, outpatient bone marrow transplants, and programs for patients with lung, head and neck, and hematologic cancers, promise to be medically revolutionary, and I am honored to support this important work."
David Koch controls industrial conglomerate Koch Industries alongside his brother, Charles. According to Forbes, he has sat on the Memorial Sloan-Kettering board for 25 years and has donated or pledged more than $225 million to the institution. Forbes estimates his net worth and that of his brother to be $42.9 billion apiece.
6. Stephen Schwarzman: Yale University, $150 million
Blackstone Group (BG) - Get Bunge Limited Report co-founder, Chairman and CEO Stephen Schwarzman made a $150 million gift to his alma mater, Yale University, in May. The donation -- the second largest in the university's history -- will be used to build a new student center.
The complex, which will be named the Schwarzman Center, is expected to open in 2020 and will include the restoration of two of the university's buildings. It will house performance, exhibition, meeting, dining and gathering spaces.
"My hope is that the Schwarzman Center will serve as the crossroads for the campus, but also place Yale at the crossroads of the world," said Stephen Schwarzman in a statement. Schwarzman graduated from Yale in 1969. 
7. Conrad Prebys: Stanford-Brunham Medical Research Institute, $100 million
Real estate magnate Conrad Prebys donated $100 million to the Stanford-Brunham Medical Research Institute earlier this year. The nonprofit organization, which added Prebys' name to its title, has set a 10-year goal of raising $500 million for new therapies to treat cancer as well as neurological, immune and metabolic disorders.
"I'm making more money than I ever have in my life, and I don't have use for money," said Prebys. "If I can reduce suffering, reduce the time from the workbench to the hospital bed, it doesn't get much better than that for me."
Prebys, who according to Forbes became a billionaire this year, is the co-founder of Progress Construction and Management, and bought out his partner in 1980.


8. Henry and Marie-Josée Kravis: Rockefeller University, $100 million
Husband and wife Henry and Marie-Josée Kravis made a $100 million gift to the Rockefeller University in New York City in May through their foundation. The funds will help create a new laboratory building and form part of the school's planned campus extension.
"Henry and I are thrilled to help advance the kind of paradigm-changing discoveries that Rockefeller is known for and that will improve human health," said Marie-Josée Kravis in a statement. The two-story Marie-Josée and Henry R. Kravis Research Building will be constructed over FDR Drive in New York.
Henry Kravis is the co-founder, co-chair and co-CEO of private equity firm KKR & Co. (KKR) - Get KKR & Co. Inc. Report and has a net worth of $5.1 billion. His wife, Marie-Josée, is the president of the Museum of Modern Art.

9. Marion Anderson: University of California Los Angeles, $100 million
The UCLA Anderson School of Management announced its largest gift in history in May from Marion Anderson -- a $100 million donation to honor the legacy of her late husband, John Anderson, for whom the school is named. Of that, $60 million will be used to establish an endowment, and the rest will provide seed funding for a new building.
John Anderson, a UCLA alumnus, founded Topa Equities, which owns and operates businesses involved in agriculture, insurance, real estate, beverage distribution and automotive dealerships. Marion currently serves as the chair of the firm.

10. Rady Family Foundation: University of California San Diego, $100 million
The Rady Family Foundation made a $100 million commitment to the Rady School of Management at U.C. San Diego in April. The funds will be utilized to recruit and retain faculty and fund strategic priorities.
Evelyn and Ernest Rady made a $30 million lead gift in 2004 to establish the business school, and have also contributed $5 million to the expansion of its campus. "What a magnificent first 10 years -- and the school is just getting started," said Ernest Rady in a statement.
Ernest Rady founded American Assets Trust (AAT) - Get American Assets Trust, Inc. Report , a real estate investment trust, in 1967, and serves as the firm's executive chairman. Evelyn Rady, now retired, is a former social worker, case manager and clinical supervisor.

11. David Geffen: Lincoln Center, $100 million
Music and film executive David Geffen committed to donate $100 million to New York City performing arts and cultural complex Lincoln Center at the start of the year. The funds will be put toward the $500 million renovation of Avery Fisher Hall, which will be renamed David Geffen Hall.
"As a native New Yorker, I recognize that Lincoln Center is a beacon to artists and musicians around the world," Geffen said. "To be involved with such a beloved and iconic institution is deeply satisfying."
Geffen's net worth is an estimated $6.9 billion. He has founded two record companies, launching the careers of bands like Aerosmith and Guns N' Roses, and co-founded movie studio DreamWorks SKG. He has also made notable donations to the Geffen Playhouse and David Geffen School of Medicine at UCLA.

12. Roberta Buffett Elliott: Northwestern University, $100 Million
Warren isn't the only Buffett with philanthropic inclinations -- or to make major donations in 2015. His sister, Roberta, gave just over $100 million to Northwestern University at the start of the year. The gift, which will boost the field of global studies and fund scholarships for international students, is the largest in the institution's history.
The funding will create the Buffett Institute for Global Studies. "Bertie was convinced we couldn't wait any longer to get this institute underway and that Northwestern was its perfect home," said Morton Schapiro, president of the university, in a statement.
Roberta Buffett Elliott graduated from Northwestern University in 1954.
This article is commentary by an independent contributor. At the time of publication, the author held no positions in the stocks mentioned.