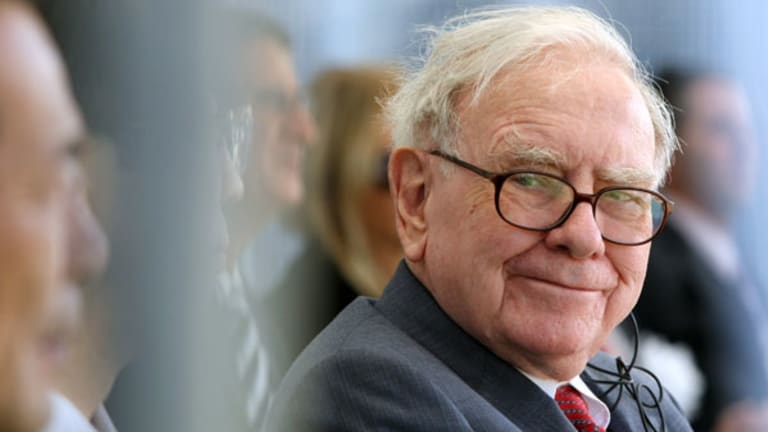 Warren Buffett Should Invest in Home Depot
Home Depot is down but should recover like American Express and Goldman Sachs, making it a great buy for Warren Buffett.
NEW YORK (TheStreet) -- Berkshire Hathaway's (BRK.A) - Get BRK.A Report portfolio is loaded with stocks that legendary investor Warren Buffett bought when the share price was reeling from massive selling such as American Express (AXP) - Get American Express Company Report, Goldman Sachs (GS) - Get Goldman Sachs Group, Inc. (GS) Report, and Wal-Mart (WMT) - Get Walmart Inc. Report. After disappointing investors with poor earnings, Home Depot (HD) - Get Home Depot, Inc. (HD) Report has fallen more than 2.2% for the last week of trading. Here are three reasons Home Depot should be the next blue chip that Buffett buys at a discount.
Like Wal-Mart and Coca-Cola (KO) - Get Coca-Cola Company Report, Home Depot is an industry leader.
Buffett likes to invest in companies with a formidable "economic moat." That is what protects a business against the forces of competition and time, making it an industry leader. As an industry leader, Home Depot has an economic moat like that of Coca-Cola and Wal-Mart that comes from its brand. As the world's largest home improvement retailer, Home Depot dominates its sector like Coca-Cola and Wal-Mart dominate their sectors.
Like American Express, Goldman Sachs and Wal-Mart, the stock price is down for Home Depot.
At present, Home Depot is off for the last week, month, quarter, and six months of market action. For 2014, Home Depot is down more than 6.5% with the Standard & Poor's 500 (SPY) - Get SPDR S&P 500 ETF Trust Report up over 2.6 %. Buffett invested heavily in American Express when it fell to the Salad Oil Scandal and in Wal-Mart when it plunged due to allegations about its activities in Mexico. Buffett plowed billions into stocks such as Goldman Sachs, General Electric (GE) - Get General Electric Company (GE) Report, and Bank of America (BAC) - Get Bank of America Corp Report that fell due to the impact of The Great Recession on the financial sector. The shareholders of Berkshire Hathaway have prospered greatly from all of those acquisitions.
Home Depot also has the financials to entice Buffett.
According to his biographer Carol Loomis, Buffett values companies that have a return-on-equity of more  than 20%. The return-on-equity for Wal-Mart, the closet comp to Home Depot that Buffett owns, is 26.70%. For Home Depot, it is 36.80%. Home Depot also has a much higher profit margin than Wal-Mart, too
In October 2008, Buffett wrote an op-ed for The New York Times, "Buy American. I am," about how he was investing heavily in American companies that would prosper in the years ahead. According to Finviz, earnings-per-share growth for Home Depot over the next half-decade is expected to be more than double its present quarterly rate. With the stock price down in the short term and higher growth projected well into the future, Home Depot is a compelling buy for long term investors like Warren Buffett.
>>Read More: Why KKR Stock Is Lower This Afternoon
>>Read More: Target Is Cleaning House but the Stock Is Still Tainted
>>Read More: Buy Lowe's for New Highs

At the time of publication the author held no positions in any of the stocks mentioned.
This article represents the opinion of a contributor and not necessarily that of TheStreet or its editorial staff.