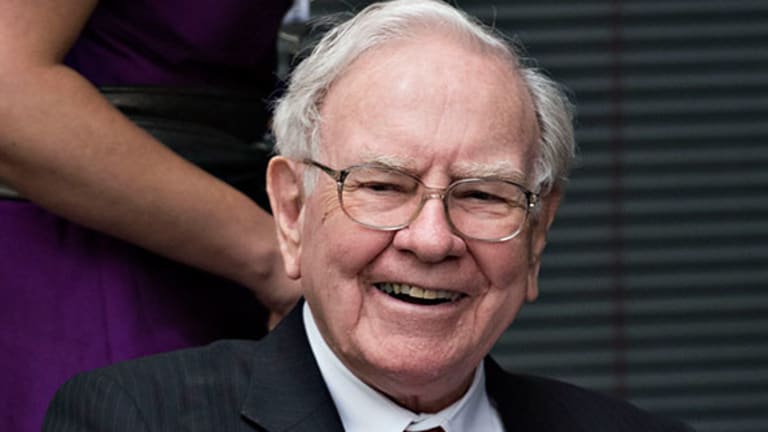 Warren Buffett's Top 10 Dividend Stocks From 2016
Berkshire Hathaway's portfolio contains some of the best dividend stocks for income.
Warren Buffett, one of the most legendary investors of all time, is a great source for finding high-yield dividend stocks. 
Armed with a simple strategy of buying high quality businesses at reasonable prices with an intention of holding them forever, Buffett has racked up one of the best long-term performance track records.
Buffett's Berkshire Hathaway owned over 40 stocks at the end of 2015, and the majority of them pay dividends. More impressively, nine of Buffett's top 10 positions pay a dividend, and nearly a quarter of his stocks have a high dividend yield of about 3% or more.
Included in this group are a handful dividend stocks that are members of the S&P 500 Dividend Aristocrats Index, which consists of companies in the S&P 500 that have increased their dividend payouts for at least 25 consecutive years.
It's no surprise that Buffett has taken a liking to some of these businesses, which are among the most durable blue chip dividend stocks in the world and have historically outperformed the market.
We took a closer look at Buffett's top 10 stock picks for dividends, and we (at Simply Safe Dividends, where I do research and analysis) actually own over half of the stocks below in our Top 20 Dividend Stocks and Conservative Retirees dividend portfolios.
Let's take a look at some of the best dividend stocks that Berkshire Hathaway likes so much.
1. General Motors  (GM) - Get Free Report
General Motors sports a high-yield dividend of 4.7% and trades for less than 6-times forward earnings estimates. It's no wonder why a value investor like Warren Buffett has his eye on the company.
Berkshire Hathaway made its first purchase of GM's shares during the first half of 2012, and General Motors now makes up about 1.3% of Buffett's portfolio.
General Motors has developed some of the most well-recognized brands in the world, including Cadillac, Buick, GMC, Chevrolet, Holden, and Opel. 
The company has also amassed the highest market share position in North and South America and is the second biggest auto OEM in the Asia, Middle East, and Africa region.
Warren Buffett likes company's that dominate their markets and have a strong portfolio of brands, and GM certainly fits the bill. 
While GM declared bankruptcy during the financial crisis, the company is much better positioned today. It structurally reduced costs and has a much healthier balance sheet that should be good enough to protect its dividend whenever auto sales roll over again.
2. Verizon  (VZ) - Get Free Report
Verizon makes up 0.5% of Berkshire Hathaway's portfolio and Buffett bought his first shares in the company during the beginning of 2014.
Despite being one of Berkshire Hathaway's smaller positions, Verizon is a giant with over $90 billion in annual revenue. The company owns the largest 4G LTE network in the country, allowing it to reach over 98% of the U.S. population.
Unlike AT&T, which has bet big on the pay-TV market, almost all of Verizon's profits are derived from its wireless voice and data services.
Verizon's economic moat is largely driven by the company's scale, brand recognition, and hard-to-replicate network. Consumers and businesses alike will continue to depend on Verizon for their communication needs for many years to come.
Dividend investors looking at Verizon might be enticed by its safe 4.4% dividend yield and 13.1-times forward price-to-earnings multiple. 
3. AT&T  (T) - Get Free Report
AT&T is Warren Buffett's highest-yielding dividend stock. Buffett started buying shares of AT&T last year, and the stock now represents about 1.2% of Berkshire Hathaway's portfolio.
The company is a high-yield dividend stock and currently offers investors a 5% dividend yield. AT&T's shares also trade for just 13.6-times forward earnings.
Buffett's stake in AT&T originated as a result of the company's acquisition of DirecTV. Berkshire Hathaway owned shares of DirecTV prior to the deal, and the shares converted into AT&T's stock after the merger closed.
Buffett actually sold part of his stake in AT&T in the fourth quarter of 2015, so he might not plan to stick around in this one.
Berkshire Hathaway was probably drawn to DirecTV in the first place because it is the biggest satellite TV provider in America and owned a set of expensive assets (e.g. satellites) that would be very difficult for new entrants to acquire.
4. International Business Machines  (IBM) - Get Free Report
Warren Buffett first purchased shares of IBM in 2011 and has steadily increased his stake in the company. Shares of IBM now account for 8.5% of his portfolio, making it one of Berkshire Hathaway's largest holdings.  
IBM was founded over 100 years ago and is a vital IT partner for many major companies around the world. In fact, IBM's systems are used by 90 of the 100 largest banks in the U.S. and by the 25 biggest retailers in the country.
Warren Buffett probably values the mission-critical nature of IBM's services and the long-standing customer relationships it has. There is little incentive for customers to switch to less-proven vendors.
As a result, the company has been a free cash flow machine and earns an attractive return on equity.
IBM's stock offers a dividend yield of 3.6% and trades at a very reasonable earnings multiple of 11.3-times.
5. Suncor  (SU) - Get Free Report
Suncor is one of two energy companies held by Berkshire Hathaway. Suncor accounts for just 0.6% of the portfolio, but it is a relatively newer position for Berkshire Hathaway. 
Buffett's firm began buying shares in 2013 and later boosted its stake during the latter half of 2015.
Suncor is an integrated oil company that primarily produces crude oil from Canada's oil sands. The business is attractive to Berkshire Hathaway because it is the largest integrated oil player in Canada, owns a high quality resource base with low-cost production, and is run very conservatively.  
Suncor has increased its dividend for over 10 consecutive years and currently offers investors a 3% dividend yield. The drop in the price of oil has caused the shares to trade at a potentially attractive level for long-term dividend growth investors.
6. Procter & Gamble  (PG) - Get Free Report
P&G is one of the largest consumer packaged goods companies in the world and a member of the dividend kings list, which contains dividend growth stocks that have managed to increase their payouts for at least 50 consecutive years.
Procter & Gamble stock is 3.2% of Buffett's portfolio, but his stake in the firm actually arose from his investment in Gillette dating back to 1989. 
P&G acquired Gillette in 2005, converting Buffett's shares into shares of Procter & Gamble. Berkshire Hathaway has been selling off its P&G shares over the last decade and reached an agreement in 2014 to exchange its remaining shares back to P&G for Duracell, a battery company.
Once the Duracell deal closes in 2016, Warren Buffett will no longer own P&G. However, we can learn from his deal for Duracell. The company has a strong brand, and Buffett likely believes that batteries will become more valuable over the next decade as rising technology demand boosts the need for efficient power management.
Shares of Procter & Gamble offer a very safe dividend yield of 3.3% and trades for 22.9-times forward earnings estimates.
7. Coca-Cola  (KO) - Get Free Report
Coca-Cola is one of Warren Buffett's oldest holdings, which is one reason why it is a large position at approximately 13% of Berkshire Hathaway's total portfolio value. Berkshire Hathaway made its first purchase of Coca-Cola shares in 1988 shortly after the stock market crash of 1987.
Buffett's stock pick has been a huge success in large part because of Coca-Cola's strong brands and massive distribution system that reaches well over 100 countries around the world.
The company's hefty marketing investments have kept consumers loyal to the taste of Coke, and retailers know that Coke's products will sell off their shelves, making life hard on potential rivals.
Additionally, Coca-Cola generates over 50% of its sales in Latin America and Asia, which should see beverage consumption rise as consumer wealth increases across emerging markets.
Coca-Cola has been a dividend growth machine with 54 consecutive years of annual dividend increases and offers one of the safest dividend payments around. 
KO's shares have a dividend yield of 3.1% and trade for 23.7-times forward earnings.
8. Deere  (DE) - Get Free Report
Shares of Deere account for roughly 1.3% of Buffett's portfolio, and Berkshire Hathaway began buying up shares of Deere in the second half of 2012. Today, Buffett owns over 5% of the company.
Deere manufactures a range of equipment primarily for agriculture and construction markets. Some of its equipment includes tractors, corn pickers, harvesters, and earth moving equipment.
The company has established a very strong brand and the biggest distribution network in the agricultural industry. This allows Deere to provide quick and cost-effective aftermarket service to its customers to keep their expensive machines up and running.
Deere has increased its dividend for 12 straight years and currently pays a dividend yield of 2.8%. DE's stock trades for 19.2-times forward earnings estimates.
9. Wells Fargo  (WFC) - Get Free Report
Wells Fargo has been in business for more than 150 years and was first purchased by Warren Buffett back in 1989. Since then, Wells Fargo has grown to be Berkshire Hathaway's largest holding at approximately 19.8% of its portfolio. 
Wells Fargo is a holding in Jim Cramer's Action Alerts PLUS Charitable Trust Portfolio. See how Cramer rates the stock here. Want to be alerted before Cramer buys or sells WFC? Learn more now.
Buffett first bought into Wells Fargo because he like the management team and the company's conservative culture. While the team has changed since then, the bank's conservatism has not.
The company avoids riskier financial services such as investment banking and trading and offers a diversified revenue mix of loan-making (53% of sales) and non-interest income (47%) from credit card fees, brokerage advisory services, commissions, and more. Altogether, Wells Fargo has 90 different business lines.
Wells Fargo is also a great business because it enjoys substantial cost advantages over many of its peers. The company is the nation's third-largest bank by assets and has consistently grown its total deposits from $3.7 billion in 1966 to $1.2 trillion in 2015. Deposits are a major low-cost source of funding for Wells Fargo's loans, which help the bank continue making money with its lending operations despite today's low interest rate environment. 
As a result of its conservatism and low costs, Wells Fargo maintains superior efficiency and profitability metrics compared to its peers.
WFC's stock provides a dividend yield of 3.0% and trades for 12.1-times forward earnings estimates.
10. Wal-Mart  (WMT) - Get Free Report
Wal-Mart simply dominated brick-and-mortar retail for many decades. The company serves over 260 million customers each week and does over $480 billion in annual sales.
As a result, the company can exert major pressure on its suppliers to acquire its merchandise at much lower costs than its rivals. This allows Wal-Mart to under-price its competition and gain a loyal following of price-sensitive shoppers.
The company's mix of goods has also made Wal-Mart a reliable business. Wal-Mart's biggest category is grocery, which accounted for over half of its sales last year. Consumers continue buying grocery items regardless of how the economy is doing, which has helped Wal-Mart consistently generate free cash flow and raise its dividend for over 40 straight years.
Wal-Mart's shares represented about 2.6% of Buffett's portfolio at the end of 2015, and Berkshire Hathaway sold some of its position last year. Wal-Mart is facing pressure from rising minimum wage pressure and increased competition from online retailers such as Amazon which have lower operating costs. 
Despite the headwinds facing the company, Wal-Mart's 2.9% dividend yield is extremely safe, and its valuation looks rather undemanding with a forward price-to-earnings multiple of 16.9-times.
This article is commentary by an independent contributor. At the time of publication, the author held long positions in GM, VZ, SU, PG, and WFC.