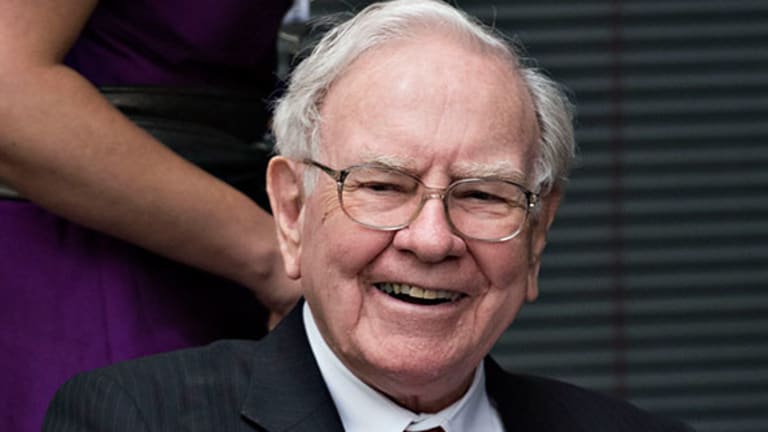 Warren Buffett's Biggest Dividend Stock Is on Sale
Warren Buffett bought more of his largest stock in the fourth quarter of 2015, and the stock is even cheaper today with a dividend yield over 3%.
Wells Fargo (WFC) - Get Report is Berkshire Hathaway's largest equity holding, and Buffett added to his position in the company during the fourth quarter of 2015.
The lowest Wells Fargo traded during the fourth quarter of 2015 was about $51 per share, which is higher than the stock's current price. In other words, Buffett was buying more of his biggest dividend stock at prices above where the stock trades today.
We also happen to believe that Wells Fargo is attractively priced and own the stock in our Top 20 Dividend Stocks and Conservative Retirees dividend portfolios.
Let's take a closer look at Warren Buffett's biggest stock and why it could be an appealing dividend investment today.
Wells Fargo was founded in 1852 and offers a variety of banking, investment, insurance, mortgage, and consumer and commercial finance services. The company was the third-largest bank in the United States as measured by assets at the end of 2015.
Unlike some of its peers, Wells Fargo has less exposure to investment banking and trading operations, which can be more volatile. The company instead focuses on basic lending businesses such as mortgages and car loans and also generates non-interest income from brokerage services, credit card fees, and more.
Wells Fargo's lending operations are largely a commodity. Customers are primarily concerned with getting the lowest interest rate possible from a reliable lender.
As one of the three biggest banks in the country, Wells Fargo enjoys numerous cost advantages that enable it to make more money from its loans than smaller players.
Deposits made by consumers and businesses are a major source of funding for Wells Fargo's loans, and the company has an outstanding track record of steadily accumulating these funds.
According to Wells Fargo's annual reports, the company's deposits have grown from $3.7 billion in 1966 to $1.2 trillion in 2015, representing annualized growth of approximately 12.6% per year. Wells Fargo has more retail deposits than any other bank in the country, thanks to its convenient locations and brand recognition, and it ranks third overall in total deposits.
Importantly, Wells Fargo paid a minuscule interest rate of 0.08% on its deposits during the fourth quarter of 2015, and its total funding cost including all sources was just 0.25% in 2015.
With such a low-cost funding base, Wells Fargo can generate a positive return on its lending business even in today's low interest rate environment.
As a result of Wells Fargo's scale, low-cost funding base, and efficient operations, it earns a return-on-equity higher than most other banks.
Bank stocks are also the safest they have been in quite some time. Following the financial crisis, regulators required banks to maintain more conservative leverage ratios and hold more safe capital on their balance sheets. While this reduces the amount of profits a bank can generate, it also reduces a lot of their fundamental risk.
A 2013 interview of Buffett revealed that he also believes bank stocks are in strong financial shape:
"The banks will not get this country in trouble, I guarantee it. The capital ratios are huge, the excesses on the asset side have been largely cleared out. Our banking system is in the best shape in recent memory." 
Taking a closer look at Wells Fargo's dividend, it is very safe today. The company's earnings payout ratio is below 40% over the last 12 months, and the business is very well capitalized.
Wells Fargo last received permission from the Federal Reserve in 2015 to increase its quarterly dividend by 7%, and management has boosted the dividend every year since 2010.
While the company did cut its dividend during the financial crisis, its dividend is now higher than it was prior to the recession and has compounded at a 4% annualized clip since 2005.
Buffett's recent purchases of the stock suggest that he thinks the company is attractively valued, and it's hard not to agree. The stock has a dividend yield of 3.1% and trades at just 11.3-times forward earnings estimates. Assuming Wells Fargo can generate mid-single digit earnings growth, its stock appears to offer annual total return potential of 8%-to-10% per year.
The company will need time to restore its reputation as a blue chip dividend stock and is certainly nowhere close to joining the dividend aristocrats list, but we think the stock's dividend is safe and has strong long-term growth potential. It is also a dividend stock that will benefit from rising interest rates, offering some diversification for income investors' portfolios.
For long-term investors looking to follow Buffett's lead, Wells Fargo is a high quality dividend stock to consider.
Wells Fargo stock is a holding in Jim Cramer's Action Alerts PLUS Charitable Trust Portfolio. Want to be alerted before Cramer buys or sells WFC? Learn more now.
This article is commentary by an independent contributor. At the time of publication, the author was long WFC.