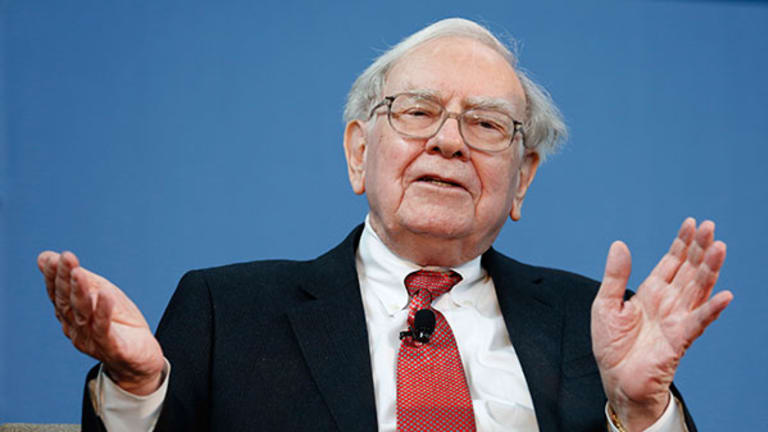 Warren Buffett Owns These 3 High-Yield Dividend Stocks -- Shouldn't You?
Here are the three highest-yielding stocks that Warren Buffett's Berkshire Hathaway owns. All have yields of more than 4%.
Most investors know Warren Buffett looks for high-quality businesses trading at fair or better prices.
Few know the degree to which Buffett invests in dividend growth stocks. 92% of Warren Buffett's portfolio is invested in stocks that pay dividends. Further, his top four holdings, which make up 62% of his portfolio, have an average dividend yield of 3.2%.
Warren Buffett's high-dividend portfolio is filled with great businesses. Today we'll look at his three highest-yielding dividend stocks. All three have dividend yields of more than 4%. It's unlikely that Buffett would allow his company to invest in these -- or any stocks -- unless they were high-quality businesses with strong competitive advantages.
One of the three is a Dividend Achiever. A stock must have 10 or more consecutive years of dividend increases to be a Dividend Achiever. See the newest list of all 274 Dividend Achievers here. The other two are large, well-known businesses. One of them is a car manufacturer. The other is an international drug business.
1. General Motors (GM) - Get General Motors Company Report
General Motors expects $5.25-$5.75 per share in 2016 adjusted earnings per share. This means the stock trades at a forward price-to-earnings ratio of about 5.6.
Sentiment about this company and stock remains extremely negative, presumably out of fear of slowing growth in emerging markets like China. It's certainly true that China is a focal point for General Motors, as the emerging markets more broadly present attractive growth potential.
But the reality is that General Motors is doing very well in emerging markets. For example, last month General Motors sold more than 277,000 vehicles in China, a 7.5% increase from the same month last year. Sales are rising at a brisk pace, and new manufacturing technologies allow for reduced production costs in underdeveloped markets like Mexico, China and India.
The U.S. automakers like General Motors have the wind at their backs. General Motors is benefiting greatly from the combination of crashing oil prices and low interest rates in the U.S.
General Motor's strong sales growth is translating into excellent profitability for the company. For example, General Motors earned a $2 billion net profit in the first quarter alone. It generated a 28% return on invested capital last quarter, up 9 percentage points from the same quarter last year.
General Motor's enhanced profitability allows it to return higher levels of cash to shareholders, which it does primarily through dividends. GM raised its dividend in January, and the new $1.52 annualized dividend provides a 5% dividend yield.
The dividend payout represents 27% of the company's 2016 projected adjusted earnings per share. That is a comfortable payout ratio that should leave room for future dividend growth. Since GM instituted its dividend in 2014, it has grown its dividend by 12% on a compounded annual basis.
The stock is very cheap on a valuation basis, and given its strong growth prospects and record financial results, GM stock should continue to be viewed attractively by value and income investors.
2. Sanofi (SNY) - Get Sanofi Report
At the end of last quarter, Berkshire Hathaway held 3.9 million shares of this France-based pharmaceutical company. The investment stake is worth approximately $156 million.
Sanofi pays its dividend once per year. Its annual dividend payment this year came to $1.63 per share, which provided a 4.1% dividend yield. The 2015 dividend payout was an increase of 1% from the previous year's dividend. Its high dividend and dividend growth are fueled by the company's strong earnings. Last quarter, adjusted earnings rose 5% thanks to 3% sales growth (excluding Venezuela) and cost cuts.
Looking back further, Sanofi had a very strong year in 2015 as well. Last year, sales grew by almost 10%.
One of the biggest factors helping Sanofi is that it is benefiting from the currency tailwind. While the rising U.S. dollar has been a major headache for multinational companies in the U.S. that do business overseas, the opposite is true. For international companies that do significant business in the U.S., such as Sanofi, the weak greenback is a boost to earnings.
The other factor helping Sanofi is that it has a very diversified business, across several different health care product groups. Sanofi has large animal health, pharmaceuticals and vaccines businesses, each of which posted solid growth last year.
In 2015, animal health and vaccines revenue increased 11% and 7%, respectively, from the previous year. Collectively, these two segments make up almost 20% of Sanofi's total revenue.
Within its pharmaceutical business, Sanofi's research and development is helping to replenish its pipeline and position the company for future growth. One area in which the company is reaping excellent results is Genzyme, where revenue jumped 30% last year.
The animal health and vaccines business should continue to fuel future growth. In the first quarter, animal health and vaccines revenue increased 18% and 8%, respectively, which represented acceleration from last year's results.
Sanofi is doing particularly well in underdeveloped nations across the world. Animal health and vaccines revenue soared 37% last quarter in the emerging markets.
3. Verizon Communications (VZ) - Get Verizon Communications Inc. Report
Verizon is a telecom giant in the U.S. It offers television and cell phone service across the country. The company has a long history of paying rising dividends, which makes the company a Dividend Achiever.
Its best asset is Verizon Wireless, which is a cash cow for the company. Verizon had to pay $130 billion to purchase the remaining 45% of Verizon Wireless that it didn't already own from Vodafone.
But the company believes the hefty price tag was still worth it, because of the tremendous cash flow the wireless business generates. The rationale is clear: Verizon Wireless is the largest and most profitable wireless carrier in the U.S., according to Verizon. And the company notes that the deal was still accretive to EPS.
As 5G wireless service rolls out across the nation, the wireless business should continue to add to overall growth going forward.
One concern for Verizon investors is that the acquisition of the wireless business has saddled the company with $103.6 billion in long-term debt as of the end of last quarter. While Verizon's debt load is indeed a concern, it's worth noting that Verizon's free cash flow should allow the company to pay this down over time.
Verizon generated $21.16 billion in free cash flow just last year, up 57% from $13.44 billion in 2014. With such huge growth in free cash flow from year to year, Verizon should be able to gradually improve its financial condition, as well as grow its dividend, albeit modestly.
Verizon stock yields 4.5%, which is approximately twice the dividend yield of the S&P 500.
Despite its high yield, further dividend growth is likely because Verizon has a low payout ratio. Verizon's free cash flow payout ratio, which utilizes free cash flow instead of traditional earnings per share, was 40% last year.
Verizon's high free cash flow should easily allow for continued dividend growth each year. Verizon's mix of high dividends, growth and safety make it a favorite of The 8 Rules of Dividend Investing.
This article is commentary by an independent contributor. At the time of publication, the author held no positions in the stocks mentioned.