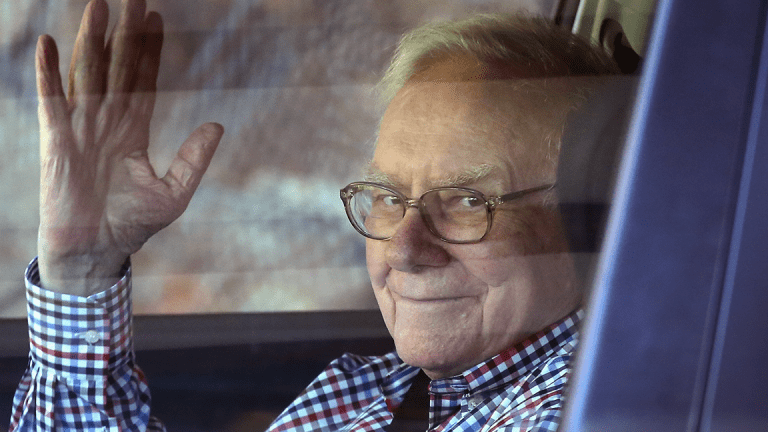 Warren Buffett Taught Me These 5 Amazing Investing Lessons to Use in 2018
Billionaire Warren Buffett has some awesome tips to successful investing. Here are several I have learned.
I began my now 42-year long career on Wall Street in 1975, aged 25. The first time I ever heard the name of Buffett was in that same year. However, his first name was Jimmy. And that almost 71 years young Jimmy Buffett is still a great singer, songwriter and entertainer.
During said 1975 that other Buffett (Warren, then age 45) merged his rather newly acquired Berkshire Hathaway (BRK.B) - Get Berkshire Hathaway Inc. Class B (BRK.B) Report with Charlie Munger's trading firm. Munger received 2% of Berkshire Hathaway and became its Vice Chairman. I still had not heard of Warren Buffett.
But the Buffett saga would eventually become known by anyone who trades and invests in the stock market. The study of Buffett and his Berkshire Hathaway empire is worth every minute spent researching it.
Buffett, when not yet 20, had already earned his BS in Business Administration from the University of Nebraska. He then applied to Harvard Business School to further his education. He was rejected! Maybe let that sink in.
ingNot to be deterred, he applied to Columbia, where a few years hence he would earn a Master's of Science in economics -- and meet his mentor, one Benjamin Graham. Graham had just published his investment classic "The Intelligent Investor". By age 24, Buffett would be working for and with the venerable Graham.
That decision was key to Buffett's development, both for deepening his knowledge of the markets as well as sparking the growth of his assets from what was back then a decent total of $10,000 to $140,000 in only a few years. Yes, once again timing and fate are almost everything.
Buffett would manage his own investment partnerships while in his 20s.
His investment strategy was and is fundamentally based. His genius is found in analyzing value and doing something about it.
By 1965, at age 35, Buffett had taken over Berkshire Hathaway. By the 1990s, I began to hear of Warren Buffett. I suppose only by then did he chose to become a somewhat public figure. And, I still listened to Jimmy's music.
Today, there is plenty of Warren Buffet's stock market intelligence to read and listen to, as he continues to share his stock market strategy with the public. His now numerous appearances on CNBC are offered to all who care to listen and watch gratis. His commentary can be found on the internet for anyone to watch, listen and, of course, learn.
I spent my first seven-plus years on Wall Street learning all I could gather, focusing on the new opportunities offered by listed options trading. Little intelligent options material was offered back then, so for me it was a process of learning "on the job", watching options trading on those primitive trading screens and spending as much time as I could on the Pacific Coast Options Exchange.
In 1983, I packed my bags and moved to Philadelphia, getting my seat on the PHLX (Philadelphia Stock & Options Exchange). I was then still learning "on the job", only this time it was my hard-earned money that was doing the heavy lifting. Just as back then, I am still learning as things change all the time.
Listening to Buffett in one particular CNBC interview allowed me to review his highly successful method and then relate it to what was and is mine. The following are his five key rules of investing and my take on them:
1. Buffett teaches us not to try to time the markets.
OK, I do not do that. Instead, I attempt to time the flow of options volatility; that knowledge was, is and will be important "intel" to being a successful options trader. As for timing the stock market, I still use a shorter-term oscillator and an intermediate-term indicator. However, I never fight any tape. In other words, oscillators and indicators are suggestions to be understood, but the final arbiter is the tape action.
2. Buffett says to not be afraid to buy the dips.
Well, check on that key point! I always bought and still buy the seriously big dips. That buying especially targets the big dips, where the financial media is 110% all-in selling and promoting the fear, doom and gloom. Every time that media-driven fear, doom and gloom cacophony set up, my oscillators agreed with their "buy this dip" trigger. After knowing that, I watched the tape and began to scale into new longs.
For reference, there was March 2009 (the housing crisis bubble's bottom); May 2010 (Flash Crash bottom); August 2011 (Spain and Italy debt crisis bottom); May 2012 (Greece debt crisis bottom); August 2015 (the ETF crisis bottom); and November 2016 (Trump election panic bottom). There have been others, but these stand out as being big dips to buy.
3. Buffett is all about getting things down to the KISS (keep it simple stupid) method level.
I totally agree on that one. I will add this: the longer the analysis/report, the more that "intel" is "baked into the market". For me, the long-winded analyst reports are the antithesis of keeping it simple. Instead, they illustrate someone trying to show us how smart and important they are. And the vast majority don't pan out, because if that much is known by the market, it's already priced in.
4. Buffett says to start young.
That makes sense: one has plenty to learn. And youth offers the energy and drive to do that learning!
5. Buffett implores to "not lose money"!
Well, what I think he means is: we will, at times, lose money in the market. Everyone does that. It's inevitable, and part of the game. The key here is not to lose too much. I preach to not let one grenade (one bad trade) get your entire account! I preach to not think that you are the market and become someone who thinks that everyone is wrong but them. And I preach to hedge down to the point where you are in control of your risk. Apply those, and you will do fine. Violate any of them, and the doomsday clock is ticking.
There is plenty more investment material that one can cull from reading and listening to the most famous investor of our time. Warren Buffett walked the walk long before he began to talk the talk. I do encourage you to spend plenty of time learning from the sage that Warren Buffett is for the ages.
This commentary originally appeared on Real Money Pro at 11:30 on Nov.24. Click here to learn about this dynamic market information service for active traders.
And by the way, Warren Buffett won't be leaving his fortune to his kids:
More of What's Trending on TheStreet:
This article is commentary by an independent contributor. At the time of publication, the author held TK positions in the stocks mentioned.