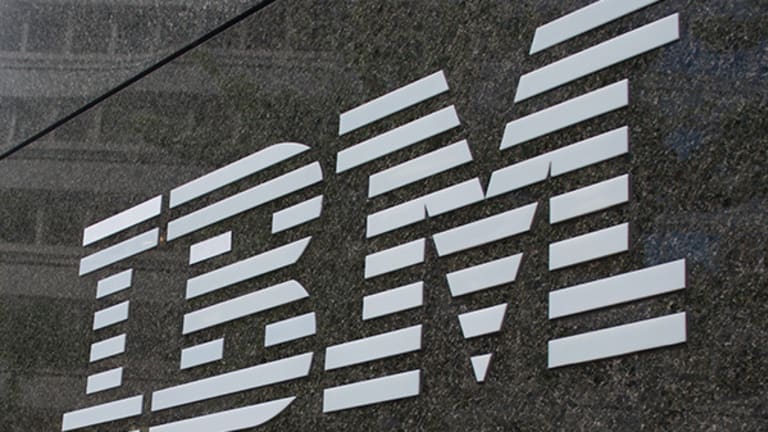 Warren Buffett Has No Regrets About Picking IBM Over Apple
Legendary investor Warren Buffett still holds onto IBM, despite its underperformance. He says he has no regrets over not owning Apple.
NEW YORK (TheStreet) -- Legendary Investor Warren Buffett says he has no regrets holding shares of IBM (IBM) - Get International Business Machines Corporation Report, a technology underperformer, and doesn't wish that he had purchased shares of Apple (AAPL) - Get Apple Inc. Report instead.  
Buffett, who marked 50 years of leadership at Berkshire Hathaway, made the comments in an interview with TheStreet.com, following Berkshire's annual meeting in Omaha, Nebraska.
IBM is considered one of Buffett's "big four" stock positions, which also includes Wells Fargo (WFC) - Get Wells Fargo & Company Report, American Express (AXP) - Get American Express Company Report and Coca-Cola (KO) - Get Coca-Cola Company Report.  At the end of last year, he owned 7.8% of IBM.  Buffett has never been a fan of technology stocks, but took a position in IBM in 2011.  Over the past few years, IBM has trailed the market.
More Berkshire Hathaway Coverage

10 Strange Facts About Warren Buffett's Annual Meeting

Warren Buffett's Take on Coca-Cola Is out of Touch

Warren Buffett and Berkshire Hathaway: The Insider's Guide
But Buffett is a fan of buying and holding stocks, and has said he likes when his stock prices fall so he can buy more shares.  Buffett says that a buy and hold strategy is one that individual investors should subscribe to.  When asked if the stock market was overvalued and due for a correction, Buffett said, "if you are worried about a correction, you shouldn't be in the market."
Buffett, known to his enthusiastic shareholder base as the Oracle of Omaha, is definitely in the market for acquisitions, and said that he'd like to make one "sooner rather than later." During his annual meeting, Buffett mentioned he was pleased with Berkshire's recent acquisition of auto dealership Van Tuyl, and that he'd like to buy additional local car dealerships.
Additionally, Buffett said he was interested in making an acquisition in Germany within the next five years. During the shareholders meeting, Buffett received some criticism over his recent partnership with 3G Capital, which teamed up with Berkshire Hathaway on its purchase of Heinz and Kraft Foods Group (KRFT) . Shareholders spoke out against 3G's practice of cutting costs and jobs at companies they acquire, but Buffett defended 3G's business practices.
Buffett will make investments in existing businesses this year, spending money to comply with new federal rail safety rules at Berkshire's BNSF railway unit and also at the Berkshire's energy unit with further investments in renewable energy. But Buffett cautioned that renewables are not great investments for individual investors.
On the economy, Buffett said he thought it would be difficult for the U.S. Federal Reserve to be pushing up interest rates while there are negative rates in Europe.
The anti-technology Buffett, who's 84, still uses a flip phone.  When asked if he'd like a smartphone for his next birthday he responded, "I haven't thought about it."