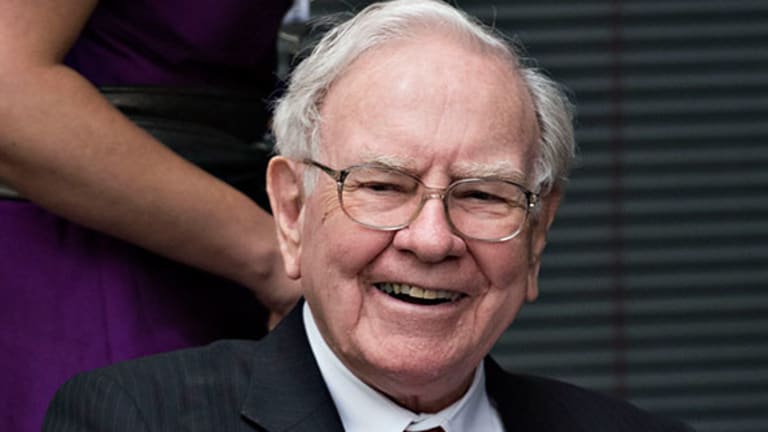 Warren Buffett Buys Into Health Trend With Brooks Marathon Running Shoe
Brooks is one of the best known brands for long distance runners -- and now the company, owned by Warren Buffett, is releasing a marathon shoe.
Runners from around the world are lacing up for the New York City Marathon on Sunday. After months of preparation and countless hours of training, the single most important piece of gear they'll be wearing on Sunday is their running shoes.
One of the best known brands for long distance runners is Brooks. The Seattle-based athletic shoe and apparel company has been a long-time supporter of running events around the country. Brooks, which is subsidiary of Warren Buffett'sBerkshire Hathaway (BRK.A) - Get Berkshire Hathaway Inc. Report (BRK.B) - Get Berkshire Hathaway Inc. Report , was acquired in 2006.
This year, the sneaker maker launched the Bright Lights, Big City Adrenaline GTS 16 for both men and women. The $150 "concept shoe" is meant to mimic the bright lights of Manhattan's Times Square.
Brooks' North America General Manager Dan Sheridan said the company has seen a boost from the health and wellness craze here in the U.S.
"Whether it's government policy or just corporations getting people moving, it is feeding our industry. Every single race in America is growing because people are moving, and for us, it is absolutely feeding our industry and our revenues," Sheridan said.
While Sheridan stopped short of saying whether Warren Buffett is himself a runner, he said, "Warren moves. He moves quicker than any of us and he's always supporting Brooks and cheering everyone on."
Sheridan says the best advice Buffett has ever shared is this: "One of the things he always talks to us about is to make sure our brand is stronger at the end of the year than it was in the beginning. So, we invest in our brand and Warren is a lover of great brands."
According to Tata Consultancy Services, the average runner goes through two pairs of shoes during marathon training. With roughly 50,000 people expected to run in Sunday's marathon, that means a lot of opportunities to sell sneakers.