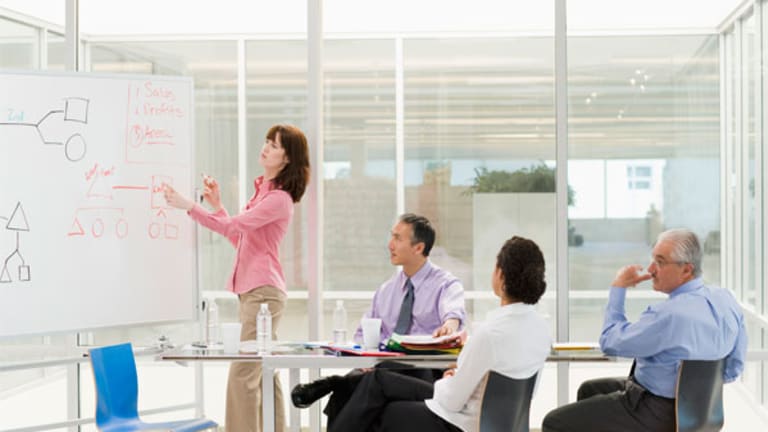 Warren Buffett Agrees With Me: Today's Outrage
Warren Buffett and I agree that the economy is not worse and not better either. I'm not sure where he stands on my concern about a disconnect between investors and consumers.
NEW YORK (
) -- I'll take it as a compliment that Warren Buffett is in my camp.
The billionaire investor behind
Berkshire Hathaway
(BRK.A) - Get Report
, agrees with me that the economy is neither better nor worse over the past three months.
That was essentially the point I was making yesterday when I wrote that the
about
Fed
Chairman Ben Bernanke's declaration that the recession is "technically" over.
The fact is that the recession doesn't
feel
over. Buffett thinks that's true too.
He told CNBC (GE) - Get Report
: "It hasn't gotten worse. It hasn't gotten much better either."
I'm no pessimist, mind you. I'm just worried that if the market gets too far ahead of the consumer, then we'll all be in for a shocking reversal.
The
Dow is marching toward the 10,000 level
-- putting us back where we were one year ago. That's exciting and I don't want a disconnect between traders and consumers to halt the progress.
We Americans lost more than $1 trillion from our retirement accounts
due to the stock market crash. So I understand the eagerness to win it back. But we don't have to hit 10,000 on the Dow this week (though we may yet). We don't have to hit 10,000 next week. The important thing is to get there and to hold onto it.
Like an out-of-shape mountain climber, we're not conditioned for such high altitudes. We could easily panic and rush lower to catch our breath. Or we could take a steady climb and acclimate.
There are some good reasons for optimism -- signs that things are getting better.
New economic data today
provide some support: The number of Americans filing their first claim for unemployment benefits unexpectedly declined last week; builders are building again, with new housing starts reported higher today; and more building permits being issued.
Consumer companies like
Kraft
(KFT)
have regained the courage to consider acquisitions, as the ongoing battle for
Cadbury
(CBY)
reveals. If Kraft wants to bet on candy, then management there is confident that consumers will be spending more on niceties soon.
Over in the tech world,
Adobe's
(ADBE) - Get Report
bid for
Omniture
(OMTR)
is just the latest sign that Internet sector merger activity is hotting up again, as TheStreet technology reporter
Scott Moritz pointed out yesterday.
Those kinds of deals are built on corporate optimism that the consumer will soon be spending more freely again. The deal makers are banking on things getting better down the road.
For the moment, though, it's enough to say that things aren't getting worse.
--Written by Glenn Hall in New York.
Follow TheStreet.com on
or
Twitter
and become a fan on
Facebook.
Glenn Hall is the New York-based Editor in Chief of
TheStreet.com
. Previously, he served as deputy editor and chief innovation officer at
The Orange County Register
and as a news manager at
Bloomberg News
in Frankfurt, Amsterdam and Washington, D.C. As a reporter, he covered business and financial markets, worked in both print and television in the U.S. and Europe, and conducted in-depth investigative coverage at
The Journal-Gazette
in Fort Wayne, Ind. His work also has been published in a variety of newspapers including
The Wall Street Journal
,
The New York Times
and
International Herald Tribune
. Hall received a bachelor's degree in journalism and political science from The Ohio State University and a certificate in project and program management from Boston University.