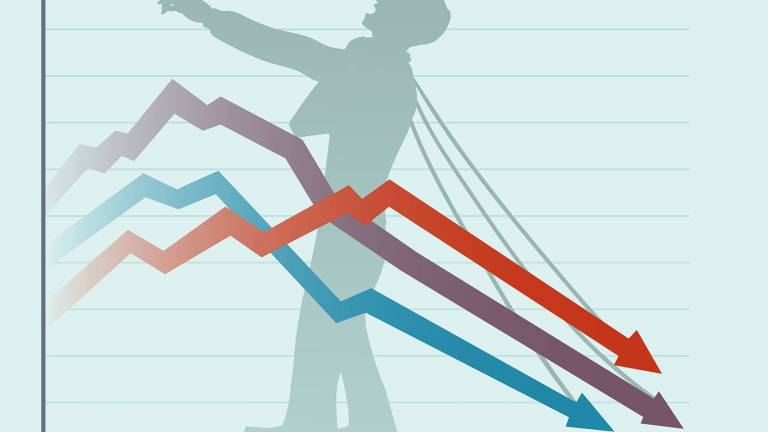 Warning: These 5 Double-Digit Dividend Yields Are in Imminent Danger of Getting Cut
If you own any of these risky double-digit dividend payers, get rid of them now before they crash and pull you down with them.
Stocks with double-digit dividend yields are highly coveted by investors, but they come with a catch: There's always the underlying threat and fear that the dividend payout could witness a sharp downswing without warning. Further, many double-digit payers boast high yields because of their battered share prices, signalling trouble at the company, making a dividend decrease all the more likely.
That's why you must fortify yourself against the deceptive charms of these stocks. We've identified five stocks that are high on income-creation, but also high on risk. If you own any of the following stocks, you should sell them now, before your portfolio takes a terrible beating.
HCLP
data by
1. Hi-Crush Partners LP (HCLP)
Hi-Crush Partners LP is in a definite free fall.
From a $50 high in the same month a year ago, Hi-Crush Partners LP nosedived 88% and trades at $6.12 currently. The company, which produces sand used in oil and natural gas extraction has been stricken by low energy prices, which has led to a beating in the company's pricing.
It's no surprise, then, that the company's dividend yield stands at 15.2%, as weak stock prices make the dividend yield appear more lucrative. The low pricing has eaten into the operating margins of the company as well. Falling quarter after quarter, the company came out with an operating loss in the latest quarter.
With a dismal past performance and no hope for recovery in the near future, it's a natural course of action for Hi-Crush to arrest its cash distribution. Currently, the company's cash distribution is recorded at 13% (lower than its five-year average of 16.7%).
Additionally, Hi-Crush has slashed its distribution by 30% of late, so you can expect the trend to continue.
MEMP
data by
2. Memorial Production Partners LP (MEMP)
Another stock lurking at a 52-week low is Memorial Production Partners, an oil and natural gas developer from Texas. An over 75% drop (from the $18+ high of March) has brought the stock to a single digit level of $4.60.
Not only has quarterly revenue declined 47% year-over-year (YoY) to $88.08 million in the quarter ended September 2015, operating cash flow for nine months as of the third quarter is also down 11.6% to $185.6 million (when compared to the same quarter a year ago). Considering how the bigger players in the energy industry have fared so far this year, this hardly comes as a surprise.
Combine the low operating cash flow with a debt-to-equity ratio of 2.18 (higher than the industry average), and we are staring at limited reserves to pay back debt and interest, let alone pay out high dividends.
Expect a dividend cut any time.
This stock belongs on our list of other highly dangerous stocks that you should shun right now.
data by
3. CVR Partners LP (UAN) - Get Free Report
For a company that's beaten analysts' estimates lately, investors were in for a rude shock when CVR Partners LP declared negative September quarter earnings-per-share of -$0.07 as against expectations of $0.03. After the surprise in earnings, the lack of a dividend announcement in November was expected.
So what's in store for investors of this nitrogen fertilizer producer offering an attractive dividend yield of 14.5%? Probably more misery.
There were many reasons for the 25% decline in the company's stock to $8.44 today from, $11.40 (before September earnings). Outages at Linde LLC's air separation unit which supplies oxygen and nitrogen to CVR, a plant shutdown, and costs relating to the acquisition of Rentech Nitrogen Partners LP were the biggest culprits.
Among these woes, there's still a haze surrounding the merger of CVR and Rentech. Both companies are bleeding themselves dry in trying to push their merger through, with clarity not expected until the first quarter of 2016.
However, if the deal falls apart, cash distributions could spiral downwards without control or any semblance of stability.
data by
Navios Maritime Partners (NMM) - Get Free Report
At a dividend yield of 24.72%, seems like an attractive bet. Navios could also come off as the best pick among its peers Ship Finance International (11.5% yield), and Diana Shipping and DryShips, both of which don't offer any dividends.
But beware of the numbers Navios is providing.
Despite repeated assurances from the management about sustaining the distribution of $1.77 per unit through 2016, third-quarter earnings brought in a story that was quite different.
Distribution had been slashed 52% to $0.85 per unit, from $1.77 on the back of a lackluster outlook for the dry bulk market and general uncertainty in overseas traded and commodity prices. The cut blew the doors off analysts' estimates that were pegged around a 35% reduction.
While the company's management has expressed confidence that the current distribution has a five-year sustainability, is it prudent to go by their word and risk being bitten twice? This shipping stock is foundering and about to sink.
RSO
data by
Resource Capital Corp (RSO)
Over the past year, Resource Capital Corp has been on a downward trajectory.
The mortgage REIT has consistently missed analysts' EPS estimates for the past three quarters and underperformed the S&P 500. While the index has now recovered to trade flat over the past few months, Resource Capital Corp has lost 40% since the same period a year ago.
Resource Capital also is by far the worst performer for this one-year period among its peers as well. Annaly Capital Management Inc., Capstead Mortgage Corporation and Walter Investment Management Co. have all fallen throughout the year, but Resource Capital has seen the worst.
At 4.91 times forward price-to-earnings, Resource Capital is relatively cheap compared to peers Annaly Capital and Capstead Mortgage at 8.64 times and 9.74 times respectively. But this valuation isn't enough to convince analysts who don't recommend fresh investments in the company.
A plummeting stock price and a 727.08% YoY increase in net operating cash flows to $33.11 million have supported a scaling 21% dividend yield, but on a return basis it's essential you aren't blinded by the short term dividend growth. When it comes to Resource Capital, hang onto your dollar. And if you own it, sell it now before you get left holding the bag.
For a complete report on other highly dangerous stocks on the verge of total collapse, click here. If you own any of them, sell them NOW.
This article is commentary by an independent contributor. At the time of publication, the author held no positions in the stocks mentioned.