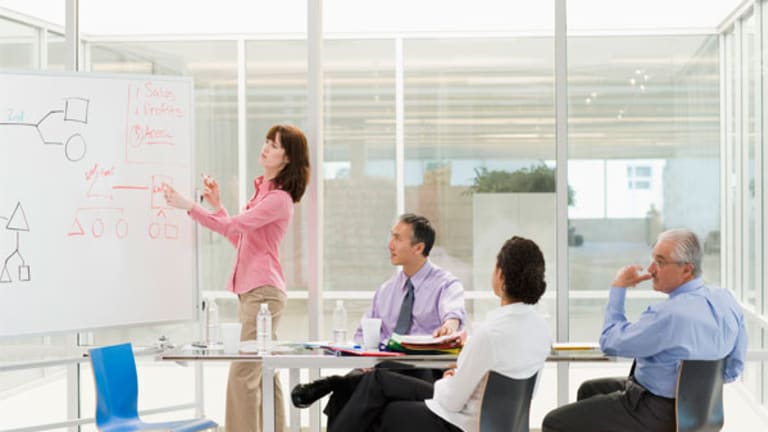 Warning: Telecom Prices May Be Too High
Let the froth settle rather than overpay.
NEW YORK (TheStreet) -- The U.S. Labor Department released a report on Sept. 25 saying that spending on phone services increased more than 4% in 2011 which was the fastest rate of growth since 2005. Customers want to stay connected and are activating cell phones like there's no tomorrow.
According to a recent
Wall Street Journal
report titled, "Cell Phones are Eating the Family Budget," more than half of all U.S. cell phone owners carry a "smart-phone" like the iPhone or a Droid. It's becoming more common for families to spend $200-a-month or more on cell phone services, and that trend looks like it may continue in the months ahead.
This has been part of the reason that the shares of the big telecom companies have been going to 52-week highs as revenues increase and so do dividend yields. The shares of the two big giants,
Verizon
(VZ) - Get Verizon Communications Inc. Report
and
AT&T
have been acting more like growth stocks instead of stodgy telecommunications companies.
By market cap the bigger of these two is AT&T. Weighing in with a $220 billion market cap, T hit its 52-week high of $38.58 on Sept. 21 and has barely corrected. With its close Wednesday of $38.08 it's been afforded a price-to-earnings ratio of over 50 and a forward P/E of almost 15.
Perhaps we shouldn't be surprised. According to
The Journal
article, the trend of multi-cell phone families is expanding so fast that big telecoms like AT&T and Verizon Wireless brought in $59 billion in revenue in 2011. That's a big jump over the $22 billion in revenue they earned in 2007.
As you can see from the 5-year chart below, revenue-per-share growth has been one of the big drivers of share price growth. Selling services like mobile email and Web browsing is a very lucrative business.
data by
Cell phone services are one of the household spending categories that actually accelerated since the beginning of the Great Recession. According to the Labor Department, spending on "telephone services" has increased by 10% for households in America since 2007.
Although last quarter's revenue growth was less than 1% year-over-year for AT&T, that still means their trailing-12-months revenue-per-share was a whopping $21.57. Their operating cash flow (trailing 12-months) was $35.35 billion dollars and their levered free cash flow was $9.69 billion.
That's all well and good, but what's the rub? Let's begin with an enormous debt load of an estimated $64.53 billion. Although they have a thrilling 4.6% dividend, this equates to a payout ratio . . . are you sitting down . . . of 235%!
With AT&T's quarterly earnings growth for the quarter ending June 30 of just 8.7% and revenue growth flat-lined, it's hard to imagine how they can sustain such a generous dividend payout without incurring more debt. If there's one thing AT&T doesn't need, it is more debt!
Verizon by comparison has also fueled the growth of their share price through growing revenue, as the chart below with the same time horizon illustrates. Is this kind of revenue-per-share growth sustainable? Perhaps it is if the other half of Americans jump on the smart-phone bandwagon.
data by
VZ currently has a PE ratio of 45, a forward PE of 16, and a dividend yield of 4.5%. The closing price on Wednesday of $45.59 is only 48 cents below last Friday's high of $46.06. Their revenue growth last quarter (year-over-year) showed an increase of 3.7% and their quarterly earnings growth was 13.7%.
Like AT&T, they had solid operating cash flow of over $32 billion (trailing 12 months) and levered free cash flow of $11.68 billion. They also had some onerous total debt (most recent quarter) of $52.39 billion. To support their generous dividend they too have a nose-bleed high payout ratio of almost 200%.
Verizon has an operating margin (trailing 12 months) of nearly 18%, and AT&T has improved theirs to 13.6%. T has a return on equity of only 4.3% compared to Verizon's 12.7% ROE. That's a wide disparity and T had better make some progress in that important area to keep their shareholders satisfied.
The big telecoms are very optimistic about people wanting more data and being willing to pay more for it.
The Journal
article quoted Verizon's CFO Fran Shammo at an investor conference last week as saying, "Speed entices more usage." Shammo also reportedly said, "The more data they
customers consume, the more they will have to buy."
It's true that cell phone users seem to have an insatiable appetite for more speed, more applications and more smart-phone connectivity. But how much more can they afford to spend per month on such luxuries? Until the economy and employment improves is it realistic to expect families to fork out even more money per month so they can tweet their friends or check their email from a street corner?
Investors should also wonder whether AT&T and Verizon will continue to deserve such lofty PE ratios. Or how about their PEG ratios (five-year expected) that seem much higher than major energy companies and are approaching 2 times their earnings growth rate.
It seems more rational for investors to wait for a correction that would bring share prices down towards their 200-day moving averages. That would mean a price closer to $33 for T and $41 for VZ. Smart investors don't want to chase yield or price.
It seems more prudent to let the froth settle rather than overpay and risk a big price correction, especially if they disappoint or lower guidance on or before their next earnings "confessionals" which for VZ is Oct. 18 and for AT&T is Oct. 24. Patience may be worth more than the dividend at these price levels.
At the time of publication the author held no positions in any of the stocks mentioned.
This article is commentary by an independent contributor, separate from TheStreet's regular news coverage.
Jim Cramer and Stephanie Link actively manage a real money portfolio for his charitable trust -- enjoy advance notice of every trade, full access to the portfolio, and deep coverage of the latest economic events and market movements.