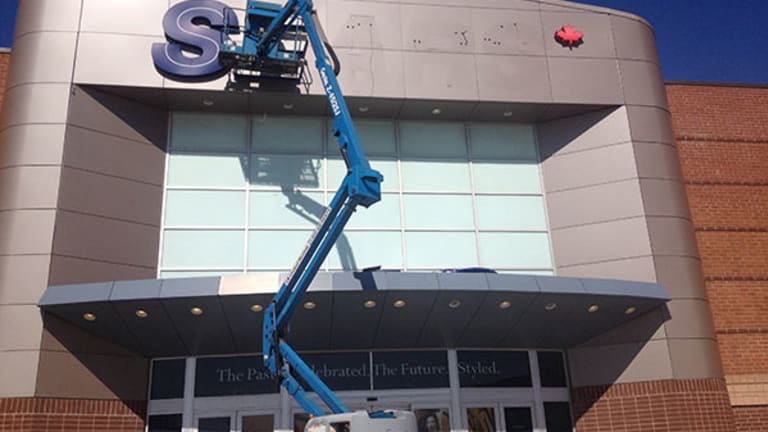 Warning: Here's Why You Should Dump Sears Stock Now
Initiatives launched last week by struggling retailer Sears Holdings only forestall the company's inevitable demise. If you own the stock, you should sell it immediately.
When it comes to supposed signs of a comeback for Sears Holdings (SHLD) , the famous words of comedian Larry David come to mind: Curb your enthusiasm.
As a storied American brand, Sears Holdings is commonly held in 401(k) accounts and Individual Retirement Accounts. Let me explain why anyone who holds this doomed stock should dump it now, before it continues its inexorable descent.
(Sears isn't the only stock with a one-way ticket down. Check out this list of 29 dangerous stocks on the verge of collapse.)
Any notion that Sears is setting the stage for a comeback reflects a syndrome that I like to call "hopium." Think of it as an opiate taken by investors who want to delude themselves into believing a certain investment will perform well, despite evidence to the contrary.
In a bid to seem tech savvy, Sears Holdings last week announced with great fanfare that it had purchased the technology behind WallyHome, a smart device that senses changes in temperature, moisture and humidity, warning homeowners about potential leaks. Sears will license the technology for the development of future Sears Connected Solutions products.
Also last week, Sears unveiled a new program of in-store consultations for its appliance products, called "Meet With An Expert."
These recent Sears initiatives come on the heels of ostensibly positive operating results.
For its second fiscal quarter of 2015, Sears Holdings announced its first year-over-year quarterly profit in three years. The company posted earnings per diluted share of $1.84, compared to a net loss of $573 million ($5.39 loss per diluted share) for the second quarter a year earlier.
CEO Eddie Lampert hailed these results as Sears' fourth consecutive quarter of improved performance. Indeed, some analysts popped the Champagne corks and suggested that the beleaguered company had at last turned the corner.
Missing amid the optimism, however, was the fact that Sears' second-quarter move into the black was largely fueled by a one-time gain from the company's spinoff of huge chunks of its real estate empire. Sears sold 235 of its properties and packaged them into a real estate investment trust, Seritage Growth Properties (SRG) - Get Free Report to raise $1.4 billion in much-needed cash.
With 196,000 employees, Sears Holdings operates in two segments: Kmart (which merged with Sears in 2005) and Sears Domestic. About 1,000 Kmart and 700 Sears Domestic outlets throughout the U.S. sell a host of famous brand names, including Kenmore, Craftsman and DieHard.
But despite its portfolio of iconic brands, Sears has struggled with a steep multiyear decline in sales and shopper traffic, compelling it to cut costs and spin off assets to enhance its cash position.
Let's not mistake desperate moves to raise short-term liquidity with a return to long-term health. For the second quarter, Sears also reported that Kmart and Sears Domestic comparable store sales declined on a year-over-year basis of 7.3% and 14.0%, respectively, in the second quarter.
Sears Holdings stock is down about 35% year to date, compared to the
's year-to-date gain of nearly 0.1%.
SHLD data by YCharts
In a retail world revolutionized by companies such as e-commerce leader Amazon, Sears stock has nowhere to go but down. Squeezed between discounters such as Walmart on one side and innovators such as Amazon on the other, Sears is increasingly viewed by shoppers as a boring "has-been" with no cachet and lackluster products.
Consider Amazon's third quarter earnings, announced last week. The company's stock soared to an all-time high last Friday, after the company announced profits that handily beat Wall Street's expectations, despite heavy spending to finance expansion.
But Sears isn't just losing ground to online innovators such as Amazon. In terms of annual revenue, it also has fallen far behind retail chains such as Walmart and Target.
Bottom line: Sears Holdings stock isn't an undervalued play right now. It's simply cheap because it has no future. If you own Sears, sell it now. Also, take a look at a report called 29 Dangerous Stocks: Sell Now! Inside, you'll see a full list of the market's most overvalued stocks and learn the process you can use to keep avoiding them in the future. Click here now for a copy.
John Persinos is editorial manager and investment analyst at Investing Daily. At the time of publication, the author held no positions in the stocks mentioned.