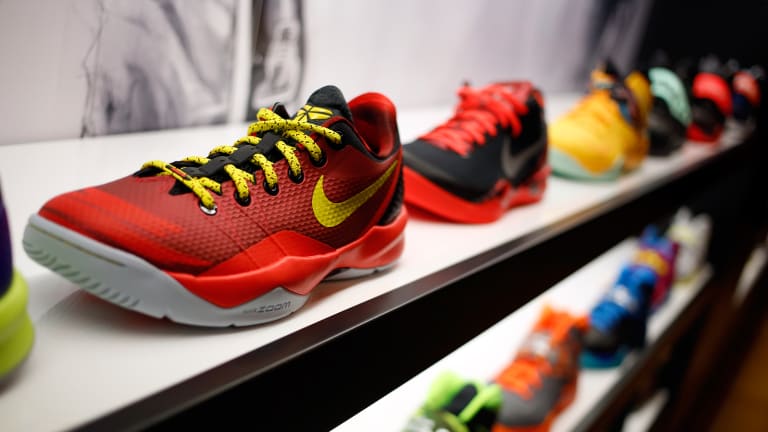 Warm Weather Likely Wreaked Some Havoc at Nike
Despite strong quarterly results overall, much warmer-than-average temperatures appear to have led to a buildup of Nike gear in the U.S.
Even mighty Nike (NKE) - Get NIKE, Inc. (NKE) Report can't totally outrun the effects of Mother Nature.
On Tuesday, the footwear and apparel giant reported that inventories rose 11% year over year for the fiscal second quarter ended Nov. 30. Inventory of Nike brand products spiked 8% at what the company calls wholesale accounts, or customers such as J.C. Penney (JCP) - Get J. C. Penney Company, Inc. Report , Dick's Sporting Goods (DKS) - Get Dick's Sporting Goods, Inc. Report , and Macy's (M) - Get Macy's Inc Report .
But Nike's total sales number, which include results from Converse and the effects of the strong dollar, increased by a slower pace at 4%. While conceding that it has a buildup in inventory in North America, execs downplayed the impact that a warmer-than-average winter was having on what consumers are purchasing at malls and Nike stores.
"The excess inventory in North America is really current fresh product, and the largest portion of that really stems from the residual impact of the West Coast port congestion earlier this year," explained Nike CEO Mark Parker on a call with analysts. Parker added, "We proactively delayed some products in favor of priority products that we felt would actually work well in the marketplace -- a smaller portion of the product is the stuff that didn't sell through as we would have liked in the marketplace."  
A more plausible explanation for Nike's inventory buildup, however, is the warmer-than-average winter that has been leading to eye-popping holiday season discounts on coats, sweaters and boots at the likes of J.C. Penney and Macy's.
According to the National Oceanic and Atmospheric Administration (NOAA), autumn 2015 was the warmest on record for the continental U.S., about 3.3 degrees Fahrenheit above average. Meteorological fall, which runs from September through November, was the warmest on record for National Weather Service outposts in Los Angeles, San Diego, Salt Lake City, El Paso, and New York City.  
At many retailers, including J.C. Penney and Dick's Sporting Goods, executives noted that the unseasonably warm weather across the U.S. had hurt sales. "As the quarter progressed, record warm weather across the majority of our markets negatively impacted sales and traffic -- this impact was notable in the critical cold weather categories," said Dick's Sporting Goods chairman and CEO Ed Stack to analysts on a Nov. 17 earnings call. 
In Nike's case, it intends to work through its pile of inventory in the U.S. by shipping items to its factory stores. Since Nike only operates about 185 factory stores in the U.S., juicy discounts post-Christmas at department stores are also likely in order to sell winter jackets and hoodies before spring merchandise begins hitting the racks. Nike's actions to clear excess merchandise will come at a price.
Nike anticipates that its gross profit margin will decline by about 50 basis points year over year in the fiscal third quarter. For the six months ended Nov. 30, Nike's gross profit margin has gained 70 basis points compared to a year earlier.
The comments by Nike on inventory levels in the U.S. could place added pressure on shares of major apparel brands such as V.F. Corp (VFC) - Get V.F. Corporation Report , Under Armour (UA) - Get Under Armour, Inc. Class C Report and Columbia Sportswear (COLM) - Get Columbia Sportswear Company Report , and even leading department stores. Already, investors are bracing for bad news on profits from the apparel sector when holiday quarter earnings start to arrive in February 2016. For example, shares of Macy's and J.C. Penney have plunged about 11% and 16%, respectively in the past month. Under Armour has lost 13%, while Columbia Sportswear has shed 9%.
The Dow Jones Industrial Average has only fallen 2% in the past month.
Meantime, investors cheered the generally strong results Nike managed to log in its latest quarter. Fiscal second quarter earnings came in at 90 cents a share, topping estimates for 86 cents a share. Futures orders in Nike's second quarter rose 20% excluding the impact of currency fluctuations -- mostly the strong dollar -- beating expectations for futures to rise about 13.6%. Future orders were particularly solid in China, where orders popped 34% excluding currency impacts, outpacing the 22% increase that was expected by analysts.