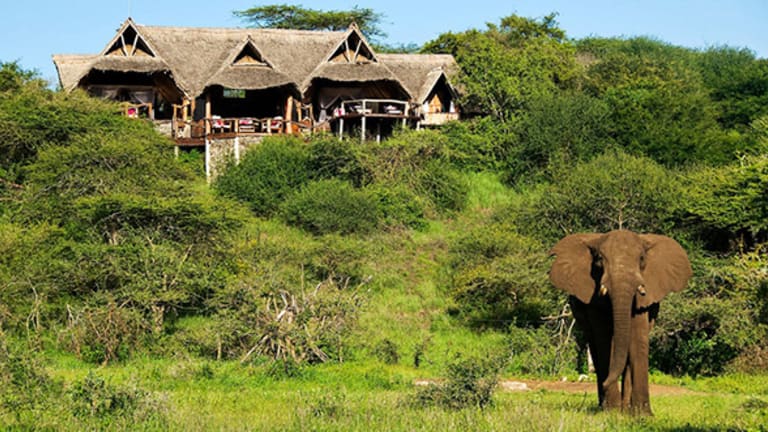 Want to Travel With National Geographic? Now You Can
With the launch of Unique Lodges Around the World, National Geographic is expanding the boundaries of the typical travel experience. Media giant Discovery Channel has also branched into travel marketing.
A magazine that inspired generations of readers to dream big, with its glossy photographs of exotic people and faraway lands, its pullout maps and Indiana Jones-style adventures, National Geographic has always had a special cachet when it comes to knowing how to travel the world and experience all that it has to offer.
There's probably few among us who imagined, after afternoons spent immersed in the the rich tales on the publication's pages, that it would actually be possible to vacation in such full color.
But as it turns out - it is possible. (At least, as close as you can get without being an expert of some sort or a magazine staffer.)
For those who may not have noticed, the media giant recently began a program called National Geographic Unique Lodges of the World.
Launched in 2015, the Unique Lodges of the World is a collection of properties situated in what are often remarkable and stunning destinations. More importantly, in order to be included in the program, all of the properties must have demonstrated a commitment to authenticity, as well as to supporting local culture and natural heritage.
And for those of us with yellowing stacks of National Geographic magazines still tucked away in our home, here's the key detail - each lodge in the collection offers a special "National Geographic Exclusive" experience to those who book their stay through the new lodge program.
What does that mean exactly?
The answer to that question depends on the lodge you visit, but in general translates into exactly what you imagine -- a chance to further immerse yourself in the local culture of a destination. Think taking cooking classes in the Australian outback, visiting with marine scientists in Tahiti or spending the morning with a shaman in Costa Rica.
It is a chance to peel back the layers of a country or region, get beyond the tourist traps and view a destination through perhaps the eyes of a local, or an expert.
"National Geographic is what first inspired many people to be passionate about travel and the world," says Lynn Cutter, National Geographic's executive vice president for travel and licensing. "And the experiences these properties are delivering will provide more insight into the world and a closer view then you might otherwise get. It's like jumping into the pages of National Geographic. "

Properties in the collection include a historic hacienda in Mexico, log cabins at the mouth of an Alaskan fjord, a safari camp in Botswana's Okavango Delta region, an hacienda in the rainforest of Peru, the list goes on and on. There's about 40 properties in the collection, spread among six continents.
Every property goes through a vetting process that includes an on-site inspection by experts to assess hotel operations and an emphasis on the establishment's sustainable tourism practices.

"Many of these are gem properties around the world, with outstanding service, and on top of that are leaders in sustainability," Cutter says. "They are properties that are really paving the way, not just in terms of green operations, but in terms of an added benefit to their surrounding community and through the financial impact they're having. We looked at these properties and thought National Geographic has an opportunity here to shine a spotlight on them."
That National Geographic is offering the rank and file an opportunity to travel in a manner the publication began making famous back in 1888, is actually not entirely new, Cutter points out.
Since 1999, National Geographic has been inviting the public on expeditions in one form or another - through photography trips, private jet vacations and family expeditions, among others.
"We have been doing this all along, way before it was cool," Cutter says.
This latest offering, National Geographic Journeys with G Adventures, is aimed at a broader group of travelers than those who might be interested in a photography focused expedition or a private jet excursion. What's more, the prices of the trips in the program are intended to be more accessible.
The company also recently launched National Geographic Private Expeditions, which allows travelers to further customize their travel experience.
In other words, the possibilities to travel in the rugged and authentic manner of National Geographic are seriously multiplying.
But National Geographic is not the only media giant that's blurring the lines between being a provider of information about travel and actively marketing travel.

Discovery Communications, (more familiar to many as the Discovery Channel) also recently branched into travel marketing with Discovery Destinations.
Described by the company as a collection of distinct, independent destination properties that are positioned to deliver guests an extraordinary experiential vacation, the program offers vacations in such places as a shaker village, a 200-acre estate in Oregon, or on a private island off the Georgia coast.
Discovery Destinations leverage the Discovery media empire, to offer travel-inspired experiences where guests are able to immerse themselves in history, culture and education.
Media and travel industry experts say none of this blurring of the lines between media giants and travel marketing is all that surprising.
Frank Vertolli, cofounder of Net Conversion, a digital marketing agency that specializes in travel, says the moves that Discovery Channel and National Geographic have made speak to a broader consumer demand, particularly among Millenials, for unique experiences.
"It's becoming less about what you own and more about what you have done, where you have been and what you have been part of, for example," Vertolli explains.
The trend among media giants of marketing travel themselves also reveals an increased effort to reach audiences, in a world cluttered with more ways to consume media than ever before (television, cable, online), says Vertolli.
"You see many companies getting into the experiential space" Vertolli continues. "Virgin took a music brand and extended into hotels."
The benefit for the consumer meanwhile, is a more authentic travel experience, he says.
Leora Lanz, a full-time lecturer at Boston University's School of Hospitality Administration, adds that such diversifying also allows companies to increase their revenue streams and strengthen their brand.

"There is brand prestige with Discovery Channel," she explains. "And this is a brand extension for Discovery. Anyone who follows certain shows on Discovery Channel, and there are a lot of loyal fans, this is extending the brand to make more money."
Still, for someone who grew up reading National Geographic herself, Lanz says all of this merging creates an interesting time in travel, shifting the paradigm to some degree. And perhaps no institution is more suited to expand the boundaries of travel as well all know it, than National Geographic.
"National Geographic has such a great longstanding, enduring reputation for excellence and in communicating the travel story," says Lanz. "They already have this great, established travel brand."
"My kids don't have a clue what about those National Geographic magazines," she adds. "But I used to collect them because I was so in love with the fabulous photography. Now you can be a part of all of that, which I never thought I could."