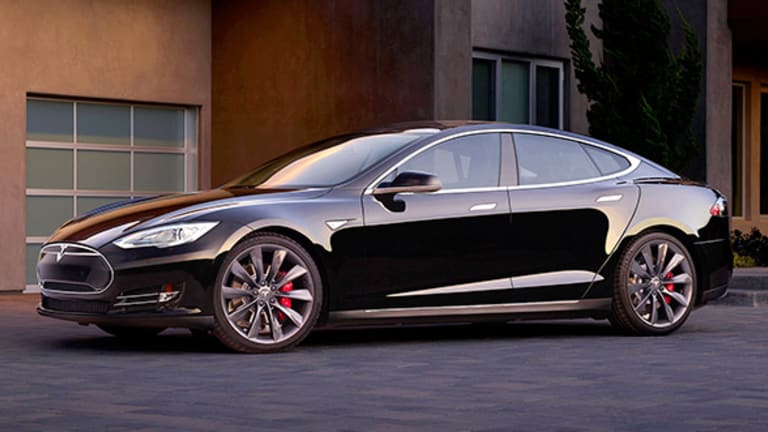 Publish date:
Want to Own a Tesla? Here's How the Sharing Economy Can Help
Car owners listing their vehicles for rent through peer-to-peer sites such as Turo and Getaround are making thousands of dollars a year, offsetting the cost of owning an automobile.
Car owners listing their vehicles for rent through peer-to-peer sites such as Turo and Getaround are making thousands of dollars a year, offsetting the cost of owning an automobile.
Editors' Pick: Originally published Jan. 29.
For those who've daydreamed about owning a pricey luxury car but haven't figured out how to swing the hefty payments, the sharing economy may have just inadvertently solved this age-old dilemma.
This is not another story about making money as an Uber driver.
There's an easier approach to earning some extra income from your car, one that doesn't involve chauffeuring strangers (And in light of the recent, vicious attack on an Uber driver by a Miami neurosurgeon, the video of which went viral, perhaps now is a good time to consider alternatives.)
If you've not yet heard of Turo and Getaround, you're not alone.
Though both are widely used, they also have yet to truly accomplish a breakthrough on the level of Airbnb or Uber.
Both are sharing economy-based businesses that facilitate renting your car to travelers or others in need of a vehicle.
The early buzz about this new generation of peer-to-peer rental companies was tied in large part to the fact that they often allowed car owners to leave their vehicles in airport parking lots when traveling for work or pleasure and have them rented out while away. Thus, they could make money from the vehicle, instead of shelling out gobs of cash to park it.
Since then, however, the model appears to have vastly expanded.
Turo (originally known as RelayRides until a recent rebranding) was the first to hit the market and has the widest footprint with rentals in 2,500 cities.
In its latest form, Turo gives car owners who list their vehicles three options - delivering the car to a custom location around town that's mutually agreed upon by owner and renter, delivering the car to a nearby airport or having the renter picks up the car at the owner's home.
While the car is rented, Turo covers the vehicle with $1 million in liability insurance and provides roadside assistance 24 hours a day, seven days a week.
And finally, the company still offers the option in Los Angeles and San Francisco of parking the car for free at LAX or SFO and earning income with it while you're off globetrotting. In fact, Turo's website says some car owners earn about $425 a month by selecting this option. Your earnings get deposited into your bank account weekly while you're traveling.

Still other car owners using Turo can average $6,500 a year by renting their vehicle at least 15 days per month -- an estimate based on a vehicle with a market value of at least $20,000.)
The company's spokesman, Steve Webb, says Turo is turning the model of car ownership on its head.
"The active owner is making $600 a month, which completely offsets the cost of car ownership," says Webb, noting that the average car sits idle in a driveway or office parking lot about 92% of the time. Not to mention the fact that most cars depreciate in value rapidly.
Now you can turn that depreciating asset sitting in your driveway collecting dust, into an earning engine.
"A lot of people find themselves with an extra car, or maybe their employment circumstances changed and they wind up with an extra car. Now they can actually make more money renting it out instead of selling it. One of our members rents out his car to subsidize his retirement," continues Webb. "We want to put the world's one billion cars to better use."
Webb adds that not only is Turo reimagining the traditional model of car ownership, it is also taking on the traditional car rental agencies, which it sees as its competitors more so than Getaround or Flightcar.
"What we are really truly thinking about is the marketplace, not other peer-to-peer companies, but about traditional car rental companies, which is a $60 billion plus space that hasn't had any major innovation in decades," Webb explains.
Here's how he says the Turos of the world take on the likes of Hertz, Enterprise and others.

First, Turo allows renters to pick the exact car model they're seeking, not some generic category of car such as economy, compact or midsize. What's more, Webb says rentals through Turo are 35% cheaper than traditional car rental companies.
Searching through the Turo site while being interviewed, Webb found listings for a Honda Civic for $25 a day, an all wheel drive Subaru for $65 a day and a Tesla for $160 per day. And renting a Tesla for under $200 is quite the bargain, when compared to some of the luxury car rental services out there.
And then there's the fact that by renting a car through Turo or Getaround, you completely avoid standing in long lines at a car rental agency to pick up a vehicle.
It's a fact that Joel Usher, CEO of a Sacramento based start-up and a frequent Turo and Getaround renter, particularly appreciates. He says the two peer-to-peer companies are profoundly changing the highly impersonal car rental marketplace.
"What is exciting about companies like this is they are tearing down these barriers of distrust," he says. "That's an exciting move for society. These technology-enabled companies are showing us that we can transact with each other more directly. That societal shift is very cool...I walked a couple blocks from my house to pick up my rental, the car was in [the vehicle owner's] driveway. We shook hands, and he told me about his job. And then I rented his car. That was kind of nice. I wasn't going into this corporate office. I knew that Andrew, the car owner, was the one making the money, not some giant corporation."
Getaround allows car owners to rent their vehicles by the hour and the day, and says on its site that owners can make up to $10,000 annually.
The company did not respond to requests to be interviewed, but during media interviews Getaround's Sylvano Carrasco, vice president for hardware and telematics, has said one Tesla owner grossed $40,000 in the first year.
Speaking of Teslas and the money to be made from renting them through such sites, perhaps Dan Nainan is a perfect case in point.
The Manhattan-based comedian, who is regularly traveling the globe for various gigs, rented a Tesla Model S through Getaround recently and said the experience was fantastic.
"I picked up some friends with it," he says. "They were all jazzed to be riding in a Tesla - they're all tech dudes. We went to lunch and we were all very enamored, thinking, 'This is a Tesla - it's awesome.'"
The kicker however, is that after the experience Nainan actually purchased a Tesla himself and is now planning to list it for rent through the site.
To be clear, Nainan doesn't need help making the payments on the $90,000 car. But since the vehicle spends a great deal of time idle in his driveway, Nainan figures he doesn't have much to lose.
"It's just sitting there," he says. "I've only put 5,000 miles on it. Why not make some money on it? The payments are not an issue, but hey, if I can make more than it costs me, it's like a free Tesla."
And who wouldn't want a free Tesla? Thank you, sharing economy.