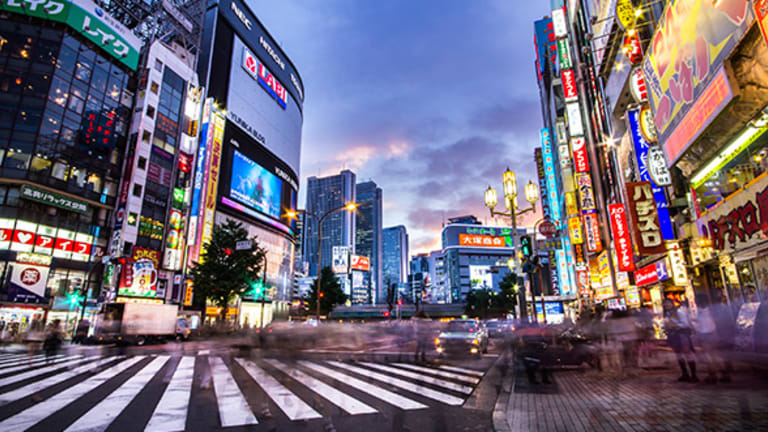 Want to Know Why Japan Stocks Are Lagging? These Charts Tell the Story
The undervalued yen is now strengthening, weighing on Japanese equities.
Although equity markets across the world are performing well in recent months, Japan continues to lag. Since the start of the year, WisdomTree Japan Hedged Equity (DXJ) - Get Free Report , an exchange-traded fund that tracks the Japanese stock market but neutralizes foreign-exchange risk, is down 15%. A major reason why investors have shunned Japanese equities has been the unmatched strength of the Japanese yen.
CurrencyShares Japanese Yen ETF (FXY) - Get Free Report , an ETF that tracks the Japanese currency, has risen by more than 10% in 2016, even as the Bank of Japan put interest rates into negative territory. Investors originally expected the yen to vastly weaken as its policymakers continued to ease conditions, but negative sentiment surrounding Japan's trading partners caused the currency to strengthen.
Among the yen's major currency counterparts, the dollar has seen weakness. Although the Federal Reserve tightened policy conditions, weak economic data in the second quarter increased the likelihood that the U.S. central bank will wait until later this fall to hike rates again.
Additionally, fears surrounding the U.K.'s exit from the European Union led to uncertainty over the potential consequences. Investors have sold off the pound in the months leading up to the so called "Brexit" vote.
Finally, the Japanese yen has vastly outperformed the Chinese currency as speculation over the health of the world's second largest economy intensifies. The yen has strengthened against the renminbi since last summer as Chinese trade and growth data deteriorated.
Yen strength has therefore been a product of the repricing of global currency markets. Each currency has its narrative as to why it is weakening, but the constant is that the yen has been undervalued in recent years. With the yen now strengthening though, its trade and inflation data will continue to languish.
Japanese policymakers will thus be forced to ramp up efforts to devalue the yen in coming months, but the strengthening currency will be fairly difficult to derail. Considering Japan's economy may continue to weaken in coming months, alongside a rising yen, Japanese equities may continue to represent an unattractive investment. For this reason, avoiding WisdomTree Japan Hedged Equity is the most prudent move until enthusiasm for the yen diminishes.
This article is commentary by an independent contributor. At the time of publication, the author held no positions in the stocks mentioned.