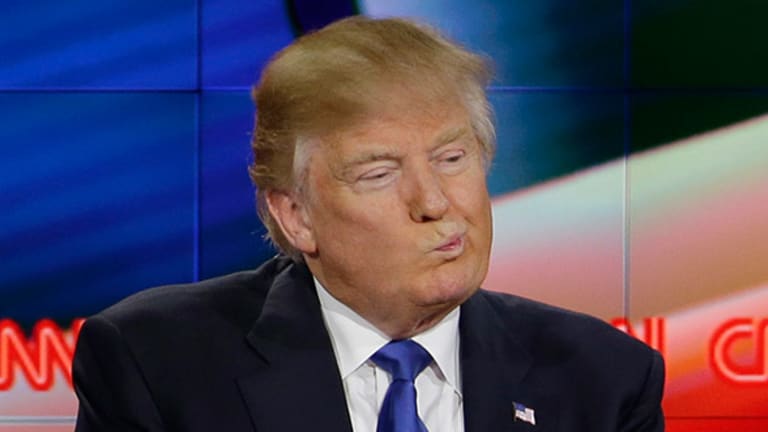 What Would Donald Trump's Plans Do to the U.S. Economy? Three Options
Professional economists at Moody's examine what Trump's economic plans would do to the U.S. economy, and their conclusions are not encouraging.
Editor's pick: Originally published June 23.
Donald Trump has never been shy about expressing his opinions, and it goes without saying that many of those opinions have been controversial.
He's said plenty of things that have implications for the economy. They include "compelling Mexico to pay for a wall at the U.S. border," deporting millions of undocumented immigrants and instituting high tariffs on goods imported from China and Mexico, lowering the corporate tax rate to 15% in order to keep "American companies and jobs at home."
The presumptive Democratic nominee, Hillary Clinton, has attacked Trump's economic ideas, saying, "Just like he shouldn't have his finger on the button, he shouldn't have his hands on our economy."
But how do we assess the real estate mogul's economic plans and the impact they'd have on the economy? Well, experts at Moody's Analytics have done the hard work for us, poring over what Trump has said he would do and crunching the numbers to predict the result. Their report, titled "The Macroeconomic Consequences of Mr. Trump's Economic Policies," is not sanguine about what would happen to the U.S. economy under a President Trump.
The team of economists who created the report was led by Mark Zandi, chief economist at Moody's Analytics (and also a TheStreet contributor). Although Zandi is a registered Democrat and has donated to Hillary Clinton's campaign, he advised Republican Senator John McCain when he was running for president in 2008.
In comments reported by The New York Times, Zandi also defended his analysis: "This is my job ... I have clients that ask, 'What do these economic policies mean for me?' -- in all kinds of industries, in all walks of life."
The 2016 Moody's report covers Trump's policies on taxes and government spending, immigration, and international trade under three assumed scenarios. Let's look at all three:
1. His proposals Are Fully Implemented
If Trump's policies are fully implemented the way he has proposed on his Web site and in public comments then the U.S. economy will slip into a two-year long recession that would start in 2018, the Moody's economists conclude.
According to Moody's findings, Trump's tax and spending policies would result in "large budget deficits and heavy debt load" and his immigration and trade plans could function as a "negative supply shock".
The economy could face a higher inflation as a result of the reduction in the labor force and high import tariffs that could increase import prices. Trump's tariff plans could shrink the share of U.S. trade on a global scale.
The report says that the failure of trade deals such as the Trans-Pacific Partnership Deal under Trump's presidency could lead to skepticism about future deals. This could adversely damage the ongoing globalization of the U.S. economy, eventually creating a smaller economy in the coming years.
So far, Donald Trump, Hillary Clinton, and Bernie Sanders have all opposed the TPP deal. Deep dive: TheStreet's analysis of Trump's economic plans
2. Trump's Policies Are Adopted on a Smaller Scale
The second scenario outlined by Moody's is that Trump's policies are adopted by they're scaled down. This scenario supposes that Trump's hoped-for tax cuts are significantly reduced.
The report states that the economy will still suffer "significantly" under such a scenario. "That is because unlike in the previous scenario, the negative supply shock to the economy from the decline in the labor force and higher tariffs is only modestly offset by the fiscal stimulus provided by the deficit-financed tax cuts," the report says.
In this second scenario, the economy would still slide into recession in 2018 and could force the Federal Reserve to ease monetary policy. 
By the end of the recession in 2019, the real GDP would decline by 1.3% and unemployment would peak at more than 9%.
3. Trump's Policies Are Scaled Back After Much Negotiation 
The third scenario has been characterized as the "most likely" by the Moody's economists.
In this case, President Trump is working with Congress, and even though it's controlled by Republicans, the GOP does not have a supermajority in the Senate.
Economists for Moody's make assumptions like $1 trillion in tax cuts as opposed to $9.5 trillion proposed by Donald Trump and only one-third of the undocumented immigrants being forced to leave the country.
The report states that even though the recession is avoided in this scenario (unlike the first two scenarios), the growth of the country will still be impacted with unemployment rising further. Moody's cites "smaller workforce" and a "stronger U.S. dollar" as a reason for the country's poor performance under Trump's presidency. 
The Moody's analysis concluded that under any of the three scenarios, "the U.S. economy will be more isolated and diminished."
Moody's says it will issue a report on Clinton's proposed economic policies. Deep dive: TheStreet's analysis of Trump's economic plans
This article is commentary by an independent contributor. At the time of publication, the author held no positions in the stocks mentioned.