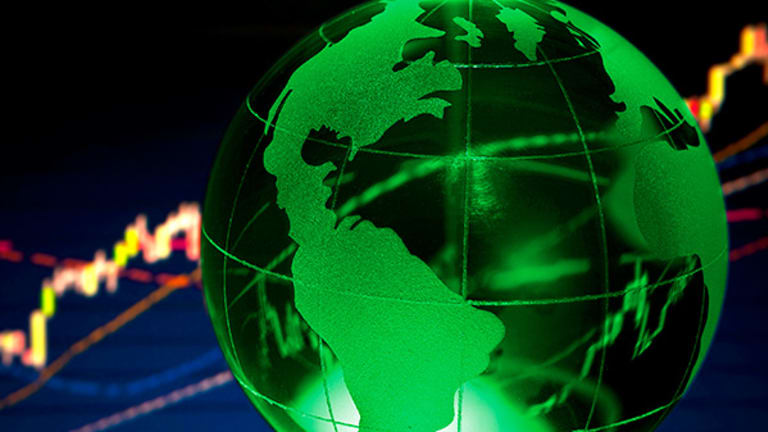 Want to Beat the Market? Here's a Simple Formula That Works
Owning 'consumption' stocks can be a wildly profitable strategy.
For a variety of reasons, the average mutual fund often underperforms its benchmark, costing investors huge amounts in fees to get returns that are lower than index funds. It is no wonder the index fund business is thriving.
But for investors who want to beat the market, one way is to invest in iconic global brands. In fact, I created the Dynamic Alpha Brands Index to do just that.
When thinking about iconic brands, investors should think of them the same way they do "consumption," as they are attached at the hip.
To highlight the consumer consumption theme, let's just use the Consumer Discretionary SPDR (XLY) - Get Report and Consumer Staples Select Sector SPDR (XLP) - Get Report ETFs, versus the SPDR S&P 500 ETF Trust (SPY) - Get Report .
The chart below provides proof: In the United States' more than $18 trillion economy, owning the publicly traded companies that are being purchased by consumers can be a wildly profitable strategy and has offered significant excess return when compared with the S&P 500. The results over the past 16 years show that it hasn't even been close.
So is there a live strategy focused on investing in global brands that proves "consumption investing" is an alpha generator? Yes, but it isn't available to U.S. investors.
The next screen shot compares a great Morgan Stanley Investment Funds Global Brands Fund, versus the S&P 500 via the SPY ETF and the Consumer Discretionary XLY ETF back to fund inception. 
Again, it isn't even close. The Morgan Stanley fund has performed well and tracks XLY well over time.

How does the Dynamic Alpha Brands Index compare with the global brands fund, which is highly correlated to XLY?
The Dynamic Alpha Brands Index is a back-test, and as of March 1, it is being calculated on a real-time basis with end-of-day calculations by a professional calculation agent, INDXX.com. The brands index should over time track the consumer discretionary and staples sectors but is designed to outperform them.
Why? I am not interested in owning all consumer stocks, just the top brands and the top brands that are technically superior stocks.
That nuance should allow for an edge over XLY, XLP and SPY.
Now we can watch real time instead of looking backward. I post updates monthly and am working on updating the site daily.

Looking backward offers investors nothing other than comfort. The future rarely unfolds like the past.  
Because my index tracks the top iconic brands, I am not really concerned that the performance will deviate greatly from the XLY and XLP sector ETFs. What I am excited about, is showing that investing in a global brands strategy is an even smarter way to invest in consumption and that this is a more logical smart large core strategy than owning core ETFs such as SPY, the iShares S&P 500 Index ETF, the PowerShares QQQ Trust Series 1 ETF and the SPDR Dow Jones Industrial Average ETF.
The index portfolio right now could be characterized as "defensively focused." Because of the investment methodology, the index constituents should track what is being rewarded because it is driven in part by price momentum.
I have long thought that the best way to generate returns is to ride the winners and cut the losers quickly. I have lost more money trading my "opinion" than if I had just watched price action, stuck with what was working and had a better sell discipline.

In conclusion, investing in top iconic brands is a sound strategy and one that can help investors level the playing field, versus owning poor-performing, high-fee funds.

This article is commentary by an independent contributor. At the time of publication, the author held no positions in the stocks mentioned.