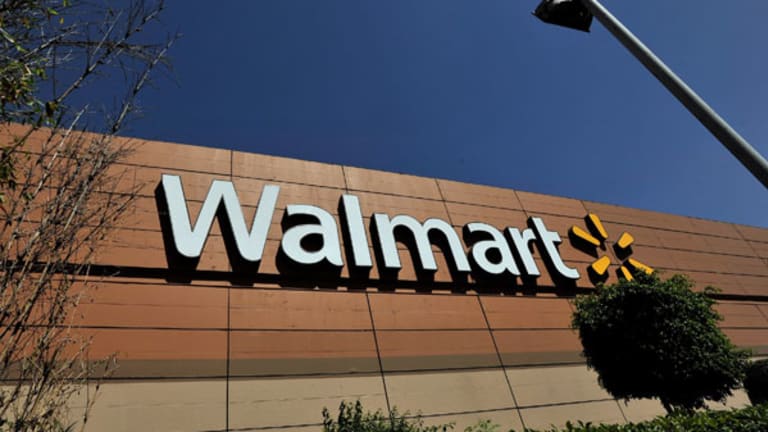 NEW YORK (TheStreet) -- Walmart (WMT) - Get Walmart Inc. Report has big plans to win during a holiday season that guarantees to be as competitive, if not more so, than years past, given recent financial warnings from fellow discount retailers Kohl's (KSS) - Get Kohl's Corporation (KSS) Report and J.C. Penney (JCP) - Get J. C. Penney Company, Inc. Report .
Unfortunately for Walmart, it also has a host of bizarre problems to deal with that even Santa may not be able to correct by the end of the year.
The world's largest retailer on Friday announced its "broadest assortment ever" for the holiday season. Kicking off the holiday season Nov. 1, Walmart will offer consumers 20,000 price rollbacks on such holiday items as Microsoft's (MSFT) - Get Microsoft Corporation (MSFT) Report Xbox One ($349 from $399) and a Samsung 46' HD television ($528 from $578). According to a Walmart spokesperson, merchandise related to Disney's (DIS) - Get Walt Disney Company Report blockbuster movie "Frozen" is the "hottest license out there," and the company plans to have a lot of "Frozen" product, not only the first weekend but throughout the season. 
Watch the video below for more on Walmart's plans for the holiday shopping season:
Same-day pickup in Walmart stores is being made available at no additional charge.  The company is also offering free shipping to homes for orders totaling $50 or more.
Walmart is further taking the holiday cheer to its digital aisles. At midnight on Nov. 3, Walmart's cyber savings event will go live on the company's Web store, with deals typically reserved for Black Friday and Cyber Monday. The price on a Nintendo DS handheld gaming system will be chopped to $79 from $129. Same-day pickup on merchandise, at no additional charge, is expected.
In total, Walmart said it has expanded the online assortment to include 7 million items, up 1 million from last holiday season.
The significant increase in the quantity of online merchandise, and Walmart's admission that it "bought deep across key categories," suggests that the retailer is betting on a bumper holiday season. However, Walmart is only a few weeks removed from a material full-year sales warning at a meeting with the investment community. The aggressive inventory position may leave the company on pace for a profit shortfall should low-income consumers continue to not spend gasoline price savings, as the company's recent sales warning hinted.
Here TheStreet takes a look at the unusual problems Walmart will face in coming months as new President and CEO Doug McMillon seeks to reignite same-store sales and earnings growth.
Checkouts
"We have room to improve on our checkouts," said McMillon at Walmart's annual meeting with investors and analysts on Oct. 15. The chronic problem of understaffed checkout lanes has led to customers taking to social media and voicing displeasure with long wait times. Hence, Walmart instituted its "checkout promise" for this holiday season.
Beginning with the weekend after Black Friday and continuing each weekend through the final weekdays ahead of Christmas, Walmart contends that all of its "registers will be open during peak shopping hours at our supercenters and other stores that offer general merchandise like electronics, apparel, and toys." Customers, says Walmart, can also "expect to find self-checkouts open and a cashier in every lane."

Produce Display
At its investor and analyst meeting, new Walmart U.S. president and CEO Greg Foran ran through the challenges the company is having selling produce.  "We do a reasonable job with fruit, and I do worry about our vegetables, in particular our green leaf vegetables."  Foran added, "when I pick up that iceberg lettuce, is it something I want to buy, or is it starting to brown on the edges because we haven't rotated it well enough in the store?"  In the end, Foran hypothesized that Walmart "may be carrying too much merchandise" in fresh produce.
Foran officially joined Walmart U.S. on Aug. 9 after a two-year plus stint as president and CEO of Walmart China.  

But the operating issues in food are not resigned to produce -- meat is also an area ripe for improved presentation to the consumer.  "I don't see the cut is consistent enough," noted Foran, adding that when he wants a steak medium rare, "I want it medium rare all the way through, I don't want it tapered off at the end."  Walmart receives meat supplies from Tyson (TSN) - Get Tyson Foods, Inc. Class A Report  and Cargill, according to Foran. 
About 56% of Walmart's annual sales are derived from grocery items.

Empty Shelves
A nagging issue for Walmart since 2013 has been empty shelves in the food and everyday essential department, such as cleaning products. "We have room to improve in-stock on the shelf," reminded McMillon at investor day. In the words of Foran, "You have to do a whole lot to run a good store." That would include putting merchandise on the shelves for consumers to buy.
Empty shelves may be one reason why Walmart U.S. same-store sales have declined in five of the past six quarters, per Bloomberg data.
"I want to be able to walk into the store and be able to see what we want to sell to the customer," shared Foran at the analyst event, giving investors a glimpse into his merchandising philosophy. Foran followed that up with, "I don't want to have to stumble over two pallets of Coca-Cola (KO) - Get Coca-Cola Company Report and three point-of-sale signs directing me to buy Halloween candy."  According to Foran, there are "absolutely areas of our store that we need to lean into service."
By investing in employee hours in certain parts of the store, Walmart hopes to more clearly present its merchandise to consumers.  


Lopsided Stock
And when Walmart is not battling with too little inventory in food and bathroom essentials, it continues to be stuffed to the brim in more discretionary departments, like holiday and back to school goods. Foran stated simply, "We've got too much stock coming in, than going out."  He explained, "We've added stock-keeping units (SKUs) over the last few years; it has been appropriate in a number of areas, but we haven't had as tight a discipline as to how many SKUs we added."
Walmart U.S. inventory has increased at a faster rate than same-store sales growth for over four quarters, a no-no in retail that signals managers are over-ordering merchandise.  The result -- profit-busting markdowns.