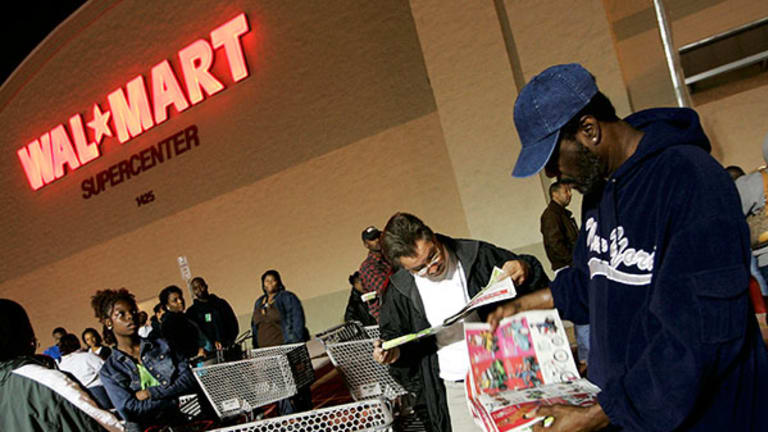 Walmart's Growing Competition Eats its Sales of Low-Priced Food
Walmart's third quarter earnings are out, and weak sales of food was the highlight.
Walmart's third quarter earnings are out, and weak sales of food was the highlight.
NEW YORK ( TheStreet) -- Walmart (WMT) - Get Report does big business each year selling cheaply priced steak, chicken breasts and toilet paper to low-income Americans. But so does discount competitor Target (TGT) - Get Report and supermarket chain Kroger (KR) - Get Report . That competition is growing, making it more difficult for mighty Walmart to selling folks affordable, everyday living essentials.
"As you look back over our price gap relative to the marketplace, say over seven years, it has been pretty consistent both on an on-shelf price gap as well as the weighted price," said Walmart U.S. executive vice president, chief merchandising officer Duncan McNaughton at the company's Oct. 15 meeting with investors and analysts. He went on to state, "What's different is the amount of value, or hard discounters in the marketplace next to our stores that have changed a bit."
In other words, Walmart's claim to fame in retail -- unbeatable low prices -- has faded as large competitors lower prices.
Must Read:
Can TV Commercial Icon Ronald McDonald Save the Golden Arches?
McNaughton concluded, "We have some great competitors across the regions in the U.S., and we have plans to address those and monitor them."
Walmart continues to press ahead with what it's calling "price investments," mostly for the food and consumables that bring people to its hulking supercenters, in a bid to close the pricing gap with its rivals. "We have areas to improve, including in the customer experience and in our price leadership position, and we're taking the steps necessary to fix these areas," pointed out Walmart CEO Doug McMillon in today's third-quarter earnings release.
The steps outlined by McMillon couldn't come quick enough for Walmart's grocery business, representing some 56% of annual sales. Same-store sales for Walmart's overall grocery business, which now includes food and consumables -- items like toilet paper and tissues -- in a reporting shift from prior practices, was virtually unchanged in the third-quarter. The result would have been worse if not for "net inflation increasing approximately 210 basis points versus last year, primarily led by meat and dairy," according to Walmart.
In the second-quarter, Walmart's same-store sales for grocery was also unchanged vs. the prior year, while falling by a "high single-digit percentage" in the consumables business. Back in the first-quarter, then Walmart U.S. president and CEO Bill Simon had this to say on the topic of the food business, "While our consumables business had a low single-digit negative comp, partly due to modest price deflation and overall industry softness, our food business delivered a positive comp."
Meanwhile Target, which derives about 21% of its annual sales from food and
, has achieved same-store sales increases year to date in the category. Those gains have ranged from "positive" in the second-quarter to "slightly positive" in the first-quarter, based on reviews of Target's earnings call transcripts by
TheStreet
.
As for Kroger, it's second-quarter identical store sales rose 4.8%. "This strong performance was supported by identical sales growth in every department and every supermarket division," said Kroger senior vice president and CFO Michael Schlotman in a Sept. 11 earnings call. Schlotman further mentioned, "Our new entry-level price point brands and premium tier private selection brand all had strong positive sales and unit gains in the second quarter."
Walmart's new opening price point private label, Price First, was launched nationwide late in the third quarter. No update was offered by the company Thursday on its early performance.
Food quality has also been a concern of the company. At its investor and analyst meeting, new Walmart U.S. president and CEO Greg Foran ran through the challenges the company is having selling produce.
"We do a reasonable job with fruit, and I do worry about our vegetables, in particular our green leafy vegetables." Foran expanded, "when I pick up that iceberg lettuce, is it something I want to buy, or is it starting to brown on the edges because we haven't rotated it well enough in the store?"
In the end, Foran hypothesized that Walmart "may be carrying too much merchandise" in fresh produce.