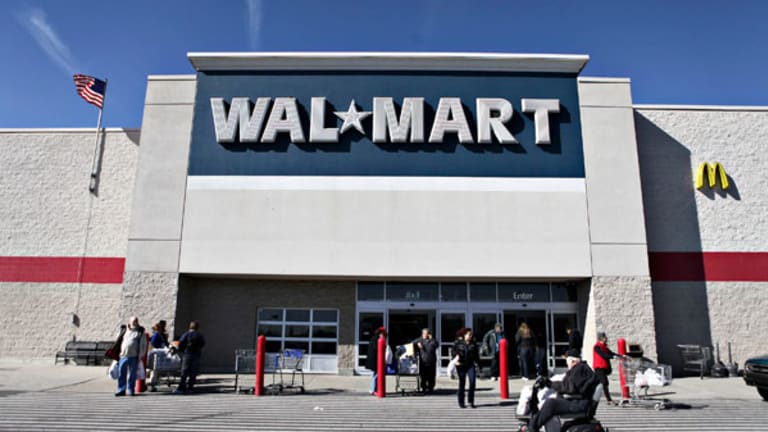 Walmart's Financial Problems Revealed in 5 Photos and One Vine Video
Walmart's earnings will be released on Aug. 14. Brian Sozzi shows why the second quarter and full year outlook could be ugly.
NEW YORK (TheStreet) -- Walmart (WMT) - Get Walmart Inc. Report has long been coined by Wall Street the most efficient, well-run retailer on the planet.
If founder and legendary store walker Sam Walton were alive today, he might take issue with such high praise from analysts and investment bankers.
The world's largest retailer will announce its second-quarter earnings on Aug, 14 before the start of trading. Per Bloomberg estimates, Walmart is projected by Wall Street to report earnings per share of $1.21 on net sales of $119 billion.
Walmart hinted at operational challenges at its most profitable U.S. business in its July 24 decision to replace division president and chief executive officer Bill Simon with international figure Greg Foran. Despite such challenges, which have included three straight quarters of declining same-store sales, the Street's second-quarter earnings per share estimate for Walmart is leaning toward the upper-end of the company's $1.15-to-$1.25 guidance. When Walmart announced that earnings per share range on May 15, it was below the consensus of $1.28. 
Watch More:Buffalo Wild Wings CEO Tackles the Future With Innovation
Given what can be seen at the store level, Wall Street may be in for an unfortunate series of surprises across the board this Thursday morning as well, including a possibly sluggish second-quarter performance and below-consensus earnings per share outlooks for the third quarter and full year. 
From the addition of more clearance zones at the front of the store toward the final weeks the second quarter to mangled summer clothing racks to the over-ordering of back-to-school and seasonal outdoor categories, Walmart continues to deal with operational mistakes. Those likely arise from being out of touch with the financial stresses of its core low-income consumer. Ultimately, the persistence of these operational issues could be seen in the long-term financials of Walmart.
According to Bloomberg data, Walmart's gross profit margin has gone from 25.4% in fiscal year 2010 to 24.8% in fiscal year 2014 even with the U.S. economy on the mend. Operating profit margins have lost 40 basis points from fiscal year 2011, clocking in at 7.5% in fiscal year 2014.
What should be of particular concern to institutional shareholders of Walmart is the degradation in the company's return on invested capital. Per Bloomberg, Walmart's return on invested capital declined to 13.02% in fiscal year 2014 from 14.61% in fiscal year 2011. Return on invested capital shows the company's efficiency at allocating the capital under its control to profitable investments. In the case of Walmart, it's falling return on invested capital captures how the lifers of Walmart's executive team, including its current chief executive officer Doug McMillon, could be improperly shepherding investments in inventory, new stores and international operations.
The stock market is well aware of Walmart's deteriorating fundamentals, not helped by the increasing investments being made in digital to position the company for real-time prices wars against Amazon (AMZN) - Get Amazon.com, Inc. Report, Target (TGT) - Get Target Corporation Report and upstart same-day deliver services such as Blue Apron and Instacart. Shares of Walmart have underperformed both the Dow Jones Industrial Average and S&P 500 since Dec. 12, 2012, as noted by Bloomberg data.
The questions that investors holding Walmart shares should be asking right now: can Walmart fix its operational challenges under new leadership and reignite its sales and earnings growth in 2015? Or, will it require another U.S. recession to get the market excited about owning the stock?
Watch More: Boring Sit Down Restaurants Suddenly Look Lively
Spotting the Challenges at Walmart
In these self-produced multimedia images, the execution mistakes by Walmart and the subsequent weakening financial trends come to life.
-- By Brian Sozzi CEO of Belus Capital Advisors, analyst to TheStreet. At the time of this publication, Belus Capital Advisors rated Walmart shares a sell. This article represents the opinion of a contributor and not necessarily that of TheStreet or its editorial staff.