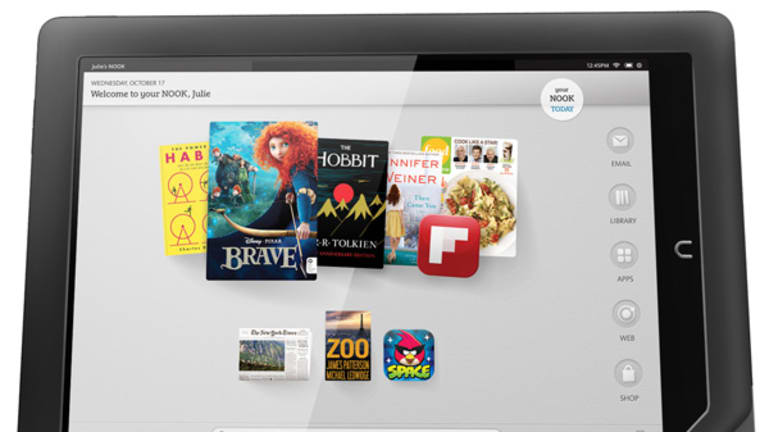 Wal-Mart Should Buy Barnes & Noble's Struggling Nook Division
The world's biggest retailer should consider buying Nook, once the second-largest e-book retailer in the U.S., to grow its digital businesses and compete with Amazon.
The world's biggest retailer should consider buying Nook, once the second-largest e-book retailer in the U.S., to grow its digital businesses and compete with Amazon.
NEW YORK (TheStreet) -- Since his promotion to CEO of Barnes & Noble (BKS) - Get Report in January 2014, Michael Huseby has been preparing the struggling Nook digital media division for sale, but so far no suitors have shown themselves. Huseby should look no further than the world's largest retailer, Wal-Mart Stores (WMT) - Get Report .
Wal-Mart has been steadily investing in and growing its digital businesses and needs to find more ways to compete with Amazon (AMZN) - Get Report . While Nook has been failing since 2012, it still has underlying assets -- a catalog of millions of e-books, thousands of relationships with publishers and suppliers, and a robust self-publishing services business -- that would be valuable for a company interested in investing in e-books and would be hard to build from scratch. 
"It is definitely a good idea if Wal-Mart cares about being in the book business or the digital media business long term," said book publishing consultant Mike Shatzkin. "If that's a priority for them, acquiring Nook would probably be the cheapest way to ensconce themselves in the game."
With Nook, Barnes & Noble was once solidly the No. 2 e-book retailer in the U.S., behind Amazon, with a reported 25% market share to Amazon's 65%. That was in 2012, when Nook revenues eclipsed $900 million and then-CEO William Lynch charted a course to reach $1 billion in annual revenue.
The plan involved Nook continuing to sell more Nook devices in the growing tablet business, as well as selling more e-books on those devices and increasing digital content sales across the board.
Neither of those things happened.
In the holiday season of 2012, tablet sales around the world rose 75%. Yet, Nook actually sold fewer tablets over that period than it did during the same period the previous year, making it the only major manufacturer of the devices to do so.
At the same time, its content sales were under price pressure from Amazon, which, due to a series of settlements between major publishers and the U.S. Department of Justice, was for the first time free to deeply discount many best-selling e-books. Nook sales in 2013 fell to under $800 million, while losses ballooned to more than $500 million.
Earlier in 2013, Microsoft (MSFT) - Get Report injected some life into the Nook business by agreeing to invest $605 million over five years for a 17.6% stake, valuing Nook at $1.7 billion. And also in 2013, rumors swirled that Microsoft was poised to make a $1 billion bid for the failing business.
That bid never materialized and now Microsoft has sold back its Nook stake to Barnes & Noble for about $120 million in cash and stock.
What's next for Nook? 
Barnes & Noble has said that spinning off Nook as a separate public company is also an option to exit the business. With a consistent track record of losses and declining revenues, it's not a very good one. 
Instead, Barnes & Noble should sell Nook to Wal-Mart.
According to one source who did not want to be named, the big retailer is exploring entering the e-book business. Buying Nook would be an easy and inexpensive way for the company to do so. Wal-Mart declined to comment.
Like many Amazon competitors, Wal-Mart has been trying to expand in digital. It expects its e-commerce sales in 2015 to increase to $12.5 billion after accelerating its digital investments to between $1.2 and $1.5 billion, up from $1 billion in 2014.
While $12.5 billion is nothing to sneeze at, it's a fraction of Amazon's projected 2015 revenue, which will eclipse $100 billion. And it's less than 3% of Wal-Mart's $473 billion in sales in 2014, which are expected to grow 2% to 4% in 2015.
A Wal-Mart spokesperson said that funds for digital acquisitions would not come from its capital expenditures on digital expansion and pointed out that the company has made 14 e-commerce acquisitions in the past several years. 
"We are open to acquisitions if they fit into our enterprise strategy," the spokesperson said, via email.
Nook "is a nice fit with Wal-Mart's print book business," said James McQuivey, a vice president and principal analyst at Forrester focused on the book publishing industry. "They could probably also get it for a decent price."
To be sure, there are significant risks. In the U.K., retailers Tesco (TSCDY) and Sainsbury (JSAIY) both launched e-book businesses, but Amazon still has about 90% of the market.  
"Blinkbox Books [Tesco's e-books business] is about to be sold or shut down and e-books by Sainsbury is not doing great either," said Andrew Rhomberg, CEO of U.K. book publishing start-up Jellybooks.
Wal-Mart may also be unable to capitalize on Nook even if it does acquire it. The retailer has had trouble growing Vudu, a digital video on-demand businesses it acquired in 2010.
"There are multiple reasons for that," said McQuivey of Vudu's stalled growth, "some of which are outside of Wal-Mart's control. But if the idea is that such a large retailer could use a digital device or service to connect deeply with consumers, so far there's little evidence that such a strategy fits with a retailer's natural skill set. After all, that's what Nook was designed to be in the first place, and that was with Barnes & Noble's reader-heavy audience."
Wal-Mart could copy Target (TGT) - Get Report and partner with a new start-up. Or it could build its own e-book business in-house, a capital-intensive exercise that could cost billions. Or, as the consultant Shatzkin said, it could cheaply buy its way into the business by acquiring Nook.
As Barnes & Noble's self-appointed 2015 deadline for movement on Nook approaches, there may be no other options. Unless Wal-Mart or another suitor comes along, 2015 could be a dark year for Nook. 
A Barnes & Noble spokesperson declined to comment beyond the company's most recent Securities and Exchange Commission filings and earnings call.