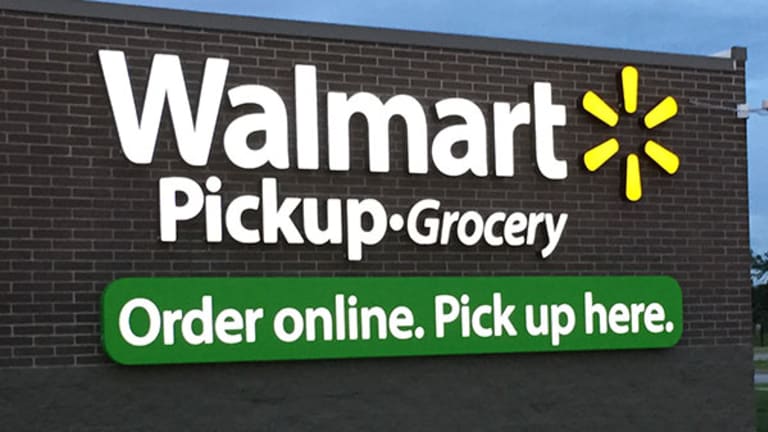 Walmart's New Alliance to Take on Alibaba and Amazon
The mega-retailer said Monday that it will team up with China's JD.com in a bid to expand its global e-commerce presence.
It is no secret that Americans are shopping less at the mall and more online.
Just compare declining sales at brick-and-mortar department stores such as Macy's and Sears to increasing sales at e-commerce juggernaut Amazon to get a picture of this trend. Investors are fleeing stocks such as Sears, sending them to new lows, while making healthy profits from online retailers.
But by no means is this trend limited to the United States. In fact, online shopping for just about everything is becoming increasingly common among consumers in China.
China's No. 1 online retailer is Alibaba. The company began as a platform for business-to-business wholesale selling but has expanded to include business-to-customer and customer-to-customer transactions as well, much like Amazon and eBay.
Alibaba controls an estimated 50% market share of China's online sales.
However, America's No. 1 retailer has just grabbed a chunk of China's No. 2.
On Monday, Walmart (WMT) - Get Report  said that it is teaming up with JD.com, which controls about 20% of the Chinese e-commerce market, making an alliance a sizable foothold for Walmart, which controls a measly 1.6%. Walmart has purchased a 5% stake in the Chinese company, worth an estimated $1.5 billion.
data by
Walmart has been attempting to break into the Chinese e-commerce industry since 2011, when it began investing in Yihaodian, another online retailer. Walmart took over that company completely last year.
Now JD.com will be sold ownership of Yihaodian. Walmart will continue to market merchandise and goods through Yihaodian and will reportedly work with JD.com to develop the brand.
As an added bonus, Walmart-owned Sam's Club China will open a virtual storefront on the JD.com platform.
"We're excited about teaming up with such a strong leader in JD.com and the potential that this new relationship creates for customers in China, as well as for our business," said Walmart Chief Executive Doug McMillon. "We also look forward to offering customers a tremendous number of quality imported products not previously widely available in China through Walmart and Sam's Club."
Certainly, this will yield some juicy profits for investors over the long term.
Walmart is especially looking to increase its online food sales. The company already owns and operates 400 brick-and-mortar stores in China, and consumers are reportedly switching to ordering their groceries online.
The global e-commerce industry is growing by leaps and bounds, and competition is notoriously fierce. By aligning itself with an established Chinese online sales presence, Walmart is giving itself a greater chance at taking on regional superstars such as Alibaba, as well as those who dominate globally such as Amazon.
As Walmart shifts its business focus more toward online selling, be prepared to collect growing profits.
---
An 85% accurate trader gives his personal guarantee: "Give me nine minutes a week, and I guarantee you $67,548 a year." As you can see, Walmart is still a great stock to own. But what if I told you there is a way to make $67,548 per year or more without stocks, just by following this simple step-by-step process? The trader who is sharing this secret has been right more than eight of 10 times, turning $5,000 into more than $5 million for himself. Click here to see how easy it is to follow his lead and collect thousands of dollars in "free money" every month.
This article is commentary by an independent contributor. At the time of publication, the author held no positions in the stocks mentioned.