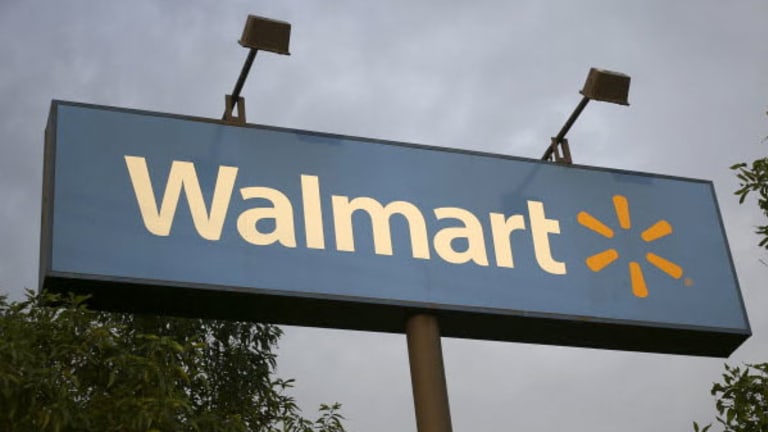 Walmart Is Boosting the Pay for More Than 1 Million of Its Workers Today
Employees hired before Jan. 1 will now get a raise to at least $10 an hour, while those already making more than that will get pay increases of about 2%.
Employees hired before Jan. 1 will now get a raise to at least $10 an hour, while those already making more than that will get pay increases of about 2%.
Starting as an employee of a Walmart (WMT) - Get Report store just got lightly more lucrative as the giant retailer looks to attract more workers and improve customer service.
Today, Walmart will raise its minimum wage for store workers hired before Jan. 1 to at least $10 per hour from $9 an hour. New entry-level workers will continue to start at $9 an hour but can move to $10 an hour in as soon as six months by going through a training and development program.
Walmart workers that already earn more than $10 an hour will receive a pay increase this month of about 2%, according to the company, rather than having to wait until their anniversary date.
In total, Walmart estimates that about 1.2 million employees of Walmart U.S. and Sam's Club will see their pay increase on Saturday, out of 1.4 million associates at its 5,000-plus stores and clubs nationwide. "It's awesome to give a raise to more than 1 million people on the same day," said Walmart CEO Doug McMillon on an earnings call Thursday.
The average hourly wage for full-time Walmart associates (hourly only, no salaried associates included) is $13.38 an hour, and $10.58 an hour for part-time employees. The Federal minimum wage currently stands at $7.25 an hour.
The pay hikes are the latest in a series of investments by Walmart in its employees that began in 2015 in a bid to improve customer service and sales.


To bolster its customer service and fend off critics, Walmart continues to jack up wages.
In addition to doling out modestly fatter paychecks each week, Walmart plans to simplify its paid-time off policy and eliminate a one-day waiting policy to use sick time. And full-time hourly workers can carry over up to 80 hours (48 hours for part time) of paid time off from year to year.  
In April of last year, about 500,000 full-time and part-time Walmart associates received pay raises to at least $9 an hour. Then in July, Walmart raised hourly wages for department managers of complex and service-oriented jobs in areas such as produce, electronics and auto care.  Those workers moved to $13 an hour from $10.30 an hour.  This month, they are scheduled to be paid at least $15 an hour. 


The minimum pay for Walmart's assistant store managers will now be $45,000 a year.
A Walmart spokesman says the company has not broken down the dollar amount spent specifically on wages increases versus investments in training and scheduling. But Walmart says it spent about $1.2 billion last year on its investment in its people, and will spend another $1.5 billion this year for a two-year total of $2.7 billion.
That $2.7 billion has taken a big toll on Walmart's bottom line. 
Walmart's earnings were hit to the tune of about 24 cents a share in 2015 from its investments in people. In 2016, the impact will be even greater, at 30 cents a share. As a result, Walmart anticipates earnings per share falling 6% to 12% year over year in 2016.
Walmart's shares are down about 26% since mid-February of last year when it first announced its plans to spend significantly more money on worker pay and improving its online operations.