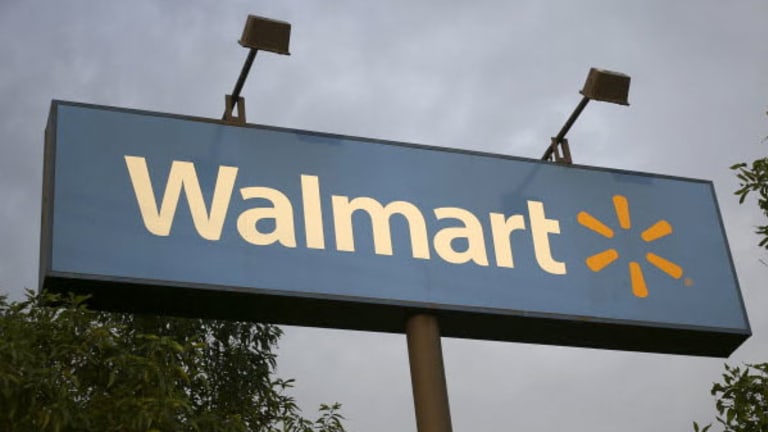 Walmart: Election Uncertainty May Be Weighing On Customer Spending
The giant retailer believes a turbulent election season may be hurting the confidence of its customers.
The giant retailer believes a turbulent election season may be hurting the confidence of its customers.
An election season rife with turmoil and concerns about the future of the U.S. may be weighing on the minds of some consumers.
In particular, it may be affecting the low-income shoppers that frequent the aisles of the world's largest retailer Walmart (WMT) - Get Report . "We have an election year -- especially this election, that's all I will say -- that is on the minds of people," said Walmart executive vice president and CFO Brett Biggs at an investor conference on Tuesday when asked what may be causing tepid spending by U.S. consumers.  
Biggs also added that a penchant for people to continue paying down debt as a factor weighing on spending, despite benefits from rising levels of employment and lower gas prices.
The extent of the economic uncertainty, potentially caused by bickering politicians, was front and center for Walmart during the holidays. 
Walmart's U.S. same-store sales rose 0.6% during the fourth quarter, falling short of the company's guidance for "around" a 1% increase. Walmart's global e-commerce sales grew approximately 8% in the fourth quarter, cooling from a 10% growth rate in third quarter. The retailer does not break out online sales by country. 
First quarter sales are seen as worse than the fourth quarter. Walmart anticipates same-store sales at its Walmart U.S. division increasing by about 0.5% in the quarter, and remaining unchanged from the prior year at its Sam's Club warehouse business. 
Meantime, there are other indications election season, as well more volatile stock markets, are causing consumers to re-think their spending decisions. 

Retail sales fell 0.1% in February due to fewer sales of automobiles and lower gas prices, according to the Commerce Department on Tuesday. Excluding the volatile auto and gas categories, sales rose 0.3%. Overall sales were revised markedly lower for January, from a 0.2% increase to a drop of 0.4%.
Sales were generally sluggish everywhere in February, including auto dealers, electronics and appliance stores, grocery stores and department stores, which all delivered sales declines.  Even sales online fell about 0.2% in the month. 
In late February, the Conference Board reported that its consumer confidence index fell to a six-month low of 92.2 from a reading of 97.8 in January. Households' short-term outlook grew more pessimistic during the month, with consumers being concerned about business conditions, their personal financial situation and, to a lesser extent, labor market prospects.