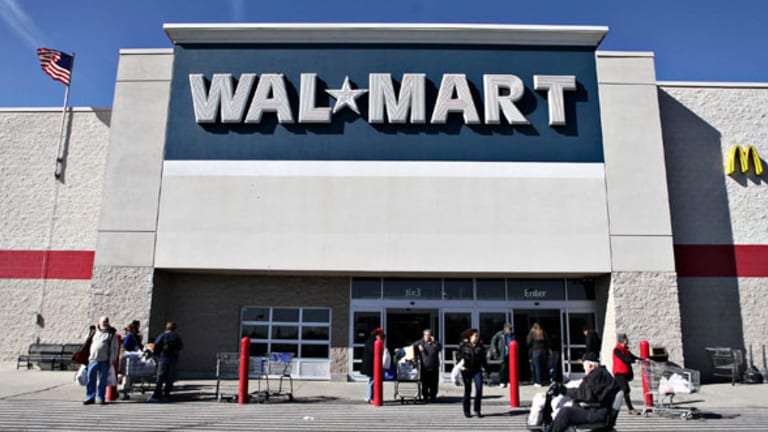 Walmart Closing 154 U.S. Stores as It Realizes Bigger Isn't Always Better
The world's largest retailer is shuttering locations and abandoning its Walmart Express concept entirely in a bid to more efficiently run its business.
Editor's pick: Originally published Jan. 15.
Updated to include additional information from Walmart.
Being the world's largest retailer is turning into a burden rather than the blessing it once was.
Once lauded for aggressively building stores across the U.S. to gain economies of scale and to put smaller companies out of business, Walmart (WMT) - Get Walmart Inc. Report is finally slowing its expansion down in a bid to more efficiently run its business.
The more thoughtful approach to operating a store network that now numbers more than 5,000 in the U.S. can be attributed in part to the ongoing shift to digital shopping. Rising demands by employees for fairer pay have also made opening new stores costlier.
On Friday, Walmart announced a rare decision to shutter stores en masse, with plans to close about 154 locations in the U.S. in total.
Gone entirely will be the company's 102 smallest-format stores, dubbed Walmart Express. The format had been in pilot since 2011. Executives soured on the concept, which is only about 12,000 square feet, as the stores were too small to carry a large assortment of fresh groceries and prepared food.  Both merchandise categories have become integral components of Walmart's larger supercenter and Neighborhood Market concepts.
Also included in the U.S. closure count are 23 Neighborhood Markets, 12 supercenters, seven stores in Puerto Rico, six discount centers, and four Sam's Clubs.
The store closures will happen rather quickly. All but 14 stores are set to close on Jan. 28. The remainder will shut their doors on Jan. 17 or Feb. 5. Walmart's home state of Arkansas will be hit the hardest, with 10 stores slated to close. Walmart says in the majority of stores it will close, it will sell discounted merchandise from 25% to 75% off.
In addition, Walmart will close 115 stores outside the U.S., mostly in Brazil and other Latin American markets. The financial impact of the closures is estimated to total approximately 20 cents to 22 cents a share, with about 19 cents to 20 cents a share in impact on the fourth quarter, which ends Jan. 31, 2016.
The remainder of the financial effect will fall in the first half of fiscal 2017.
"Actively managing our portfolio of assets is essential to maintaining a healthy business," said Doug McMillon, president and CEO of Walmart, in a statement. McMillon, who took over the top job at the giant retailer on Feb. 1, 2014, added that "closing stores is never an easy decision, but it is necessary to keep the company strong and positioned for the future."
Walmart has grown rapidly in recent years, almost seeming to ignore the changing environment in retail that has led others to shutter stores, restructure or -- in the case of electronics retailer RadioShack -- go bankrupt. Now, as Walmart pointed out in Friday's release, more than 95% of the stores targeted for closure in the U.S. are within 10 miles of another Walmart.
Since January 2009, Walmart has added a whopping 1,025 stores in the U.S, based on data compiled by TheStreet. With 5,283 stores in the U.S., Walmart has 45.7% of its overall store count in the U.S. Yet, the returns on Walmart's investments in new stores have likely been subpar.
According to Bloomberg data, Walmart's return on invested capital, which measures the return on things such as investments in stores and e-commerce, declined to 12.5% as of Oct. 31 from 13.5% in January 2009. With those returns under pressure, investors have fled Walmart's shares.
Over the past five years, shares of Walmart are down 11.5%, lagging the 47% gain for the S&P 500.
In the end, as TheStreet reported in October, the Walmart business model of capitalizing on its size and low prices is being smashed to pieces as a result of the changing retail landscape.  The store closures are the byproduct of such change. By shedding stores, Walmart will be able to save money on expenses such as hourly wages, health care, transportation and build-out costs for e-commerce. All of these line items continue to feel upward pressure.
Walmart could take its newfound savings and either reinvest more aggressively online or bring it to the bottom line, which would be welcome news for beleaguered shareholders.
Walmart is not alone in announcing store closures following a mixed holiday shopping season.
Macy's (M) - Get Macy's Inc Report will close 36 stores by the spring as part of a broader restructuring plan. J.C. Penney (JCP) - Get J. C. Penney Company, Inc. Report will soon close seven smaller stores across the country. And struggling Sears Holding (SHLD) disclosed this week that it will shutter more Sears and Kmart stores early in the year, likely after notching another lackluster holiday season.