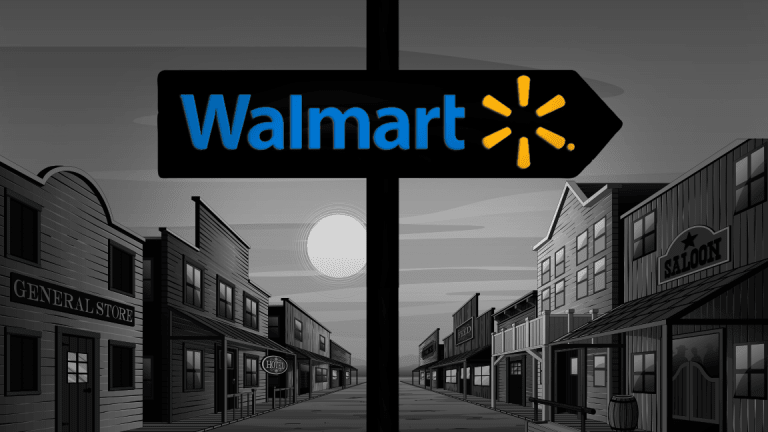 Why Walmart Haters Have Been Beyond Dumb
In the age of Amazon, everyone is at risk. But Walmart has shown it can roll with the punches, sending its stock to new highs and serving up innovation that only a retailer 55 years in the making could conjure up. This holiday season, Walmart could be calling checkmate.
Could 55 be the new 20? When it comes to Walmart Stores Inc. (WMT) - Get Walmart Inc. Report , the answer is yes.
It's no secret retail has taken a hit with the advent of eCommerce and the existence of Amazon (AMZN) - Get Amazon.com, Inc. Report . The SPDR S&P Retail ETF (XRT) - Get SPDR S&P Retail ETF Report has dropped nearly 8% since the start of the year on the back of the sector's struggles, whereas the broader S&P 500 has gained over 15% during the same time. 
But Walmart has stayed afloat, taking on Amazon just as much as Amazon is taking on anyone else. The world's largest retailer is fresh off posting its ninth straight earnings beat, believe it or not. Walmart's 2016 acquisition of Jet.com continues to pay dividends with a talent infusion helping to unleash new ways to boost sales. In the third quarter, online sales surged 50%.
That's pretty hot.
"They're both competing in each other's spaces of strength," Bernstein analyst Brandon Fletcher tells TheStreet. Still, "Amazon has a hard time selling Tide and Lysol and milk." No matter how fast Amazon shipping is, it can't get inflated Mylar balloons into your minivan when you forget them the day of your kid's birthday. Walmart will gladly make that happen for you.
Meanwhile, Walmart has inked deals with upscale retail brands including Lord & Taylor and Bonobos as it seeks to widen its appeal and broaden its customer base. Using its greater scale, Walmart has been able to slash prices in areas like food to drive shoppers to its hulking supercenters. 
"I'm sure they have a healthy respect for Amazon as a competitor," says Susquehanna analyst Bill Dreher. "But they want to win."
Now, it's game on for the holiday season: a revamped Walmart vs. a well-known beast in Amazon.
"Walmart obviously kills it on Black Friday," Dreher says. That's due in part to their dedication to clean, fast and friendly services. Dreher says the company has been preparing new associates for the holiday rush using virtual reality training. Sharper price points will help, too.
"It makes sure they're well-trained and up-to-date on how to deal with the crush of Black Friday," Dreher explained. Details like that matter when customers would happily shop online when faced with sub-par service.
All in all, most on Wall Street have been dumb to think Walmart is dead. The company's stock jumped to an all-time high this week, with shares having gained close to 40% since the start of the year. Comparable store sales in the third quarter increased for the 14th-straight quarter, up 2.7% with same-store traffic up 1.5%.
"Customer traffic is the lifeblood of retailers," he added. "Word is spreading that the shopping experience at Walmart has dramatically improved over the last decade."
Walmart is probably positioned to continue its unappreciated comeback, even in the face of the retail apocalypse. If Amazon is the Death Star, Dreher says, then "Walmart is the Rebel Alliance."
Checkout the best of "Dumbest Thing On Wall Street"