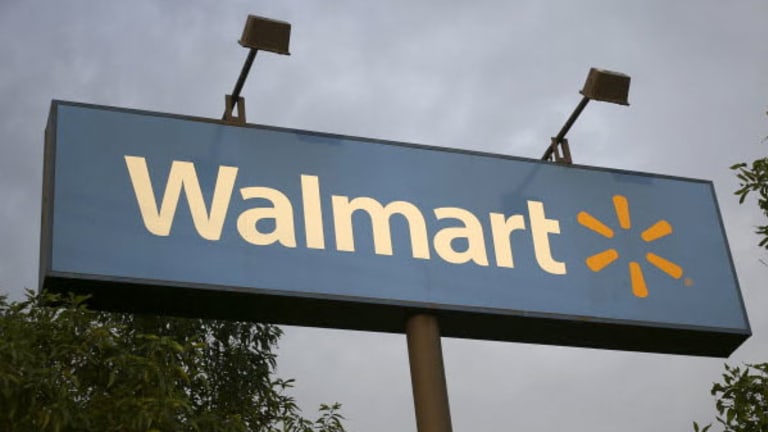 Walmart Battles Amazon With Its Free ShippingPass
Wal-Mart announced that it is providing free ShippingPass delivery service for 30 days.
Wal-Mart announced that it is providing free ShippingPass delivery service for 30 days.
Walmart (WMT) - Get Report  struck again at Amazon (AMZN) - Get Report  yesterday in the intensifying clash between the two retail titans.
The company announced that it is offering a 30-day free trial to its ShippingPass delivery service. This is the second change that Wal-Mart has introduced over the past two months to challenge Amazon's successful Prime service. In May, Walmart announced that it would match Amazon's two-day service on many items and cut the cost for a subscription to $49 a year. 
Among the biggest beneficiaries of the competition may be investors, who will have great opportunities for profit from both. Both stocks finished the day up a little over 1%. 
It's difficult to project ShippingPass's long-term impact. Walmart is clearly trying to raise its e-commerce profile by widening its offerings and enhancing features. Rapid delivery and low cost are among the most important features for e-commerce customers.  
Online shopping is undoubtedly the future of American consumerism. By virtue of its big head start as an e-commerce site, Amazon holds a sizable edge over other retailers. It offers a wide range of products, including electronics, groceries and Chinese take-out. Amazon is even poised to overtake  department store legend Macy's in apparel sales by the end of next year.
Wal-Mart has excelled more than other companies in expanding its online service. That's pushed the stock up, pleasing investors.
ShippingPass is off to a solid but not spectacular start.
Prosper, a technology and research firm, found that last year, 12.4% of shoppers indicated they would be "likely" or "very likely" to subscribe to the ShippingPass service. A more recent survey found that the percentage had risen but to only 14.8%. Also, while Walmart's e-commerce sales are up by about 7% in the most recent quarter, for the same period, Amazon increased online sales by more than 20%.
Recent studies also indicate that approximately one-third of American adults belong to Prime. Although ShippingPass might be the better deal for getting your goods, Prime also features a long list of other benefits, most notably, video streaming,
If Walmart is going to dent Amazon's Prime business, it's going to need to be more aggressive.
Walmart will certainly deliver profits from its e-commerce initiatives, but it has not reached Amazon status. Amazon remains the go-to place for buying many items in the U.S. and other parts of the world.
Still, look for decent gains from Walmart -- better than for other retailers. But for a true titan, Amazon holds the crown. Investors would be wise to have both stocks in their portfolio. 
---
85% Accurate Trader gives his Personal Guarantee: "Give Me 9 Minutes a Week and I Guarantee You $67,548 a Year." As you can see, Wal-Mart is still a great stock to own. But what if I told you there is a way to make $67,548 per year - or more - without stocks, just by following this simple step-by-step process? The trader who is sharing this secret has been right more than 8 out of 10 times, turning $5,000 into more than $5 million for himself. Click here to see how easy it is to follow his lead and collect thousands of dollars in "Free Money" every month.
This article is commentary by an independent contributor. At the time of publication, the author held no positions in the stocks mentioned.