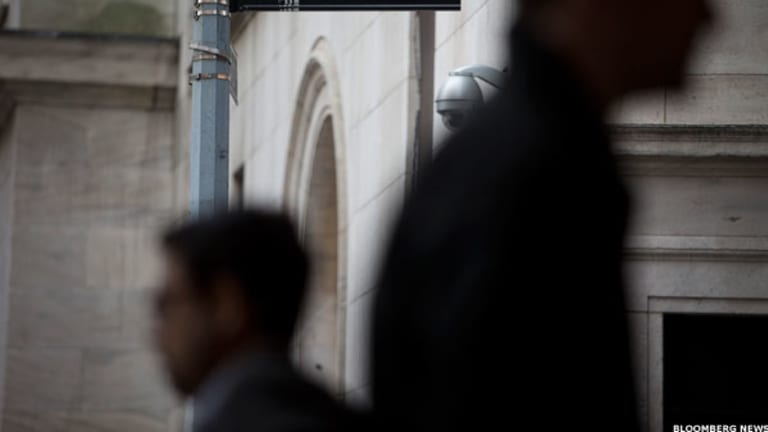 Wall Street's Best Lies, Tricks and Doublespeak in 2014
Did you hear the one about the investor-literacy advocate who fought against rules to protect investors? Wall Street was a big winner in the Hypocrisy Derby this year.
NEW YORK (TheStreet) -- No, you weren't imagining that Wall Street and its regulators were messing with your head all year.
There were the Wall Street veterans repackaged as representatives of the public; investor-literacy proponents who lobbied for rules that would hurt investors; and enforcement types who heralded tough settlements with banks only to take back some of the punishments before the ink was dry.
Here's a recap of some of the worst moments for ordinary investors in 2014, with a trophy for each one.
Let's start with the "Public" Means "Not Public" Award.
The Financial Industry Regulatory Authority, known as Finra, is financed by Wall Street firms to self-regulate the industry. In an attempt to balance the power between brokers and the public, Finra fills a majority of its 25 board-of-governor seats with "public" representatives. So it was a little weird when, on Nov. 18, Finra issued a press release announcing two new public governors who hailed from the financial world: The former chief technology and operations officer at E*Trade (ETFC) - Get E*TRADE Financial Corporation Report and the former co-president of Morgan Stanley (MS) - Get Morgan Stanley Report .
Already on the board was Richard S. Pechter, former chairman of the board of Credit Suisse (CS) - Get Credit Suisse Group American Depositary Shares Report , occupying a public seat. There's a lesson in here somewhere. Should we lobby to secure Elizabeth Warren one of those industry slots?
While we're on the subject of Finra, how about a round of applause for the self-regulator's second win this year, the Most Messed-Up Arbitration Forum Ever Award.
Brokerage firms force customers to agree to arbitration -- in lieu of court -- before they will open an account, and Finra runs the highly secretive sessions where disputes between customers and brokers are heard. Prominent among embarrassing news items about Finra's adjudicators in 2014: An arbitrator who'd been indicted; another who said he was a lawyer, but wasn't; and two arbitrators who were on a roster for upcoming panels, but were dead. Hat tip to Bloomberg Businessweek for sharing the word about the panelists who are no longer with us.
The We Love You, We Love You Not Award goes to the Securities Industry and Financial Markets Association.
The Wall Street lobbying group has established itself as a great friend of the average guy through its eponymous Stock Market Game for students and other investor literacy efforts. Yet the very same Sifma has been in an all-out war to fight efforts to force stockbrokers to match the current fiduciary standard required of investment advisers. It's also fighting against a similar proposal by the Department of Labor to require a fiduciary duty to advisers of company 401k plans.
A fiduciary is an adviser who puts the client's interest ahead of theirs. Sounds like the right thing to do, no? But the right thing for customers isn't always the most lucrative thing for brokers.
Sifma also was the hands-down winner of the Do as I Say, Not as I Do Prize.
On Nov. 14, it honored Prudential Financial (PRU) - Get Prudential Financial Inc. Report and Goldman Sachs (GS) - Get Goldman Sachs Group Inc. (The) Report with its 2014 Diversity Leadership Awards. Prudential got the accolade for its commitment to promoting veterans transitioning back to the civilian workforce. Goldman was picked for its program to enhance the progression and retention of strong-performing African-American and Latino/Hispanic vice presidents. There was no mention in the press release about Goldman's other diversity news: the ongoing high-profile litigation by women who have brought a class-action sex discrimination suit.
Just four days before the award celebration, Sifma showed its true commitment to diversity in its selection of speakers for its annual conference in New York. Twenty-nine speakers were chosen to address the audience on Nov. 10. Three were women.
What can we say? Sifma walks off with a third prize -- the HypocrisyAward.
For 27 years, Wall Street has enjoyed the business advantage of denying its customers the civil liberty of access to a fair court trial. But when Finra proposed that brokerage firms provide it with trading data from customers -- so that Finra could look for fraud patterns -- Sifma was all for defending the rights of its customers.
The proposal would amount to "a dramatic intrusion into one's personal privacy and compromise one's civil liberties," wrote Sifma general counsel Ira Hammerman in a letter to Finra on Dec. 1. His 23-page letter cited customers' civil liberties nine times.
Runners Up:
The Securities and Exchange Commission, for its long-running practice of announcing a big settlement with banks and brokers even as it grants them exemptions from securities laws that would have automatically added tough punishments to the fines the agency collects.
The SEC's Inspector General, who found that only 31% of senior officer jobs at the agency were filled by women, and then noted that the SEC's numbers were better than those of one of the worst places for women to work in the U.S.: The securities industry.