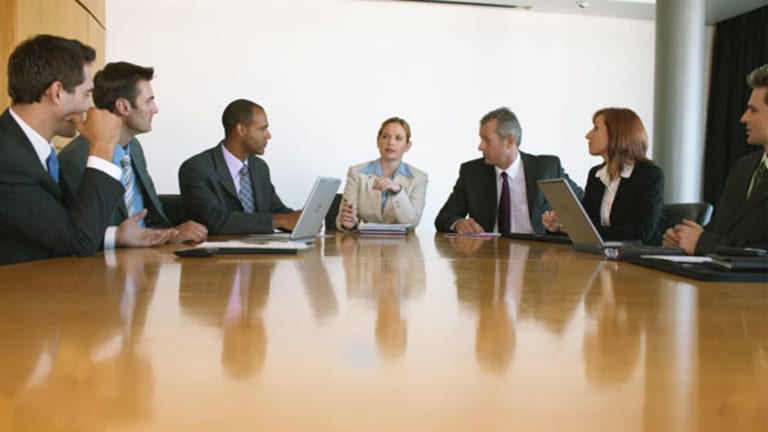 Wall Street Whispers: Warren Buffett Is (Still) A Hypocrite
Warren Buffett's derivatives holdings are more important and can be more devastating than has been portrayed.
OMAHA (
) - I've said it before, and I'll say it again:
Warren Buffett is a hypocrite.
Warren Buffett still hasn't issued a "mea culpa" on earlier statements about derivatives, despite Berkshire's evident exposure.
The second-quarter report from
Berkshire Hathaway
( BRK-B) last week indicates that
isn't just a hypocrite, but just as untrustworthy as the poster boys of the financial crisis that he's snubbed his nose at in the past.
Berkshire's profit fell 40% last quarter, because of -- you may have guessed it -- derivatives. Yes, those tricky contracts once associated with the CDOs, CLOs, CDS and SIVs that helped to bring down fellow insurance giant
American International Group
(AIG) - Get American International Group Inc. Report
, as well as Bear Stearns, Lehman Brothers and Merrill Lynch. The same derivatives that Buffett has snarkily compared to
nuclear bombs,
Satan's lair, a horrific
hurricane and
venereal disease are what brought down his company's bottom line.
The company's overall profit was just shy of $2 billion, down from $3.3 billion in the year-ago period -- despite the addition of Burlington Northern Santa Fe, which contributed $603 million in operating earnings.
The main driver for Berkshire's lower profit was a $2.2 billion loss on its book of derivatives. Berkshire's "notional exposure" to such bets -- in other words, the maximum loss it can sustain in the unlikely event that all underlying values fall to zero -- stood at $60.5 billion on June 30.
That seems to be a large, explosive, devilish, disease-ridden natural disaster for a company whose chairman has so passionately eschewed derivatives trading.
Rather than provide some sort of "mea culpa" -- or even an explanation that derivatives are a necessary, if risky, proposition that all major financial firms engage in -- Berkshire's quarterly report continued to highlight the magic of its own proprietary trades.
Berkshire points out repeatedly that it has "no counterparty credit risk" and that premiums were paid "in full at the contract inception dates." The company says this about its biggest losing bet, a bullish one on equities, as well as a riskier bet on high-yield bonds.
Berkshire has long suggested that its derivatives are special because Warren Buffett underwrites them by hand. But focusing on the premiums paid and the counterparty risk ignores the real danger of derivatives for Berkshire Hathaway. The trades tend to burn insurers not because of counterparty risk or absence of premiums, but because the insurers were on the wrong side of the trade.
For instance, Buffett is bullish on the long-term value of stocks, as he always has been. As a result, Berkshire maintains several large equity positions. It magnifies stock-market exposure by taking the long end of derivative contracts called "put options," which increase in value as certain indexes decline.
Last quarter was a terrible one for stocks, with tremendous volatility and a general downward trend. As a result, Berkshire lost $1.8 billion on those equity-index derivatives alone.
As it applies to other types of derivatives, called credit-default swaps, Buffett seems to believe that his faith in an entity's financial condition is more reliable than the opinions of the ratings agencies or prevailing wisdom of the bond market. Berkshire insures against default on the non-investment grade, high-yield debt of about 100 "specified North American corporate issuers." It also insures against the default of individual corporations that are hand-picked by management, as well as 500 states and municipalities.
Unfortunately, such credit default swaps lost Berkshire $320 million last quarter as well.
In the grand scheme of things, one might argue that derivatives aren't that big of a deal for Berkshire Hathaway. The firm has $349 billion in assets and $202 billion in liabilities -- it can afford to take a hit of a couple billion dollars now and then when the stock and bond markets fall into a tizzy.
"As we've explained, these wild swings neither cheer nor bother Charlie and me," Buffett said in last year's annual report, referring to his right-hand man, Berkshire Vice Chairman Charles Munger. "When we report to you, we will continue to separate out these figures (as we do realized investment gains and losses) so that you can more clearly view the earnings of our operating businesses. We are delighted that we hold the derivatives contracts that we do. To date we have significantly profited from the float they provide. We expect also to earn further investment income over the life of our contracts."
But if derivatives are just icing on the cake for Berkshire's bottom line, then why did Buffett lobby so hard to ensure that financial reform wouldn't affect its trades?
Buffett brought concerns to his home-state legislator, Sen. Ben Nelson (D., Neb.). Nelson holds a position on a key committee that was involved in structuring the derivatives portion of the financial-reform bill. Buffett wanted the bill to exempt existing derivatives contracts from new capital and margin requirements that might have cost Berkshire a pretty penny. Nelson held up negotiations by demanding such a provision.
Ultimately, the idea was shot down by other legislators, due in part to negative attention surrounding their discussions. But the fact that the same man who warned Congress about the danger of derivatives, only to grovel for a special rule that would protect his own, is evidence that something isn't right. Derivatives can't be dangerous for everyone but Buffett, nor can they only be profitable for him.
There were plenty of financial executives who got their companies tangled up in stupid derivatives deals during the financial crisis. There was Joseph Cassano, the former head of AIG's financial-products unit, and former CEO Martin Sullivan, who allowed the division to plunge further into subprime CDS, unchecked. There was Stan O'Neal, under whose watch Merrill Lynch made a name for itself in such structured products. There was
Citigroup's
(C) - Get Citigroup Inc. Report
Chuck Prince, who kept dancing while the music played. There was the poster boy of Wall Street excess, Bear Stearn's Jimmy Cayne, whose company accumulated $13.4 trillion in notional derivatives exposure, vs. $395 billion in assets, while he played bridge.
Yet none of those vilified executives pretended that all derivatives were a bad thing, even as their complex housing bets were going bust. Alan Schwartz, the guy who took over as Bear Stearns CEO two months before it was acquired by the
Federal Reserve
and
JPMorgan Chase
(JPM) - Get JP Morgan Chase & Co. Report
, recently attempted to explain how derivatives played a role in the company's near-collapse.
"There was a lack of transparency in these instruments," Schwartz told a congressional panel in May. "It became impossible to determine which ones were risky or not risky."
When testifying, both Schwartz and Cayne indicated support for increased regulation of the derivatives market as well. Neither mentioned "counterparty risk" or "premiums" in regards to the topic, and Bear wasn't even on the insurance side of the trade.
Buffett, on the other hand, has been acting as though Berkshire's derivatives are special deals that deserve special protection and will ultimately be profitable because of the special way they've been structured.
But Berkshire's last quarter proved that the notional exposure isn't so notional. Buffett's high-profile lobbying proves that derivatives aren't just icing, they're part of the cake.
Either Warren Buffett is misrepresenting what derivatives are, or, simply, he's a hypocrite.
-- Written by Lauren Tara LaCapra in New York
.
Click Here For More Wall Street Whispers >>
Disclosure: TheStreet's editorial policy prohibits staff editors, reporters and analysts from holding positions in any individual stocks.