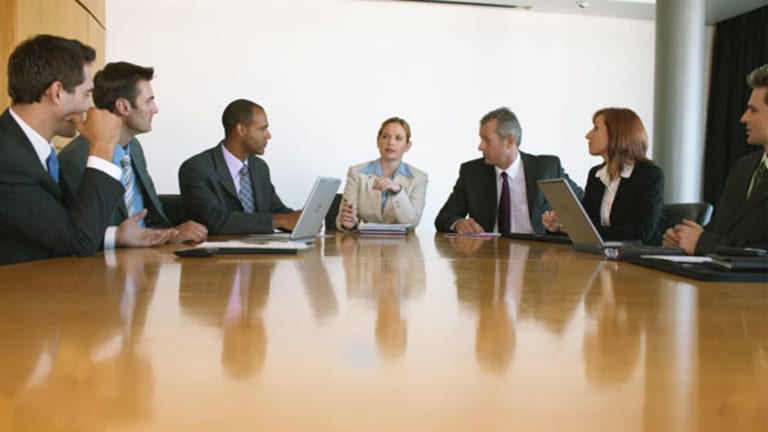 Wall Street Whispers: The Big Worry for 3Q
Wayward accounting rules may have allowed banks to release capital reserved for bad loans too early.
NEW YORK (
) -- Think last quarter's
giant release of loan-loss capital was a positive sign for bank profitability? Think again.
The recent wave of reserve-releasing boosted banks' bottom lines tremendously. But it also caused quite a bit of concern among examiners scrutinizing the nitty gritty elements of their balance sheets. Examiners worry that ongoing economic stress may lead to a new wave of losses that outdated accounting standards haven't factored in.
A staffer at the Office of The Comptroller of the Currency, which has over 1,000 officials inspecting banks' books around the country, says second-quarter results had examiners "on edge," with many considering reserve releases to be "too much, but also
way
too soon."
"We just have a very bad feeling about this," says the staffer, who wasn't authorized to speak on the record.
Bank examiners are a cautious breed - especially now - and so their trepidation might have been taken with a grain of salt. (As another OCC official puts it: "Any examiner would say they didn't see a reserve they didn't like.")
Ernest Patrikis, a former
Federal Reserve
official who is now a partner at White & Case's bank-regulatory practice, cites one example of a bank undergoing examination in the New York area whose management felt regulators were being overly harsh. In other cases he's heard about anecdotally, examiners have demanded that banks use a 50% loss reserve for loans that were just starting to show signs of stress, even when internal estimates indicated losses would be much less.
"What people are saying, the people I talk to, is that examiners are pushing for higher reserves," says Patrikis. "It's not a question of allowing them to release, it's going the other way."
Examiners can be forgiven for thinking banks' $11.8 billion in reserve releases last quarter might have been a little too aggressive and a little premature. This week, it became evident that investors are starting to question how sustainable those reserve-related earnings are, too.
S&P released a report on Wednesday titled "U.S. Banks? Earnings In Second-Quarter 2010 Increased In Quantity But Not Quality." It attributed most of the earnings improvements to reserve releasing, rather than top-line growth. Credit analyst Rodrigo Quintanilla questioned whether the trend may reverse if housing and jobs markets continue to weigh on the economy, calling the recovery "fragile" and banks' loss recognitions "uncertain."
"In fact, we believe loan-loss provisioning could pick up in the second half of 2010 to better cover net losses," said Quintanilla.
According to the
Federal Deposit Insurance Corp.
, the banking industry earned $21.6 billion during the June period - the biggest quarterly profit in nearly three years. Yet the figure doesn't seem quite so fantastic when more than half can be attributed to letting go of extra capital that wasn't used to cover bad debt. In that context, it's not earning money; it's simply avoiding a loss.
Part of the problem with loan-loss provisioning is that banks are required to follow accounting standards and capital requirements that have been panned for focusing on past loss trends, rather than future expectations.
Rules set by the Financial Accounting Standards Board, the International Accounting Standards Board and the Basel Committee on Banking Supervision are "procyclical" - they force banks to retain more cash when times are bad and less when times are getting better. The policy may seem logical, but it also helps fuel economic booms and busts. Bubbles inflate to enormous sizes because banks are incentivized to take risk; recoveries take longer because banks don't want to lend their hoarded cash.
Former FDIC Chairman Bill Isaac is one of many top regulators who have been critical of the current standards. Isaac, now chair of the financial-services division at consulting firm LECG, calls the current methodology "backward looking and highly pro-cyclical."
"I have been arguing for years that provisions for losses should be forward looking," says Isaac, who recently penned the book
"Senseless Panic: How Washington Failed America." "Nearly all banks and bank regulators agree with this. This problem has been created by FASB and the SEC, which in my view should have no say in the setting of reserve levels. This should be the exclusive domain of the bank regulators."
Examiners are required to enforce "incurred loss" provisioning rules, which dictate that banks set aside capital based on how loans have recently performed. But, according to OCC sources, they'd rather enforce "expected loss" provisions, which reflect the consensus outlook of where the economy is headed and how loans will likely perform.
Patrikis says that examiners have been trying to get around the cockamamie standards by interpreting FASB rules more conservatively.
"GAAP rules talk about incurred loss and there are rules for determining incurred loss," says Patrikis. "The bank examiners seem to talk in terms of expected loss."
The head-butting on loss provisions has set up a difficult situation for bank executives - and investors - who are trying to navigate the rules of the road. A spokesman for the OCC acknowledged that there may be differences of opinion, but directed
TheStreet
to comments by John Dugan, an outspoken critic of incurred-loss provisioning, who just stepped down last month as head of the OCC.
Dugan says bank examiners had seen troubles ahead during the last two crises - the subprime bubble of the late 2000s and the S&L crisis of the late-1980s. But their hands were tied because of current accounting standards that they're required to enforce.
"It simply was not possible to require massive loan loss provisioning and write-downs at a time when real estate and other loans were fully performing and appraised values were stable," Dugan said during a speech at the Exchequer Club in Washington on July 21. "As soon as we could require large reserves, examiners generally did so - but by that time it was often too late to save the institution."
Dugan says the rules "sorely need revision." He and other sources in the regulatory sphere argue that changing to an expected-loss model would stimulate the economy when it's healing and better prepare banks when trouble is coming down the pike.
That wish is likely to be fulfilled, but not any time soon.
FASB, which is working in coordination with the IASB, is said to favor an "expected loss" model in its new accounting standards. Yet-to-be-announced Basel rules are said to require banks to maintain an additional "anti-cyclical capital buffer" of 3% during times of economic growth. Finally, the Dodd-Frank bill requires financial regulators to set more modern, forward-looking capital standards that can adapt to changing circumstances.
However, those rules will take years to finalize and implement. For the time being, banks and their accountants must adhere to the legacy rules, which regulators must enforce.
Two out of three banks increased reserves last quarter, but mostly at a slower pace. A handful of large releases from giant banks showed that a small improvement in credit quality on balance sheets of over $1 trillion can lead to big changes in reserves.
JPMorgan Chase
(JPM) - Get JPMorgan Chase & Co. Report
,
Citigroup
(C) - Get Citigroup Inc. Report
,
Bank of America
(BAC) - Get Bank of America Corp Report
,
Capital One
(COF) - Get Capital One Financial Corporation Report
and
Wells Fargo
(WFC) - Get Wells Fargo & Company Report
were the top-five reserve releasers. Their excess capital ranged from from $470 million to $2.3 billion apiece, more than offseting reserve additions by smaller competitors just by nature of their size.
Rounding out the top 10 were regional lenders that have more exposure to CRE and other types of commercial loans that tend to lag residential real estate in economic recoveries.
KeyCorp
,
Synovus
(SNV) - Get Synovus Financial Corp. Report
,
Fifth Third
(FITB) - Get Fifth Third Bancorp Report
,
Huntington Bancshares
(HBAN) - Get Huntington Bancshares Incorporated Report
and
First Horizon
(FHN) - Get First Horizon Corporation Report
released a collective $618 million in reserves, according to
Federal Reserve
data, with 40% of their loan books comprised of commercial debt, on average. Others, like Dallas-based
Comerica
(CMA) - Get Comerica Incorporated Report
and Salt Lake City-based
Zions Bancorp
(ZION) - Get Zions Bancorporation, N.A. Report
also released reserves, with commercial and CRE exposure representing 71% and 62% of gross loan portfolios, respectively.
That's not to say that Comerica or Zions - or larger competitors like JPMorgan - are necessarily in trouble. In fact, if their credit statistics continue to improve, they may be able to release even more reserves.
Yet examiners are worried that the just-in-time loss provisioning that clotheslined the banking sector in 2008 could have a similar - if less dramatic - effect in the near-term. If nothing else, it could catch investors off-guard next quarter if banks have to start building reserves once again.
Says former Comptroller Dugan: "Critics will surely argue that examiners were simply not causing banks to make provisions and take losses soon enough and in large enough quantities, which is why, they will say, that capital levels were still so high so soon before failure. I disagree."
--Written by Lauren Tara LaCapra in New York.
>To contact the writer of this article, click here:
Lauren Tara LaCapra
.
>To follow the writer on Twitter, go to
http://twitter.com/laurenlacapra
.
>To submit a news tip, send an email to:
.
Disclosure: TheStreet's editorial policy prohibits staff editors, reporters and analysts from holding positions in any individual stocks.