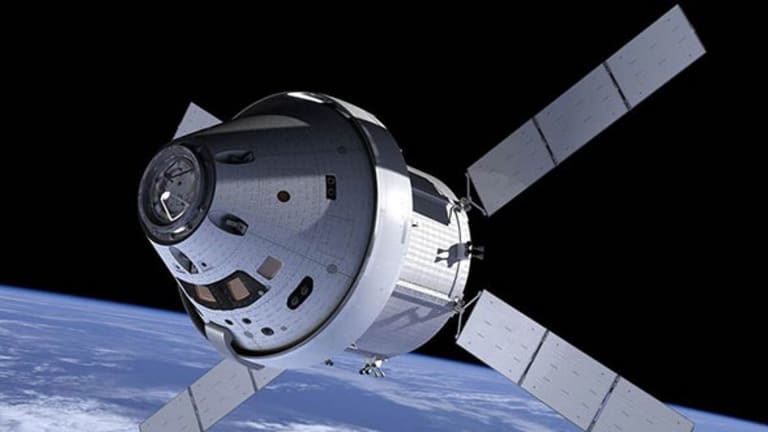 Wall Street's Radar Overlooks This Absurdly Cheap Satellite Stock
DigitalGlobe is getting unfairly beaten down given the demand for satellites and its most recent quarterly earnings. The company offers an investment opportunity.
DigitalGlobe is getting unfairly beaten down given the demand for satellites and its most recent quarterly earnings. The company offers an investment opportunity.
Are you excited by the 21st century space race, but frustrated that you can't buy stock in private spaceflight companies such as Elon Musk's SpaceX or Sir Richard Branson's Virgin Galactic? Consider DigitalGlobe (DGI) , a bargain-priced play on the burgeoning long-term demand for satellites.
Colorado-based DigitalGlobe owns and operates a constellation of satellites that provide high-resolution space imagery and geospatial content to commercial and military customers. And despite the company's strong third-quarter earnings report last month, its stock has gotten pummeled. 
data by
DigitalGlobe posted third-quarter earnings per share (EPS) of 12 cents, roughly in line with analysts' estimates. Revenue jumped 12.1% year over year to $173.3 million, beating analysts' forecast of $179.5 million. Operating cash flow rose 80.6% year over year to $85.6 million.
Despite this healthy quarterly performance, management lowered its full-year 2015 revenue forecast to between $685 million and $700 million, down from $725 million-$750 million. The company also lowered its full-year earnings guidance to a range between $330 million and $345 million, down from the previous range of $355 million and $375 million.
The main culprit: Currency devaluations and declines in commodity prices that are hurting corporate customers, such as mining companies, that tend to rely on satellite imagery. These conditions are bound to be temporary, however, and certainly don't warrant the recent hit to the stock, which was down as much as 35% on the day it reported earnings.
DigitalGlobe's sophisticated capabilities are increasingly vital to commercial aviation. Through acquisitions, DigitalGlobe has emerged as a near monopoly that leaves its peers on the ground in terms of size and capability.
The U.S. government is the company's biggest customer of satellite imagery, a huge advantage because of Uncle Sam's deep pockets and constant need for weather, intelligence and navigational data.
The boom in satellite demand is borne out by statistics from Virginia-based Teal Group, a market research firm that serves the commercial and military aerospace sectors.
Teal Group's latest survey in 2013 identified 3,164 space payloads proposed for development and launch to earth or deep space orbits between now and 2032. Teal estimates the value of these satellites and other space payloads at more than $235 billion.
The survey includes not only planned payloads but those that Teal determines will need to be developed and launched to replenish aging operational systems now in earth's orbit.
In addition to the initiation of new systems, the worsening decrepitude of satellites already aloft will provide plenty of demand for years, in the form of replacements.
Among the payloads surveyed by Teal, the company forecasts that roughly 830 of them will be built and launched from now until 2017, with commercial satellites making up 40% of the total.
Dozens of avionics-related GPS replacements are anticipated for the rest of this decade. There also has been a significant boost during the past few years in orders for new geostationary commercial communication satellites.
Fueling this trend is the fact that the North American Terrestrial System is nearing its termination, forcing avionics engineers and flight departments to search for alternatives to their companies' airborne telephone systems. Stepping in to fulfill much of this need will be "NextGen," the Federal Aviation Administration's blueprint for modernizing the National Airspace System from now until 2025. At the same time, increasing numbers of high definition television and cable distribution channels will continue to propel revenues for satellite pay TV.
With a market cap of $1.18 billion, DigitalGlobe is in the best position to benefit from the satellite surge. DigitalGlobe's primary satellite is QuickBird, launched in 2001. Two of the company's existing five satellites, WorldView-2 and GeoEye-1, offer sharper imagery than available for general commercial use.
DigitalGlobe's major clients include urban planners; civilian, military and intelligence agencies; NASA; mining firms; and companies in the aviation, telecom, broadcasting and Internet sectors. In 2012, DigitalGlobe acquired its major competitor GeoEye for roughly $900 million, to forge the world's biggest commercial-imagery satellite company.
DigitalGlobe also has moved into the technology sector's fast-growing cloud-based segment. Through cloud computing, end users leverage a network of remote servers hosted on the Internet to store, manage and process data. The company's cloud services grant clients worldwide access to up-to-date, high-resolution imagery and geospatial data from desktops, portals, intranets, and mobile devices.

The barriers to entry in the satellite industry are formidable. By purchasing GeoEye, DigitalGlobe adopted monopoly-like dominance of its industry. DigitalGlobe further strengthened its grip on satellite activity by acquiring Spatial Energy, a major provider of digital imagery and geospatial solutions to the global oil and gas industry.
DigitalGlobe enjoys strategic advantages over competitors such as Trimble Navigation (TRMB) - Get Report . Notably, DigitalGlobe signed a multi-year imagery agreement with Alphabet (GOOG) - Get Report to provide high-resolution satellite imagery in support of Google Earth, Google Maps, and other Google products and services. Similar navigation-oriented deals are in the works with other companies.
DigitalGlobe's share price is now down 45.92% year to date, making this stock a screaming buy at current prices. Management's recent increase of its share repurchase authorization from $205 million to $335 million is icing on the cake.
With a trailing 12-month price-to-sales ratio of only 1.65, DigitalGlobe sports a more enticing valuation than Trimble or Alphabet.
And over the past week, eight different company insiders have made huge stock purchases, another indication that the company is on the right flight path.
In the meantime, If you're looking to profit from other fast-growing companies that are developing futuristic technology, click here for a free report.
John Persinos is editorial manager and investment analyst at Investing Daily. At the time of publication, the author held no positions in the stocks mentioned.