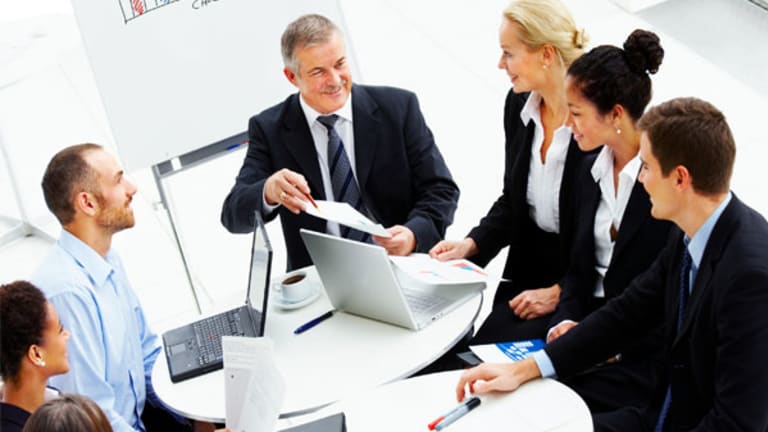 Wall Street Remains in Limbo
Wall Street's biggest wounds since 9/11 have been self inflicted.
NEW YORK (
) -- Wall Street hasn't been the same since the terrorist attacks of Sept. 11, 2001 but much of the damage of the past decade has been self-inflicted.
Since the attacks on the World Trade Center, Pentagon and Flight 93, Wall Street has lost century-old institutions like
Lehman Brothers
and
Bear Sterns
and large banks such as
Washington Mutual
and
Wachovia
.
But those losses were due to the 2008 financial crisis and not any attacks from abroad.
In fact, the firms that suffered the greatest losses on 9/11 have experienced profound growth and rebounded.
Cantor Fitzgerald
, a powerhouse in fixed-income, was the hardest hit of the Wall Street firms. Cantor's headquarters -- located near the top of Tower One -- was nearly wiped out in the attacks with 658 employees losing their lives, including CEO Howard Lutnick's brother.
But Lutnick vowed to keep his company together after the attacks, rebuilding the firm's highly regarded U.S. Treasury trading operations. Today, according to a firm statement, Cantor has offices in more than 30 locations around the world and approximately 1,400 employees. It is also one of the few private partnerships left on Wall Street.
Keefe Bruyette & Woods
, the venerable investment banking firm the focuses on financial stocks, has pressed on and thrived despite losing 67 people in the South Tower of the World Trade Center on 9/11.
At the time of the attacks, KBW had 224 employees, with 171 of those located at its New York headquarters.
Today the firm has 600 employees with 368 based in the city, according to a firm spokesman. Many on Wall Street questioned whether the firm would survive, but CEO John Duffy -- whose son Christopher was killed in the attacks -- was able to retain its most important clients and then expand internationally in 2004.
The firm's annualized revenue has jumped to $425 million from $185 million in 2001.
Insurance giant
Marsh & McLennan Cos.
(MMC)
lost 295 workers in the North Tower, including 63 consultants, in the attacks.
But the firm quickly rebounded, creating
Axis
(AXS)
in 2001, a $1.6 billion reinsurance company that was able to fill the insurance gap following the terrorist attacks. Axis was spun off by the firm in 2004. Marsh also continued its acquisitions spree with purchases of consulting firms Oliver, Wyman & Co. and Kroll.
Despite those survival stories, Wall Street continues to flounder and lose prominence. Even the symbol of capitalism -- the
New York Stock Exchange
(NYX)
-- has been marginalized in the decade since 9/11.
More than a third of all equity trading -- and a majority of retail orders -- are executed in private trading venues away from the public exchanges like the NYSE and
NASDAQ
undefined
. Places called "dark pools" have wrestled away a significant amount of trading volume, 13.3%, from public exchanges for U.S.-listed shares, according to a report by Rosenblatt Securities.
The move away from a strong NYSE has not been easy for average investors, injecting heavy volatility into trading as "fragmented" markets fight each other. Those fights have led to events like the May 6, 2010 "Flash Crash."
"What you had last year with the flash crash is that you had 80 different markets
with different sets of rules trading the same securities," former NYSE chairman Richard Grasso told
TheStreet
. "Centrality and a common set of rules take away the problems of May 6, 2010."
All this is not to say banks have not remained busy. The numbers remain in Wall Street's favor, with both fixed-income and equity business growing since the attacks.
In 2001, there was $1.39 trillion in total debt issued and $169 billion in equity underwritten by Wall Street, according to the Securities Industry and Financial Markets Association (SIFMA). In 2010, those numbers were equally healthy: $1.21 trillion debt and $261 billion in stock offerings.
That means Wall Street remains a money-making powerhouse, creating $19 billion in profits in last year, according to the New York State's Comptroller's Office. Industry profits were nearly half in 2001 -- $10 billion -- experiencing an estimated 30 percent decline following the terrorist attacks.
But despite the profits, the financial system remains in a precarious state, largely due to the irresponsible lending that led to the financial crisis. While the 9/11 attacks had an irrevocable impact on Wall Street, the historic changes of the last decade were really brought about by the credit bubble the banks were all too happy to inflate.
--
Written by Christopher Westfall in New York
.
Readers Also Like:
The Best-Performing Stocks Under $5 in 2011