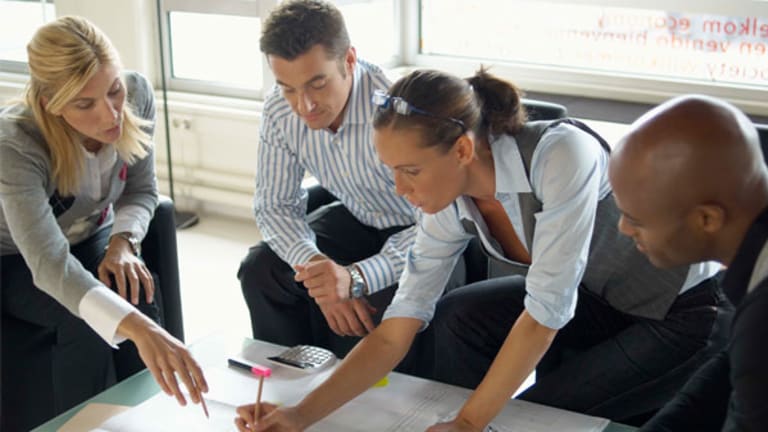 Wall Street More Loathed Than Congress! Here's the Fix
It's no surprise considering how badly banks have been behaving, but these 4 solutions can turn that around.
It's official: Wall Street is now less popular than road kill, or chicken pox, or even, pardon the expression, Congress. That ugly fact emerged from the exit polling during the recent elections. Seems that 47% of Republicans and moderates -- not fiery Democrats, but calm-tempered business-loving types -- blame Wall Street, not Congress, for our current economic malaise.
This monstrous fact was the subject of a panel discussion at a recent meeting of the
Securities and Financial Markets Association
last week, and the
trade press reported the angst this caused.
Wall Street less popular than Congress! How low can you go?
I wasn't surprised to hear this. During the recent elections, both Democrats and Republicans ran against "New York" -- Wall Street, that is -- or, as
Sharron Angle
did, simply avoided the subject of the financial services industry completely. Seems the financial markets are just too much of a hot potato even for the supposed guardians of the free markets.
So what's Wall Street to do about all of this? I'm not sure that any of the bigger firms actually care about any of this, as long as the money is pouring in, as it surely has been doing recently. However, in a purely selfless, giving spirit, I hereby offer some practical ideas that can be immediately deployed to improve Wall Street's public image.
In no particular order:
Move
One of the worst problems Wall Street faces, from a branding standpoint, is that name, "Wall Street." It hasn't been literally accurate for many years, since the larger firms moved from Wall Street proper years ago, leaving only
JPMorgan Chase
(JPM) - Get JP Morgan Chase & Co. Report
and a handful of other banks on the actual Wall Street. (There also used to be a host of boiler rooms at 100 Wall, but that's another story.) The name conjures up images of greasy men in top hats counting large volumes of greenbacks. Well, it does to me, at least.
Simple problem, simple solution: Get out of town. Learn from the example of the Reader's Digest and move to a bucolic or bucolic-sounding area, like Pleasantville, NY. Or change the name of Wall Street to "Fruit of Human Kindness Street" or "Jobs Creation Boulevard." Change all the surrounding streets to similarly positive, forward-looking names. Or the banks and the
New York Stock Exchange
(NYX)
can move to a street with a better reputation, like the Bowery. Think of that! (Newscaster: "On the Bowery, the Dow was up seven points."). I can see the poll numbers rising.
Earmarks
How do even the most repulsive Congressmen get re-elected? By bringing home the bacon, that's how. Yes, I know about the gazillions of dollars that Wall Street plunges into the economy every year. But that's not good enough. These banks need to personally enrich people in a brand-improving way. Naming rights for concert halls won't do. No, I want to see Lloyd Blankfein of
Goldman Sachs
(GS) - Get Goldman Sachs Group Inc. (The) Report
making the rounds in East St. Louis, distributing turkeys at Christmas. If it worked for Al Capone it can work for him. I want to see
Citigroup's
(C) - Get Citigroup Inc. Report
Vikram Pandit working a soup kitchen in Camden. Build playgrounds, put books in the libraries, etc. Show empathy, or at least have an assistant look up the word in a dictionary.
86 the Mandatory Arbitration Clause
Just get rid of it across the board. If a customer wants to sue you, let him do that in an actual, non-kangaroo court. Mandatory arbitration clauses in brokerage contracts require that customers bring cases to FINRA-supervised panels, whose rules guarantee the brokers a seat on every panel. It's one of the irritants that sour the relationship between brokers and their customers. Do the same with mandatory arbitration clauses in credit card contracts, which are even more ridiculous. Don't wait for the
Reduce fees
All Congress can do is dance around this subject, but the banks have it in their power to use the mightiest weapon at their disposal: fees. Just get rid of them, or drive them down to the bottom. Turn all of America into one big credit union. Yes, I know, fees on credit cards and bank accounts are one of the banks' biggest money-makers. So the banks will have to decide: Are horrific fees worth the price they're paying in the court of public opinion?
Ah, you think I'm joking, but I'm not. Edmond Safra, the famed Brazilian-Lebanese-Syrian banker, set the world of New York banking on its ear back in the 1960s, when he took over Republic Bank. Safra's bank not only gave away television sets for opening a new account, but, more importantly, kept fees low. Until Republic became part of
HSBC
(HBC)
, it was famous for not charging ATM fees for anyone, including other banks' customers. Now, I didn't conduct an opinion poll or anything, but I'll bet Safra's Republic was one of the most popular banks around.
So that's my free advice. Do what I say, and you'll be the best-loved bank on the Bowery.
Gary Weiss has covered Wall Street wrongdoing for almost a quarter century. His coverage of stock fraud at BusinessWeek won many awards, and included a cover story, "The Mob on Wall Street," which exposed mob infiltration of brokerages. He uncovered the Salomon Brothers bond-trading scandal, and wrote extensively on the dangers posed by hedge funds, Internet fraud and out-of-control leverage. He was a contributing editor at Conde Nast Porfolio, writing about the people most intimately involved in the financial crisis, from Timothy Geithner to Bernard Madoff. His book "Born to Steal" (Warner Books: 2003), described the Mafia's takeover of brokerage houses in the 1990s. "Wall Street Versus America" (Portfolio: 2006) was an account of investor rip-offs. He blogs at garyweiss.blogspot.com.