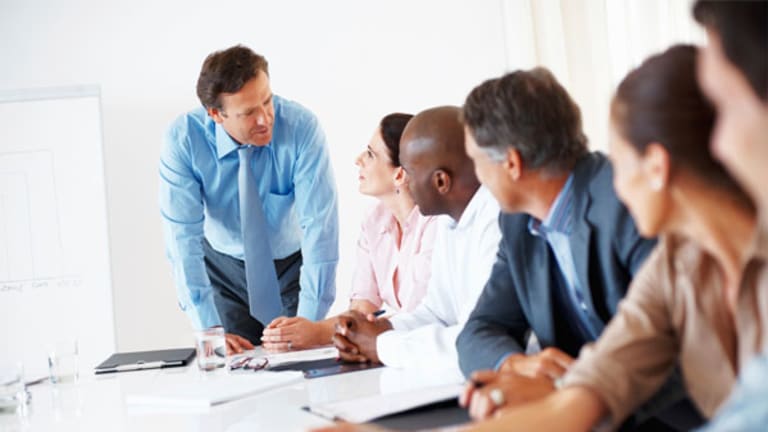 Wall Street Comes to Rwanda
A well-regarded financial training program comes to the East African nation.
A well-regarded financial training program comes to the East African nation.
The following commentary comes from an independent investor or market observer as part of TheStreet's guest contributor program, which is separate from the company's news coverage.
By Patricia Crisafulli and Andrea Redmond
NEW YORK (
) -- In a conference room-turned-classroom, 70 professionals, ranging from junior analyst and mid-level manager to executive, worked at computers while a trainer explained the intricacies of financial modeling. What distinguished this program from any other financial training session, though, was not the content, but the setting: Kigali, Rwanda.
The Training The Street financial analyst program was recently brought to Rwanda, a tiny landlocked country in eastern Africa, which is in the midst of developing a professional workforce as it evolves from subsistence agriculture to an economy based on information and communication technology (ICT). Its goal is to raise per capita income to $1,000 or more by 2020, from $200 in 2000 and about $560 currently.
It is an ambitious, even audacious, plan for a country which, nearly 18 years ago, was the scene of a horrific genocide in which one million people were killed in 100 days. The country has launched a national campaign of unification and reconciliation since then, and economic revitalization and development of a middle class are keys to its future.
For Alex Lue, a New York City-based trainer for Training The Street, going to Rwanda was a fantastic opportunity for a well-regarded Wall Street program that was being offered for only the second time in Africa, the previous program being in Lagos, Nigeria. "The desire and ambition to learn was everything we asked for. It's been fantastic," Lue said.
The five-day training in Kigali, which was largely financed through a grant from JP Morgan Chase, had to be tailored to the various skill levels of participants. "Some people were at the pace of the instructors, and others were a little slower," said Clay D. Parker, managing director, business development, for Bridge2Rwanda, an American NGO that seeks to help build businesses in Rwanda and promote servant leadership. Bridge2Rwanda was the local sponsor and organizer of the Training The Street program. "Several of the participants commented that it used to take two weeks to put together financial models that could be presented to a board of directors. Now, they are realizing that, with the efficiencies they learned, that can be done in two days," Parker added.
The Training The Street program is a tangible example of the purposeful transformation in Rwanda, which espouse values of self-determination and self-sufficiency. On a recent visit, evidence of the country's goals and progress could be found everywhere.
Nine years of compulsory education, which is now expanding to 12, for all children stresses instruction in English, which has replaced French as the official language. The Rwandan government has invested nearly $100 million to build a 2,300-kilometer fiber optic network in the country to improve broadband and attract e-commerce and business process outsourcing.
Rwanda has begun to attract some global brand names. For example, Marriott is there, with a 292-room hotel that is expected to open at the end of the year.
Visa
(V) - Get Report
recently launched a venture in Rwanda to expand electronic payments and provide access to financial services to the underserved population.
The Rwanda Stock Exchange currently lists only four stocks, including Bank of Kigali and Bralirwa, a brewery. Cross-listing of other East African companies and additional IPOs in the future will help to turn the exchange's white board that is currently handled by an exchange employee, into a busier electronic one.
Big plans in a small country take people to execute. Rwanda, which is modeling much of its economic development on Singapore, understands the importance of human capital. "Rwanda recognizes that one of the early triggers for the Asian Tigers to attract foreign investment was to have well-trained local employees on the ground," added J. Dale Dawson, founder and CEO of Bridge2Rwanda.
Seventy "Street-trained" financial analysts may not turn around the country in a day. But for those who participated in the program, it was a very good start.
Patricia Crisafulli and Andrea Redmond are co-authors of the upcoming book
Rwanda Inc.
that is scheduled to published by Palgrave-Macmillan in the fall.