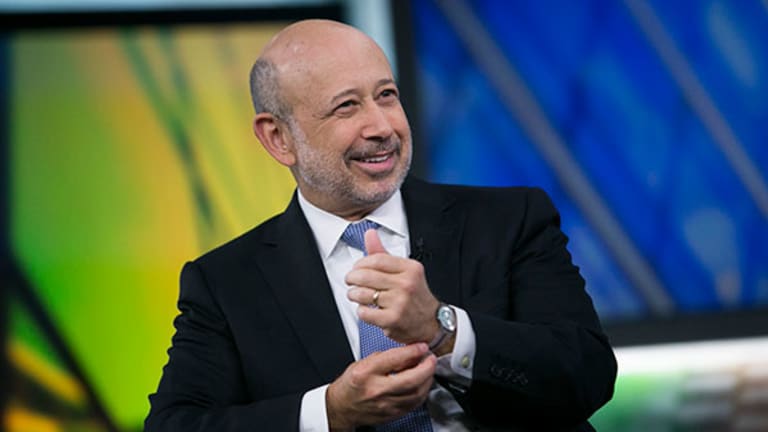 Wall Street Takes Pay Cut, but Bankers Don't Dare Complain
Wall Street pay isn't what it used to be, but it still beats most everything else out there.
NEW YORK (TheStreet) -- Wall Street pay isn't what it used to be, but it still beats most everything else out there.
Goldman Sachs (GS) - Get Goldman Sachs Group, Inc. Report employees, for instance, are on track to receive 55% less in pay and benefits in 2014 than they got in 2007. Even so, they'll still average $427,000, which is six times the pay of the average person in the education or health care industries.
The pay cuts are particularly noticeable at banks like Goldman, Bank of America (BAC) - Get Bank of America Corp Report or JPMorgan Chase (JPM) - Get JPMorgan Chase & Co. Report that were bailed out during the 2008 financial crisis. By comparison, the best pay is at private equity firms like Blackstone (BX) - Get Blackstone Inc. Report , hedge funds like Bridgewater Associates, or giant money management companies like BlackRock (BLK) - Get BlackRock, Inc. Report . No wonder that many Wall Streeters have fled for these kinds of companies.
A survey from consultants Johnson Associates and Greenwich Associates projects compensation for asset management professionals will be down just 6% since 2007, while investment and commercial banks still pay 43% below what they did seven years ago.
Despite the lower compensation, Wall Street is still sensitive to the public's perception that it's just a bunch of fat cats who get paid absurd amounts of money for activities of dubious value. Goldman has been trying to prove its relevance through ad campaigns with videos showing them financing stadiums or providing "strategic advice" to companies like MRC Global (MRC) - Get MRC Global Inc. Report .
Johnson Associates managing director Alan Johnson believes the public and politicians such as Sen. Elizabeth Warren (D., Mass.) are so focused on demonizing the banks they are willing to overlook extremely high pay in other industries, even ones that are very similar to banking and employ similar people.
"If you work for a big bank, your pay is obscene, immoral, inappropriate, whatever, but if you work for some of the big private equity or hedge funds or the big law firms or the people who service them, that's OK. It may not be optimal, but it's OK," Johnson says.
He attributes this attitude to the fact that the banks were bailed out during the 2008 financial crisis and the other industries weren't.
"I am surprised that six years on we're still fighting the last war, but that is what it is," Johnson says.
Further muddying the pay picture is the U.S. Bureau of Labor Statistics, which despite its mountains of data and teams of researchers is anything other than a reliable source for Wall Street pay.
BLS data show average pay in the "financial activities" industry is about $88,000 per year, but this incorporates data from 12,000 different companies and includes everything from bank tellers to regional stock brokers.
While this is still high compared to most other industries, it doesn't tell us much.
"There's a lot of people in financial services that make hundreds of thousands and there's many more that make $50,000. So you smush them together and you get $88,000," Johnson says.
What Johnson can also tell us is what people often wonder about when they learn the average pay at Goldman: We know that CEO Lloyd Blankfein made $23 million, but how much do the secretaries earn?
Johnson says most secretaries at elite Wall Street firms like Goldman or Morgan Stanley (MS) - Get Morgan Stanley Report earn $50,00 to $70,000 per year, though some earn as much as $80,000 to $100,000.
That is moderately more than they would get in most other industries, though Johnson believes the work by and large is more demanding.