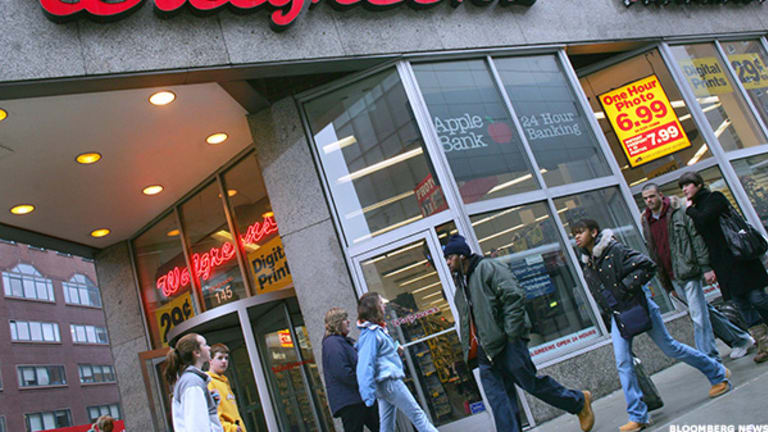 Walgreens Boots Alliance Has Advantages That No Competitor Can Match
This huge drug retailing chain is reaping cost efficiencies by relentlessly expanding around the world, a strategy that should drive up the stock price for years to come.
If this stock were a movie, it would be called: The Drug Empire Strikes Back. As cost reduction becomes a greater imperative in the health services sector, Walgreens Boots Alliance (WBA) - Get Walgreens Boots Alliance Inc. Report is setting out to conquer the fragmented drug retailing business through acquisitions. The result is a global behemoth that enjoys operational synergies that no competitor can match.
New rules from health providers and federal and state regulators are exerting severe downward pressure on drug prices. Only an integrated giant such as Walgreens can effectively strike back, by gobbling up competitors to forge efficiencies and economies of scale. The company's aggressive expansion makes it a growth play on unstoppable pharmaceutical trends.
In the U.S., a brightening employment picture and rebounding household wealth are boosting consumer spending, resulting in greater demand for not just necessary drugs but also the pricey and discretionary "wellness" products that shoppers tend to forsake when money gets tight during a downturn.
It's all good news for Walgreens Boots Alliance, the mega holding company for the global pharmacy-led health and wellness enterprise known in the United States as Walgreens and internationally as Boots. Walgreens operates retail drug stores, convenient care clinics and holds brands such as Duane Reade and, soon, Rite Aid.
On February 4, Rite Aid shareholders voted to approve the Rite Aid and WBA merger. Now that this hurdle is cleared, WBA has a solid pathway to gaining regulatory approval for the merger. Why is this merger so important? If completed in its current form, WBA would become the largest pharmacy-led company in the world, overtaking longtime champ and competitor, CVS Health Corp.
WBA is currently traded at around $83 per share, which is smack dab in the middle of its 52-week range of $71.50-to-$97.30. The current market cap of just over $89 billion is slated to increase by about $9 billion post-merger. Most research estimates predict a mean price target in the $94 range within the next 52 weeks.
WBA has confirmed that its second quarter earnings announcement should be expected on April 5. The 23 analysts covering WBA have projected an earnings-per-share (EPS) estimate of $1.28 and a range of $1.19-to-$1.38.
What do these numbers mean for you? Lots of potential upside in the promising drug sector, combined with the strength, market position and stability of a market stalwart.
WBA dividends are holding steady ($0.34-to-$0.36/quarter), yielding around 1.75%. In comparison, 10-year Treasury rates are just slightly higher at 1.89%. WBA offers a strong case for fast but risk-mitigated returns.
Whether or not the Rite Aid merger goes through, WBA is strongly positioned for future growth. Not content with its already imposing presence, Walgreens is expanding and enjoying lower overhead -- and more leverage with pharmaceutical companies and health care providers -- through an expanding global footprint.
If you are going to sell drugs well, you need to own the best street corners and WBA is all about location, location, location. Wallgreens Boots Alliance has 13,100 retail locations in 11 countries and provides wholesale and distribution services in 19 countries. The company has over 370,000 employees in 25 countries spanning North and South America, Europe, North Africa, the Middle East, and Asia.
WBA distributes through two of the largest pharmaceutical wholesalers in China and operates 261 pharmacies (trading under the Boots brand) in Thailand.
Walgreens Boots Alliance sells medications and consumer goods, as do Wal-Mart and Target. But Walgreens maintains its edge through branding and differentiation. Walgreens stores are well-maintained, well-designed, and bright. If you walk into a Walgreens, staff will warmly greet you and provide top-notch service. Thee advantages allow WBA to charge more for consumer staples and convenience goods which, in turn, supports higher overall margins and a rising stock price.
WBA's diverse mix of revenue streams as well as its ability to charge premium prices in good times or bad makes the company a "defensive" consumer sector play that capitalizes on economic recovery without excessive reliance on it. Walgreens represents the future of consumer health services.
You see Jim Cramer on TV. Now, see where he invests his money and why Walgreens Boots Alliance stock is a core holding of his multimillion-dollar portfolio. Want to be alerted before Jim Cramer buys or sells WBA? Learn more now.
Best biotechnology stock under $10: We've found a small-cap biotech "rocket stock" that's about to take off. UCLA researchers are stunned by a Nobel Prize-winning cancer breakthrough that's proven in clinical trials to eliminate lethal forms of cancer with a single dose. One small company owns the patent to this life-saving treatment. Now trading at about $5 a share, the stock of this innovative company is projected to surge 2,700% on an imminent FDA announcement. To download the full report, click here.
John Persinos is editorial manager and investment analyst at Investing Daily. At the time of publication, the author held no positions in the stocks mentioned.