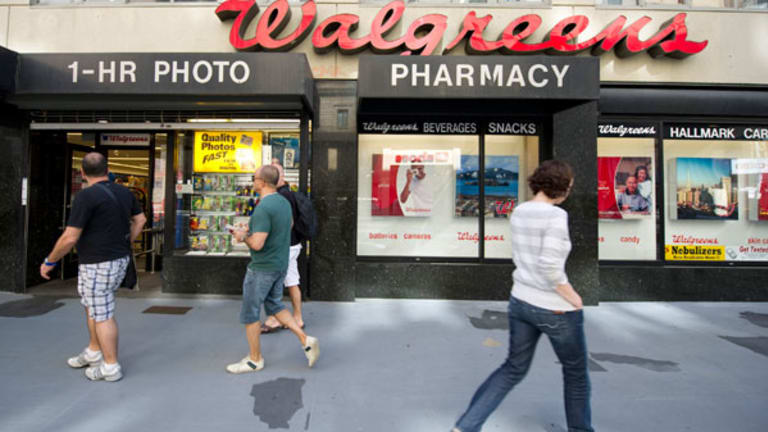 NEW YORK (TheStreet) -- Walgreens (WAG) , based outside Chicago, was yesterday's disaster du jour. It missed on earnings, writes Chicago Business, losing 7% of its value overnight. It then spent the day bouncing around that level, so the loss feels permanent.
Those who didn't see the miss coming,
like Cantor Fitzgerald
immediately downgraded the stock, as though that would help traders who were caught out.
Note that I said traders, not investors. I don't consider this company a trade. I consider it an investment.
Here's the difference. When you swap your second-string point guard for another team's second-string point guard, that's a trade. When you spend a draft pick to make Doc Rivers your coach, and put him in charge of your basketball operations, that's an investment.
Walgreens' Rivers is Greg Wasson, a registered pharmacist who became CEO in 2009. Wasson is engaged in a complete reinvention of the company around ObamaCare.
Wasson knows there is a growing, and chronic, shortage of general practice physicians. He also knows young, high-income consumers are increasingly unwilling to wait all day for service and see health care as a lifestyle.
The result is a redesign of Walgreens' business model, built around its
, which are staffed by nurses and physicians assistants, then linked to doctors through electronic health records and the Internet. Only a small fraction of the company's stores have the clinics so far.
Wasson's biggest win came in April, when the company gained permission to both diagnose and treat "chronic conditions," like diabetes,
.
John Goodman, the "father of health savings accounts," feels
He noted that care can be delivered in these clinics for 30% to 40% less than in a doctor's office, 80% less than in an emergency room.
Also see: The Dumbest Fee in the Airline Business>>
A 2009 study from the
2009 Almanac of Chronic Disease
said 80% of American workers have at least one chronic condition, mostly related to obesity, estimating the economic loss at $1 trillion, mostly due to lost productivity. (Full disclosure. I inherited hypertension and high cholesterol from my father, who died from these conditions in 1999, aged 78.)
This is a market "sweet spot," and so-called Accountable Care Organizations (ACO) have risen within Medicare
Walgreens began forming its own ACOs
in January
Most of the market's attention is focused on the rest of Wasson's strategy, turning flagship stores into lifestyle hubs with wine and coffee bars, even massages. This is a huge contrast with the normal look of a drug store, which is basically a convenience store with a drive-by drug window instead of gas pumps.
Walgreens put
emphasizing that earnings were $645 million rather than the fact that revenue was up only 3.2% to $18.3 billion.
The point is every argument being said against the company today is tactical, not strategic, and the arguments are being made by traders for whom the long term means lunch time. The jury is still out on Walgreens' transformation, and results won't be in for another three years.
Also see: Are Americans Afraid of Their Credit Scores?>>
Don't judge Rivers by a November box score. Judge him on where the club is three years from now. The same goes for Wasson. He's just starting to put in his game plan.
At the time of publication the author had no position in any of the stocks mentioned.
This article was written by an independent contributor, separate from TheStreet's regular news coverage.