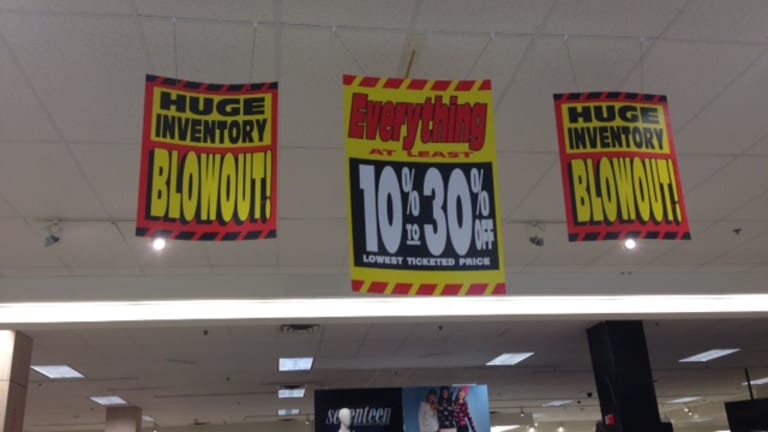 Wal-Mart's Big Pay Hike Is Really Bad News for These 3 Struggling Retailers
Wal-Mart's wage increase could make matters worse for already struggling retailers like Sears, Abercrombie & Fitch and J.C. Penney.
NEW YORK ( TheStreet) -- Wal-Mart's (WMT) increased generosity toward its employees is the last thing that execs at struggling retailers Sears Holding  (SHLD) , Abercrombie & Fitch (ANF) and J.C. Penney (JCP) needed to hear about to kick off the new year.
On Thursday, Wal-Mart said approximately 500,000 full-time and part-time associates at its U.S. Wal-Marts and Sam's Clubs will receive pay raises in the first half of the current fiscal year. The move gives hourly associates at least $1.75 above today's federal minimum wage, or $9 per hour, in April. By Feb. 1, 2016, another hike will ensure current Wal-Mart associates will earn at least $10 per hour. The moves will lop off about 20 cents a share, or $1 billion, from Wal-Mart's full-year earnings as a result.
The world's largest retailer also bolstered its commitment to employee training and continuing education in a bid to foster actual careers in retail.
What Wal-Mart has effectively done is raise the cost of doing business for all retailers not named Costco (COST) , which has long paid workers well above minimum wage -- the average Costco worker earns $21 an hour. According to job site Glassdoor, the average Sears cashier pulls in $8.38 an hour, while at Sear-owned Kmart, it's $8.16 an hour. That's barely above the current federal minimum hourly wage of $7.25.
Sears now risks losing its workers, who are likely already disenchanted due to mass store closures, to the expanding, higher-paying Wal-Mart. And Sears is in no financial position to make them a richer offer in the hopes they stay, given deep, ongoing losses and disappearing cash flow. 
Sears lost $296 million in earnings before interest, taxes and depreciation in the third quarter alone.
The average J.C. Penney hourly associate earns $9.16 an hour, according to Glassdoor.
As for teen apparel retailer Abercrombie & Fitch, it's actually profitable. The problem is that its sales and profits are declining due to fierce price competition and trendier offerings from fast-fashion retailersForever 21 and H&M (HNNMY) . For the 39-week period that ended Nov. 1, Abercrombie's sales fell 7% year-over-over, and earnings amounted to a mere $7.4 million.
Given those factors, Abercrombie will be hard-pressed to raise its wages to Wal-Mart's levels.
Instead of Wal-Mart shoppers and employees being the butt of Twitter jokes from teens, the higher pay may actually attract them to apply for gigs there instead of at Abercrombie, where sales associates only earn an average of $8.68 an hour, according to Glassdoor.
This article is commentary by an independent contributor. At the time of publication, the author held no positions in the stocks mentioned.