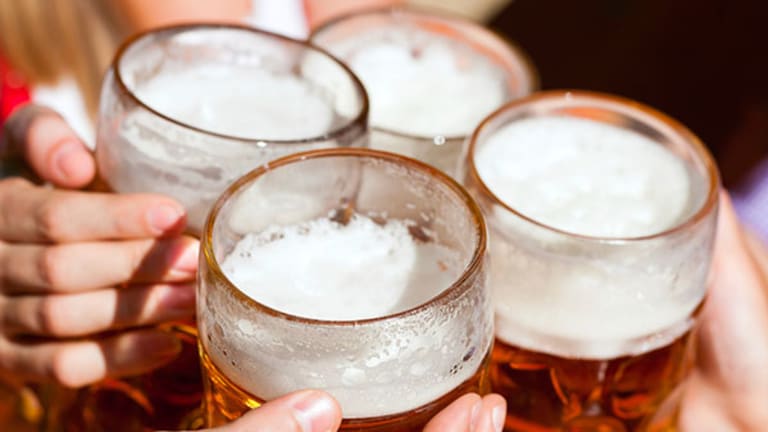 Wait! We Weren't Finished With Dark Holiday Beers Yet
Larger brewers have already begun taking their malty winter brews off shelves and replacing them with spring variety packs. It's premature, but necessary for their survival.
Larger brewers have already begun taking their malty winter brews off shelves and replacing them with spring variety packs. It's premature, but necessary for their survival.
PORTLAND, Ore. (TheStreet) -- A nice dark, potent winter ale, holiday ale, porter or stout sure would have been nice during that cold snap the country just had.
Too bad many of its bigger breweries already think it's spring.
It's easy to harp on seasonal creep when pumpkin ales show up before Labor Day and holiday beer hits shelves as soon as the kids go back to school. In those instances, however, they're at least building anticipation for something specific. Pumpkin ales signal the arrival of fall and the change in the weather. Holiday beers are just keeping up with shoppers who start checking off their lists earlier each year.
But when rich, warm, wintry beers are replaced in some of the coldest months of the calendar by light, bitter pales ales and IPAs (thanks Deschutes), witbier and summery kolsch (seriously, Samuel Adams?) or Hefeweizen and honey bock (solid, Pyramid), the dark, gray days get more depressing. When a winter beer like Deschutes Jubelale is long gone from shelves by Jan. 6, the system is broken.
At least for the consumer. For the bigger craft brewers, this is working out just fine. Around this time of year, the words of warning that Boston Beer Company (SAM) - Get Report founder Jim Koch shared with us about his Old Fezziwig Winter Ale a few years back always prove a bit haunting. He and his company, which produced 2.72 million barrels of beer in 2012, aren't taking the beer off the shelves because they just want the spring varieties out there. They're doing it because most folks who aren't yours truly run screaming from holiday beers almost as soon as the holidays are over.
"The basic reason -- and it's not that we can't get enough of the ginger or cinnamon or anything -- is that freshness is a big deal for us and this is a beer that has a season," Koch said. "Beer at its foundation is a performance art that exists in the moment of its creation and that's it, and Fezziwig is very much in that situation of being perfect for a certain time."
Oddly, that moment of perfection lines up with what's typically one of the softest spots of the beer sales calendar. According to the Treasury Department's Alcohol and Tobacco Tax and Trade Bureau, beer sales start sliding in November and typically don't perk up again until about March, when St. Patrick's Day gives them a brief boost. Even then, it's just an aberration before the summer peak season starts in May.

While smaller breweries working with smaller batches and somewhat different timetables can keep the hardier, maltier brews around for a bit longer, larger brewers don't want to get stuck with a whole lot of leftover seasonals when they could be reminding drinkers that the next, sunnier season is just around the corner. As Symphony IRI reminds us, seasonal beer sales have jumped 15% to 25% in recent years and are one of the industry's strong points.
However, as just about every craft brewer will remind you, small brewers tend to live and die with the IPA. Symphony IRI saw a 36% spike in IPA sales during the first half of 2013. As our colleague Tom Rotunno at CNBC noted in an IPA story last year, sales of IPAs jumped 39% in 2012 just before last year's leap. In short, the sooner breweries can get an IPA into a drinker's hands, the quicker their long winter's nap can end.
It may be one of the big reasons why the winter IPA has caught on in recent years. New Belgium Brewing Company, which produced 765,000 barrels in 2012, had a winter lineup for 2013 led by its Accumulation White IPA, which was far more floral and citrusy than the vast field of spicy, malty winter warmers it faced. Samuel Adams, meanwhile, tossed a Juniper IPA into its holiday mix at the end of last year and gave Rebel IPA a try on taps around the same time. Hood River, Ore.'s Double Mountain, meanwhile, has been dumping an avalanche of Centennial hops into its Fa La La La La winter ale for a number of years.
Besides, it isn't as if winter crybabies like ourselves are left wanting. While hop-heavy Sierra Nevada (nearly 1 million barrels in 2012) and New Belgium approach the season with bitter, floral offerings like Sierra's Ruthless Rye and New Belgium's 2 Below, there's also the occasional warmer. This is when Sierra Nevada typically releases its 9.6% alcohol-by-volume Bigfoot Barleywine, while New Belgium mixes it up with its rich, sweet Frambozen Raspberry Brown Ale.
The tilt toward stronger, warmer brews this time of year is slight, but even limited releases still provide some much-needed kick. Last year around this time the Craft Brew Alliance's (BREW) - Get ReportWidmer Brothers brewery, part of a nearly 700,000-barrel operation, introduced its KGB Russian Imperial Stout in a package with similarly strong raspberry and chocolate Russian imperials (it's a stiff 9.3% ABV). Widmer's mainstay spring seasonal was a mild steam beer known as Columbia Common. Deschutes also uses the late winter months to show off its formidable, 11% ABV Abyss Imperial Stout.
Occasionally, stronger, maltier beers even slip into the spring mix. Both Pyramid, which produced 337,000 barrels last year with North American Breweries partner Magic Hat, and Samuel Adams take the opportunity to add red ales to their spring variety packs, with the latter throwing a Maple Pecan Porter into its 12-pack for good measure. The market forces the seasons to creep into bigger craft breweries a little more quickly, but even their brewers know they have to do something to keep warm until the temperatures rise.
-- Written by Jason Notte in Portland, Ore.
>To contact the writer of this article, click here: Jason Notte.
>To follow the writer on Twitter, go to http://twitter.com/notteham.
>To submit a news tip, send an email to: tips@thestreet.com.
RELATED STORIES:
>>Some Craft Beer Resolutions For 2014
>>Why 2013 Could Be Last Call For Craft Beer
>>10 Best Holiday Porters and Stouts Of 2013
Jason Notte is a reporter for TheStreet. His writing has appeared in The New York Times, The Huffington Post, Esquire.com, Time Out New York, the Boston Herald, the Boston Phoenix, the Metro newspaper and the Colorado Springs Independent. He previously served as the political and global affairs editor for Metro U.S., layout editor for Boston Now, assistant news editor for the Herald News of West Paterson, N.J., editor of Go Out! Magazine in Hoboken, N.J., and copy editor and lifestyle editor at the Jersey Journal in Jersey City, N.J.